Today most Mac users opt the Commander One for managing and controlling their files with ease. It has become the most popular free software to manage folders and files which often featured. With the use of the software, you can easily arrange all data at the Mac that has complied with independent experts. We all know that Apple companies launch the products whether it is mobile or tab are profound with the advance technology and their operating system is different from the other android gadget. It is the reason users need some advance and different for their Mac or iPad. To make the management of tasks easy and convenient developers have brought Commander One software. Even you will get amazed when you will get to know about features offered by the software without spending a single penny. The software also updated from time to time so that users can enjoy the latest feature with ease. In the latest version, you can seek more connections, improved functionality, more features Like Mac Terminal,Archive Utility and many more things to explore.
Commander One is the Versatile file manager software for the Mac. In it, you can explore handy features that make software the best default file management solution. It has the feature to mount multiple cloud storage and web servers available in the Mac. With the use of software, users can easily access and manage all storage and network server in one place without any hassle. This way, you do not need to visit different server or storage option and this helps to save the time of the person. Even the speed of working it with the server is as fast it can work with a local folder. It means now you do not need to waste time waiting and can pursue the work with ease.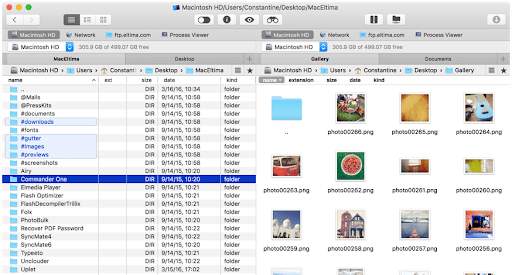 Features can be opted by using the Commander One:
The software offers a variety of features for Mac users to make their task of management easy and convenient.
Commander One can easily access the remote server such as FTP, FTPS, SFTP, and Web DAV with the protocol and help to use an in-built FTP client.

It also mounts the iOS and MTP devices on the Mac. It also becomes the software to transfer the file and app through moving and copying files from the devices to the Mac. All this happens with ease and convenience.

The software also views the processes the current running on the Mac. This way, the user can check its details and quit one of them when needed.

Commander One also extracts and compresses the file in the archive formats such as ZIP, TBZ, TGZ, 7Z. With this, you can also extract RAR files and it is one of the nearest functionality where you can easily compress files.

You can also use multiple themes to customize the feel and look of the application according to the mood.
With these features, the user can easily manage whole things on the Mac.