Retaining rings, commonly known as snap rings and circlips, are engineered metal components used to hold different types of assemblies together. They're designed to accurately position, locate and retain parts on shafts, or bores. As metal fasteners, they're installed into a groove, whereas all of the assembly's other components sit against and are retained by the ring itself.
The most common designs of retaining rings include spiral, tapered, constant section, hoop, e-clip, beveled, and wave-ring forms. Unlike standard stamp rings, spiral rings don't have ears or lugs to interfere with the assembly.
Recognizing Stamped Retaining Rings
Sheet metal is used to manufacture stamped retaining rings, and they feature twin lugs, sometimes referred to as ears. When working with small diameters, they are considered to be the most cost-effective retaining rings. Although since excess scrap is generated by the stamping process, this causes them to be less cost-effective when handling larger diameters.
A special tool called snap ring pliers is used to install the stamped rings as they're inserted into the lugs to separate or compress the ends. The retaining ring can then clear the shaft or bore. The advantage of using stamped rings is that they replace cotter pins and various fasteners in multiple applications.
Radial Retaining Rings
A different version of stamped rings are radical retaining rings, also called e-clips. They are installed by them being pressed radially onto a shaft groove, which can either be a standard one or a stepped shaft.
Like stamped rings, they come to be less cost-effective as the needed diameter increased in size. These clips are used when it's not a good idea to slide a ring along the axis of a shaft.
Spiral Retaining Rings as the Economical Option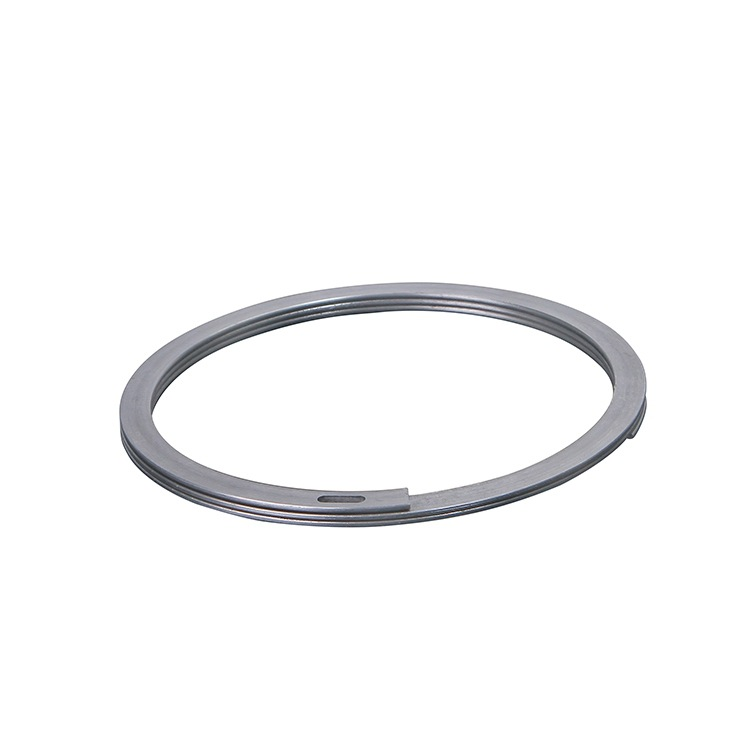 Believe it or not, a coiled flat wire can also be used to make retaining rings called spiral or Spiralox rings. Since they're manufactured from wire, there's less scrap which makes them more economical when larger diameters are needed or when stainless steel and exotic alloys are used. This turns out to be a cost-effective process when looking for a custom ring since there's no tooling like a custom punch or die one.
These types of rings come in single-turn or multi-turn varieties. The latter has a higher thrust load capacity and a 360° retaining surface. The constant cross-section gives spiral retaining rings a lug-free design, making them fit where existing radial space is limited. Since they have no lugs, snap-ring pliers aren't required for installation but spiral rings are wound one turn at a time into a groove. If one wishes to extract a spiral ring from the grove, a removal notch is available that creates a gap between the ring's end and the mating component.
A screwdriver can be inserted to pry the ring free and a notch at the wire's end can begin unwinding out of the groove for removal. A spiral retaining ring will often fit interchangeably in a stamped ring groove. Spiral rings can be designed to act simultaneously as an internal and external ring, which is called an ID-OD lock and permanently fasten two mating components.
Retaining Ring Materials
Retaining rings are available in different materials, and the material that is used is dictated by the application environment. The standard material used is carbon steel, that is, if the ring isn't exposed to corrosive elements. If the retaining ring is intended for a corrosive environment, then there are rings available in a range of stainless steel. If there are high-temperature environments, an exotic alloy like Elgiloy, Hastelloy, and Inconel may be necessary.
They can further undergo plating or get different coatings to withstand tough environments. Common finishes consist of black oxide, oil dip, zinc phosphate, cadmium plating, vapor degreasing, and hand deburring.
Custom Retaining Rings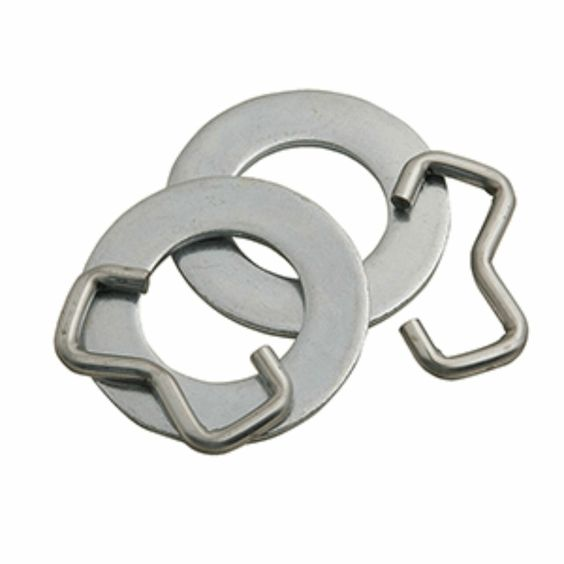 There's a possibility for retaining rings to be customized to application requirements. Most commonly, rings that are produced from coiling are easier to customize. A simple setup, with no tooling involved, is required to produce a specific type of ring. If the application requires a concrete end type or configuration, then this is easier to produce from a coiled ring, rather than from a stamped one.
Customized rings can be manufactured in sizes that range from 0.157 in (or 4 mm) to 120 in (or 3,000 mm) in diameter. Also, it's worth knowing that a custom stamped ring would require an additional setup and die.
Final Words
In recent years, trends have been in favor of retaining rings as they create the perfect option that retains an assembly while eliminating threading, drilling, and other operations associated with other traditional fasteners. They significantly reduce production costs and provide a functional design ready to be used.