T-Mobile is one of the best top-notch cellular networks. Which provides the users mobile phone plans with unlimited data, talk, and text according to their plans. T-Mobile has one of the largest cellular networks in the United States. And now, T-Mobile is going to merge with sprint.
T-Mobile provides the best plans with great benefits for all the users. They have the "best deal ever" which can save your money. Find out below some of the best T-Mobile Plans and their details.
Magenta Unlimited 55 Plan
T-Mobile presents a plan for seniors called "Magenta Unlimited 55." This plan is only available for seniors. If you are 55 years old or more than this, Then this plan is for you. And you can save a big amount of money on this plan as it is only accessible to seniors, Old age people. This T-Mobile Plan is the best from other T-Mobile Senior Plans.


Magenta Unlimited 55 provides unlimited texting, talking and unlimited data. And 5 GB data of 4G speed when visiting Mexico and Canada. 3 GB of 4G LTE Hotspot data is also provided.
Magenta Unlimited 55 pricing:
This senior plan from T-Mobile is cheaper in costs. Following are the price per lines for this senior plan.
It costs $50 for 1 Line per month
& $70 for 2 Lines per month.
T-Mobile Essentials Plan
T-Mobile Essentials provides you unlimited talking, texting and 4G LTE Data. It provides the unlimited texting to almost all the countries and also give unlimited data of 2G speed when you visit Mexico and Canada. Plus it gives unlimited hotspot data 3G speed.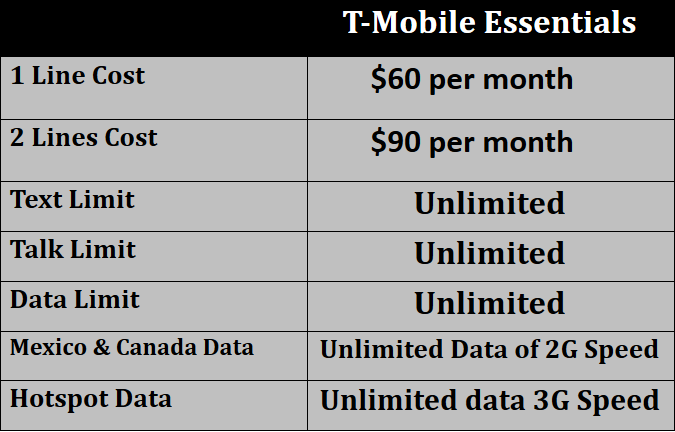 On making calls internationally, It charges on a per-minute basis. Similarly using internationally data charges it costs.
T-Mobile Essentials pricing:
It costs $60 for 1 Line per month
$90 for 2 Lines per month
Magenta Family Plan
Here comes the best family plan: Magenta Family Plan" This plan provides you with 4 lines with unlimited data usage (high-Speed). And 3G speed of hotspot with unlimited usage.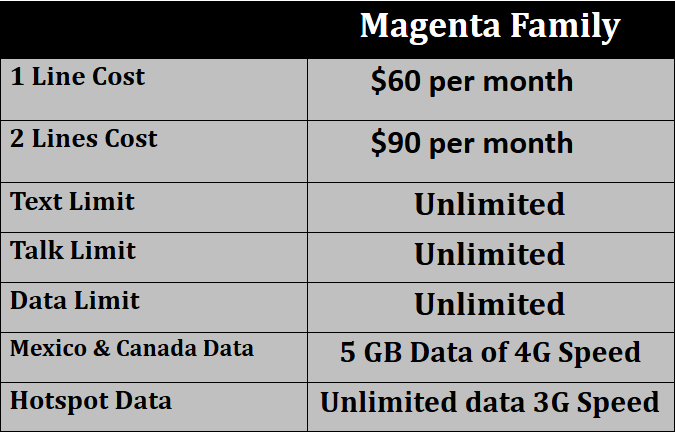 Unlimited texting, talking and data for 200+ destinations. Plus 4G speed 5GB data for Mexico and Canada.
2G Data for international use in 200+ countries is also provided.
It also includes HD video streaming and Unlimited in-flight WIFI on Gogo-Enabled flights.
Magenta Family pricing:
It costs $140 for 4 Lines per month.