It's easy to overlook the importance of ice. With the touch of a button, many home freezers provide a supply of crescent-shaped cubes. However, if your fridge runs out of ice, it may be a huge annoyance, especially during the summer. Instead of relying on an unreliable or sluggish freezer, a countertop portable ice maker can supply you with fresh cubes for every purpose, from chilling beverages to filling a cooler. A portable ice maker is also useful for camping, RV excursions, tailgating, or wherever else you would want to chill yourself off the grid. We've compiled a list of the top portable ice makers for houses of various sizes to keep you and your drinks as chilled as possible.
Top 10 Best Portable Ice Makers for Kitchen In 2021
Nothing is worse than running out of ice cubes and having to sip on a room-temperature drink. Portable ice makers come in handy in this situation. Whether you need to keep up with happy hour cocktails or fill your insulated cooler on camping vacations, these devices create a practically limitless supply of ice no matter where you are. Plus, they can start churning out ice cubes in minutes, so you'll never be without them for long.
Portable ice makers are usually standalone units that are small enough to store on counters or carry with you on the move, and they have their own tanks, so they don't need to be connected to a water source. That is why they are ideal for trailers, beach houses, backyards, and other applications.
What to Think About
Consider how much room you have available for a countertop portable ice maker before purchasing one. If you intend to use your portable ice maker frequently, you'll need to make a place on your counter for it. If your kitchen is small, search for a machine that is less than 13 or 14 inches long on the longest side. If you have more counter space, go with a bigger machine, which will create more ice.
Second, think about sound. If your portable ice maker will be operating continually, you'll appreciate a quiet unit that doesn't constantly hum or clink. Look for one that generates less than 40 decibels of sound, which is around the amount of noise produced by a library.
Finally, how much ice do you anticipate needing? Most household ice makers create 26 pounds of ice in 24 hours. Assuming no large ice needs, this is more than adequate for homes of four to six people. Larger families or workplaces may benefit from a more productive unit that can produce 30 pounds or more of ice each day.
How Do Countertop Ice Makers Work?
Portable ice makers produce ice cubes on a regular basis. They get their water from either a built-in reservoir or a linked water pipe. Reservoir ice makers will need to be refilled with water when they run out, but they do not require any plumbing lines. To prevent mineral deposits from accumulating, most ice makers require filtered water. When the ice is formed, it is directed into a bucket where you may get your hands on some fresh cubes. To prevent overflow, your machine will stop producing ice when the bucket is full. Many machines will keep your ice-cold, but there will almost always be some melting while the ice sits. The meltwater from some high-efficiency ice makers can be recycled. Excess water will need to be emptied from other equipment.
How We Decided
In the kitchen, ice is a must-have component. No kitchen is complete without a regular supply of fresh ice cubes, from fast cooling blanched vegetables and chilling fruit smoothies to keeping visitors supplied with chilled drinks on hot days. And, as a chef, recipe developer, and food writer, I understand the importance of ice in the kitchen. According to product testing, research, and user reviews, this list of the finest countertop ice makers contains well-loved machines with features for every level of home cooking.
1.

Frigidaire EFIC189 Compact Ice Maker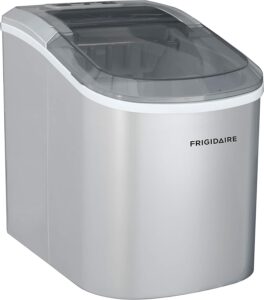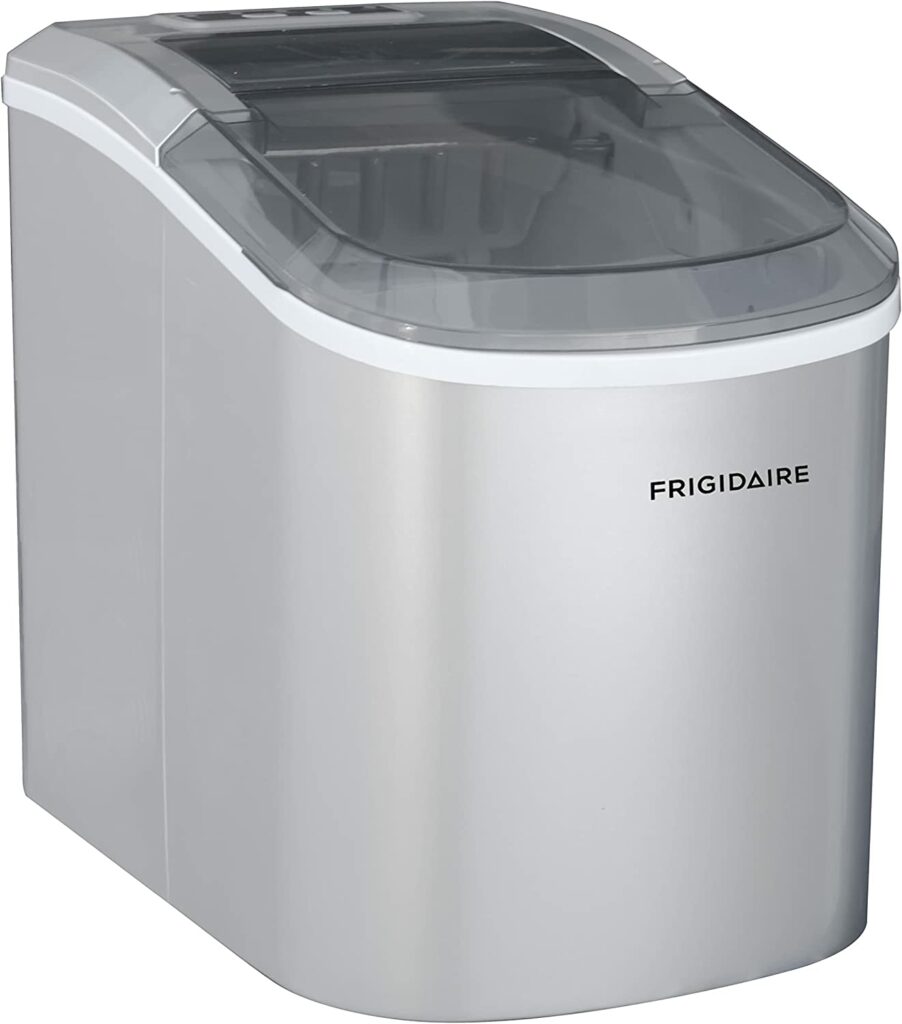 This Frigidaire high-powered portable ice maker is a top selection because of its intelligent design, high output, and simple interface. The machine includes a huge clear plastic glass on the top that allows you to see roughly how many cubes are left without opening the top and allowing hot air in. Choose between two ice cube sizes to suit your needs, and you'll get your first fresh cubes in less than six minutes.
Pros
The machine makes no more than 38 dB of noise.
Cons
It is somewhat bigger than other machines with comparable ice capacity.
2.

Crownful Ice Maker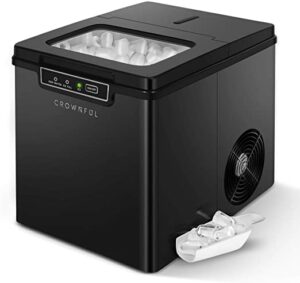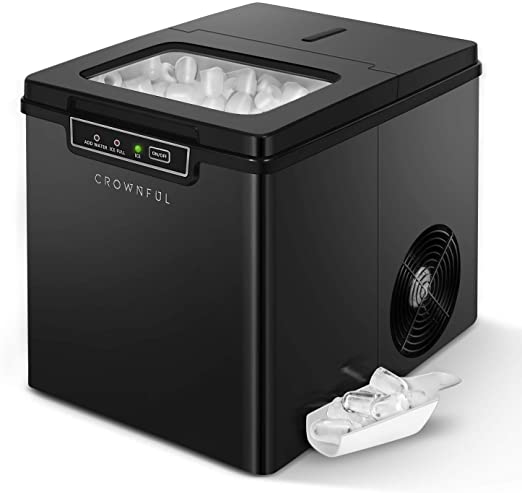 This little portable ice maker is an excellent low-cost choice. It generates bullet-shaped ice cubes in less than 10 minutes and keeps them frozen. The machine is lighter than others, making it ideal for picnics or road excursions.
Pros
A one-year warranty is also provided by the firm.
While creating and freezing the ice, the equipment is silent.
Cons
Its water and ice reservoirs are smaller than those of previous versions.
3.

Aglucky Portable Ice Maker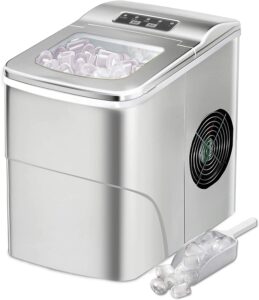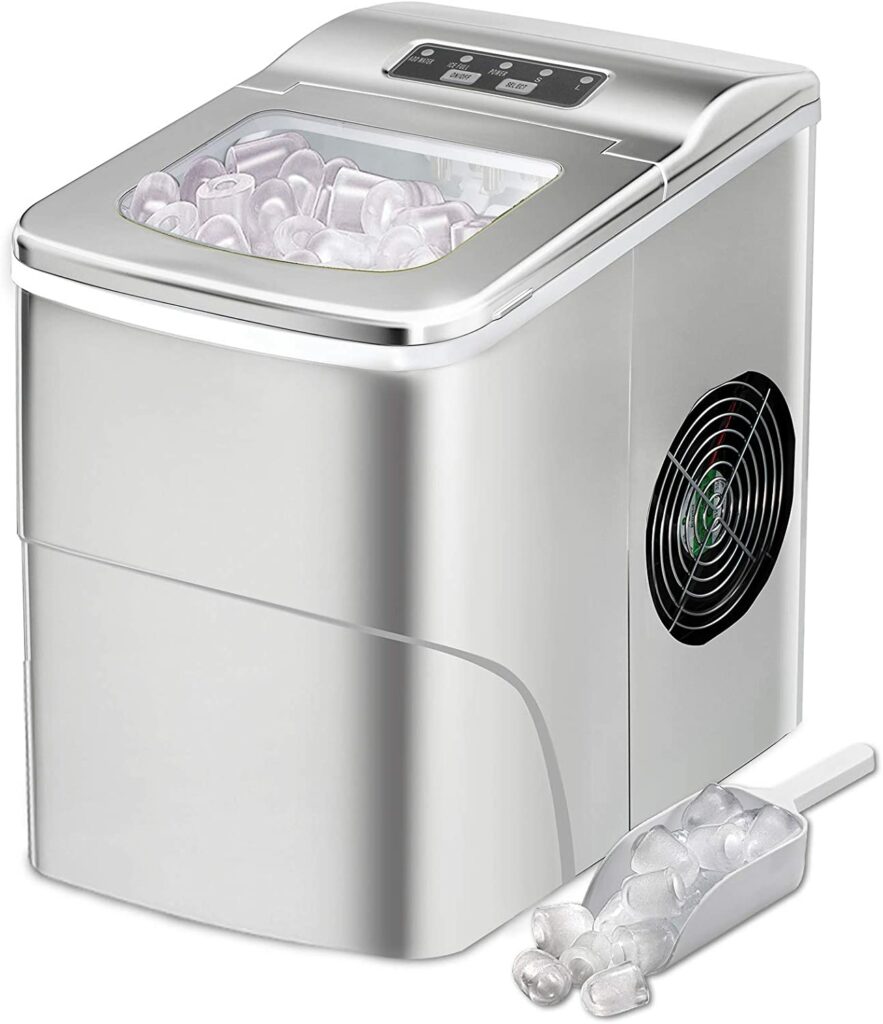 This portable ice maker is small in size yet powerful in performance. It can produce up to 26 pounds of ice per day and nine ice cubes every 6-8 minutes. Furthermore, it can make two sizes of ice for different applications; whether you're filling a cooler or a glass of water, the ice will fit exactly. The ice maker includes a scoop for hands-free serving, which can be stored in the machine when not in use. It's also completely portable, due to a two-liter water tank, and there's no need to connect a water intake.
4.

Taotronics Nugget Ice Maker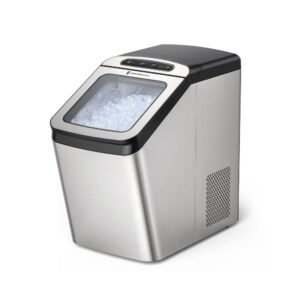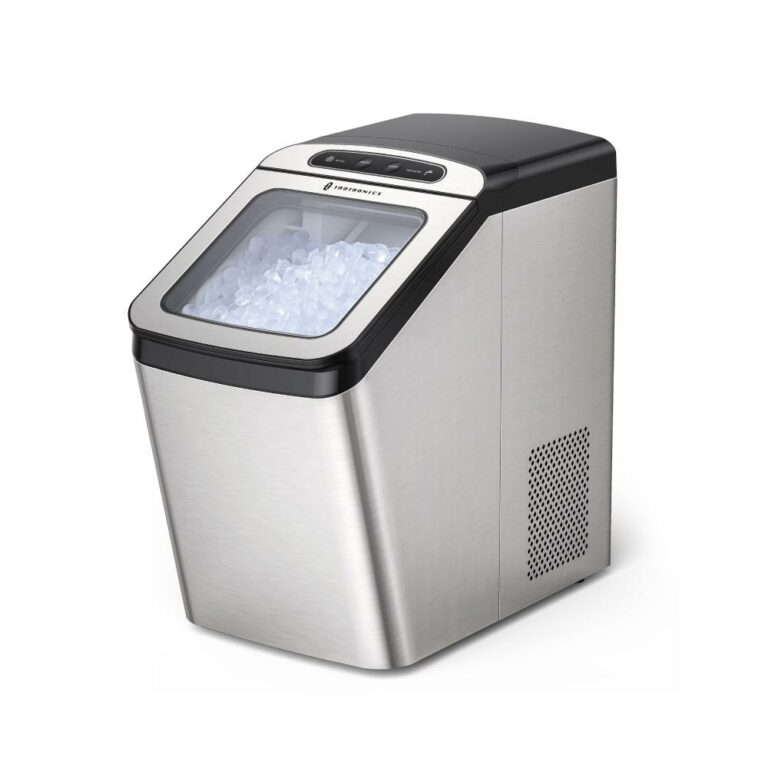 This huge portable ice maker is ideal for workplaces or houses that require a significant amount of ice. It has a capacity of 3.3 pounds of ice at a time and can create up to 26 pounds per day. You may also link the machine to a water source to have an ice supply that is continually replenished. The nugget-shaped cubes are ideal for beverages.
Pros
A built-in cleaning cycle makes cleaning a breeze.
Cons
Some house kitchens may find it too large.
5.

KBice Self Dispensing Countertop Ice Maker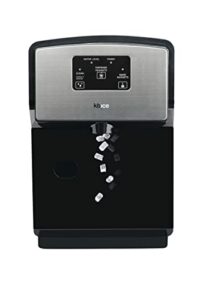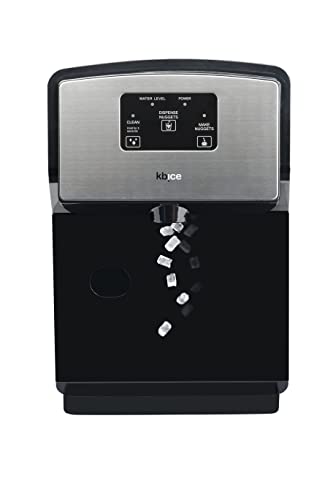 KBice is a visually appealing and hands-free countertop ice maker that makes filling your glass as simple as possible. The machine is small enough to fit under kitchen cupboards and utilizes purified water in its 1-liter reservoir to produce clear, nugget-shaped ice cubes at the touch of a button. It doesn't require any plumbing and can install wherever you want as long as there's an electrical outlet nearby.
Pros
Every day, 30 pounds of ice are produced.
Cons
It can take up to 30 minutes to make ice, which is longer than comparable equipment.
6.

Soukoo 2 in 1 Water Ice Maker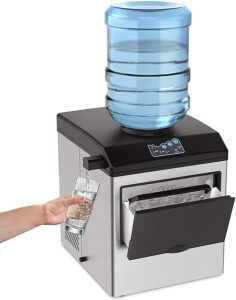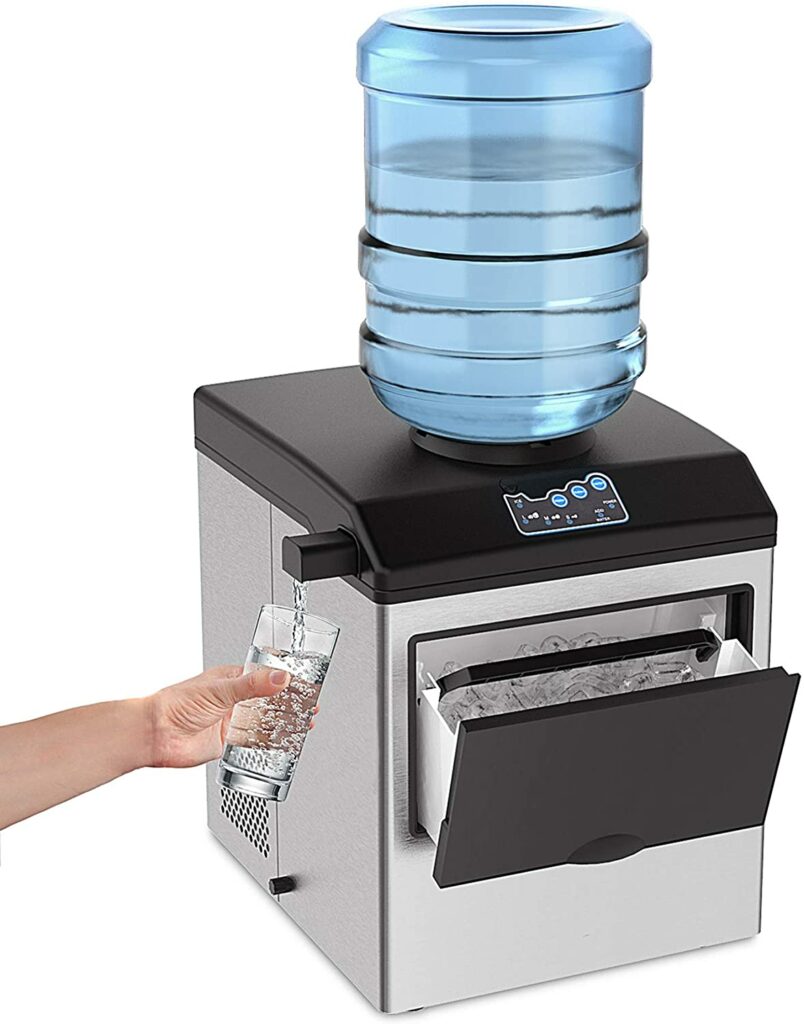 If you want to make ice at home without using tap water or connecting a filtered water line, this countertop machine accepts barreled water. Of course, if you run out of barrels, it has its own reservoir. The ice is stored in a large pull-out drawer for convenient scooping.
Pros
Water is also dispensed through a spout on the side.
Cons
More

audible than some other

machines
7. Sycees 2-in-1 Countertop Ice Maker & Ice Shaver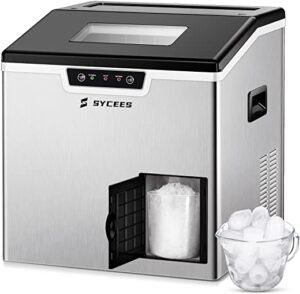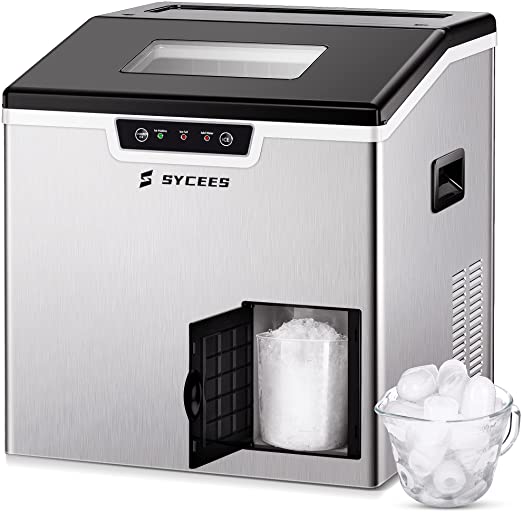 This industrial-strength ice maker is designed for serious ice users. In eight minutes, the machine can manufacture 18 cubes. It can also churn out freshly shaved ice in an instant for slushie beverages or handmade snow cones. The machine features a stainless-steel housing that is easy to maintain and is surprisingly quiet for its size and ice-making capability.
Pros
It can make up to 44 pounds of ice every day.
Cons
When ice falls into the reservoir, the machine may become rather loud.
8.

Igloo Automatic Ice Maker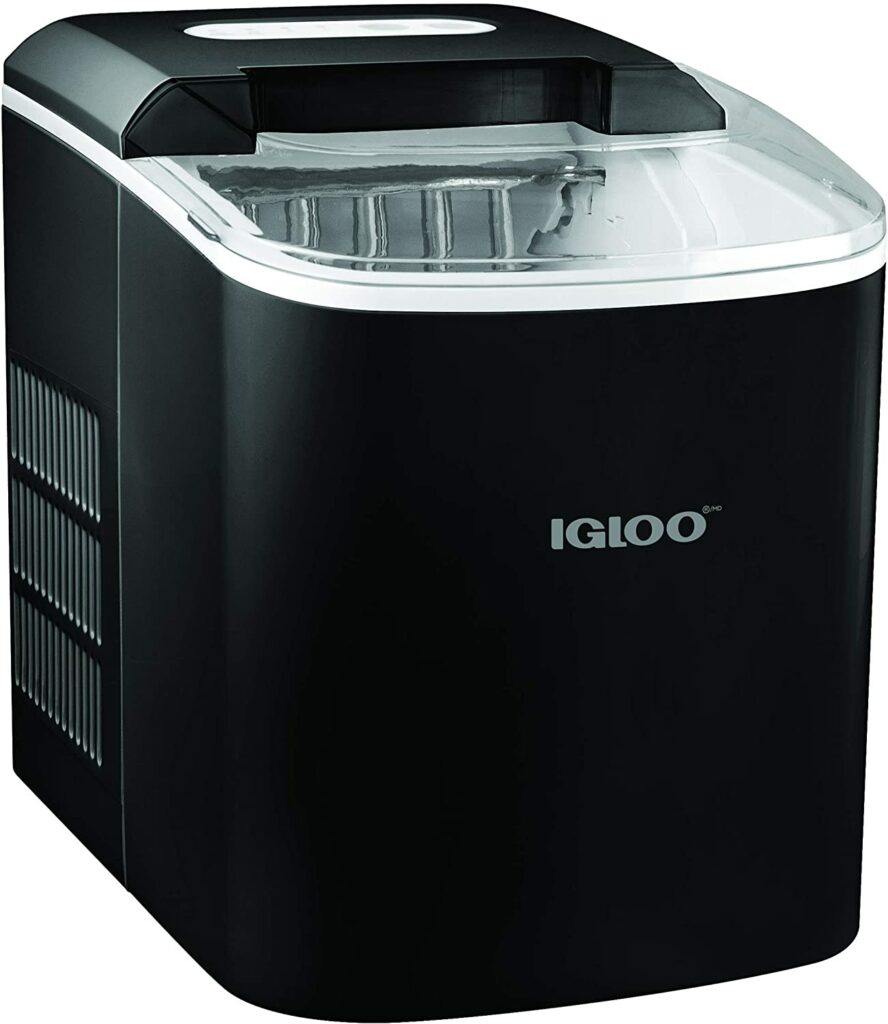 Igloo produces a charming, portable, and highly practical ice maker that will complement any kitchen design. It's available in five distinct styles, including a lovely aqua color for a throwback flair. With a two-quart water tank, the machine can create up to 26 pounds of ice every day. The ice comes in two sizes and the first nine cubes are ready in less than seven minutes.
Pros
Carrying

handle for simple

transportation
Cons
Ice storage capacity is less than that of other solutions.
9.

Snoworld Ice Maker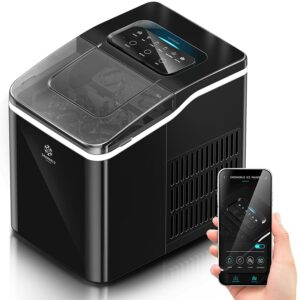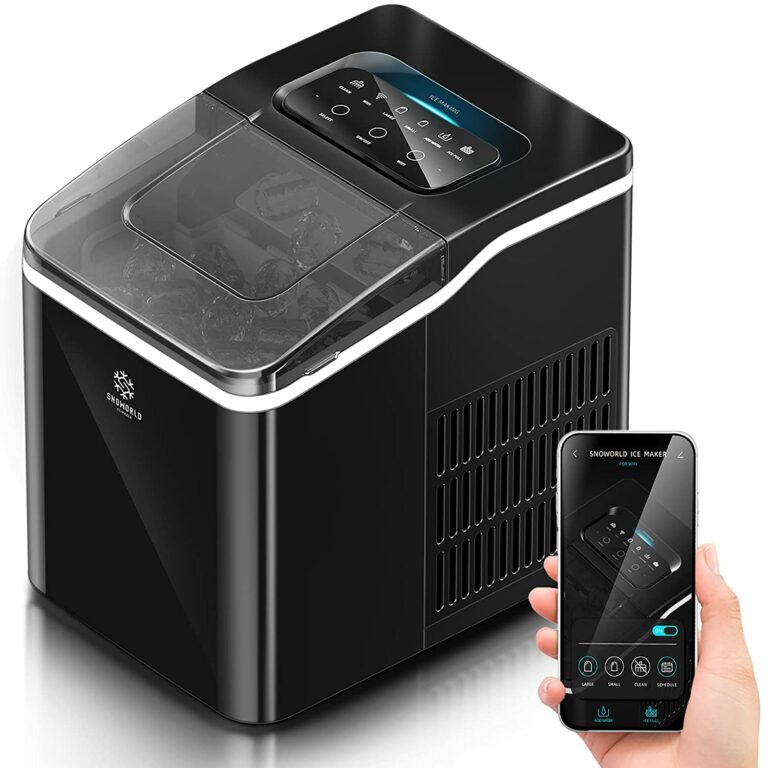 Connect to the compatible smartphone app for this high-tech ice maker to control your cubes from anywhere, at any time. You may use the app to start ice manufacturing or self-cleaning. Furthermore, this machine effectively reuses any melted ice water to make new cubes. When the reservoir is full, an infrared sensor within the machine stops ice production and protects the unit from overflowing.
Pros
Create a daily ice-making schedule with the mobile app.
Cons
The self-cleaning and timing capabilities are only accessible via the app, not the machine itself.
10.

Igloo Large-Capacity Automatic 33 lb. Daily Ice Maker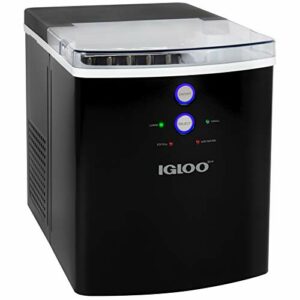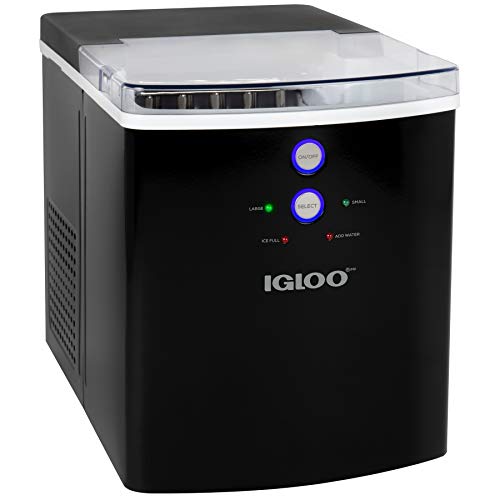 This Igloo is an excellent option if you need an ice maker that can pop out cubes rapidly and generate a large amount of ice in a single day. Though it can only contain two pounds of ice at a time, it can create up to 33 pounds in a single day if you keep up with emptying its detachable ice basket. It can make a round of ice in only seven minutes, and the LED-lit control panel allows you to select whether you want little or large cubes.
Pros
Makes

huge or tiny

cubes

It just takes seven minutes to make ice.
Cons
The ice basket can only contain two pounds of ice.