While converting and saving Word documents to PDF files has always been straightforward, the same cannot be said for Convert PDF to Word documents. This post will discuss some of the best techniques for Convert PDF to Word in 2022, as well as how to Convert PDF to Word. Read along as we investigate some of the most popular free Convert PDF to Word online. Online converters are the handiest since they function effortlessly in most internet browsers.
Because of its consistent layout across systems, interoperability, and small size, Portable Document Format, or PDF, is one of the most widely used file formats in offices and the business sector. However, when it comes to editing, PDFs have specific limits. As opposed to the ".doc" or ".docx" formats, PDFs give a little scope for alteration. Converting PDFs to Word Convert PDF to Word documents is the choice you're left with if you want to modify a document.
Top 10 Best Tools to Convert PDF to Word for You in 2023
There are various online tools and apps accessible if you wish to convert PDF to Word. The Internet is abundant with online PDF to Doc converters, but most of them have some constraints, such as you can only upload files till a certain limit, or the number of files you can convert is restricted. That's why we have gathered a list of the finest online solutions for Convert PDF to Word documents into PDF.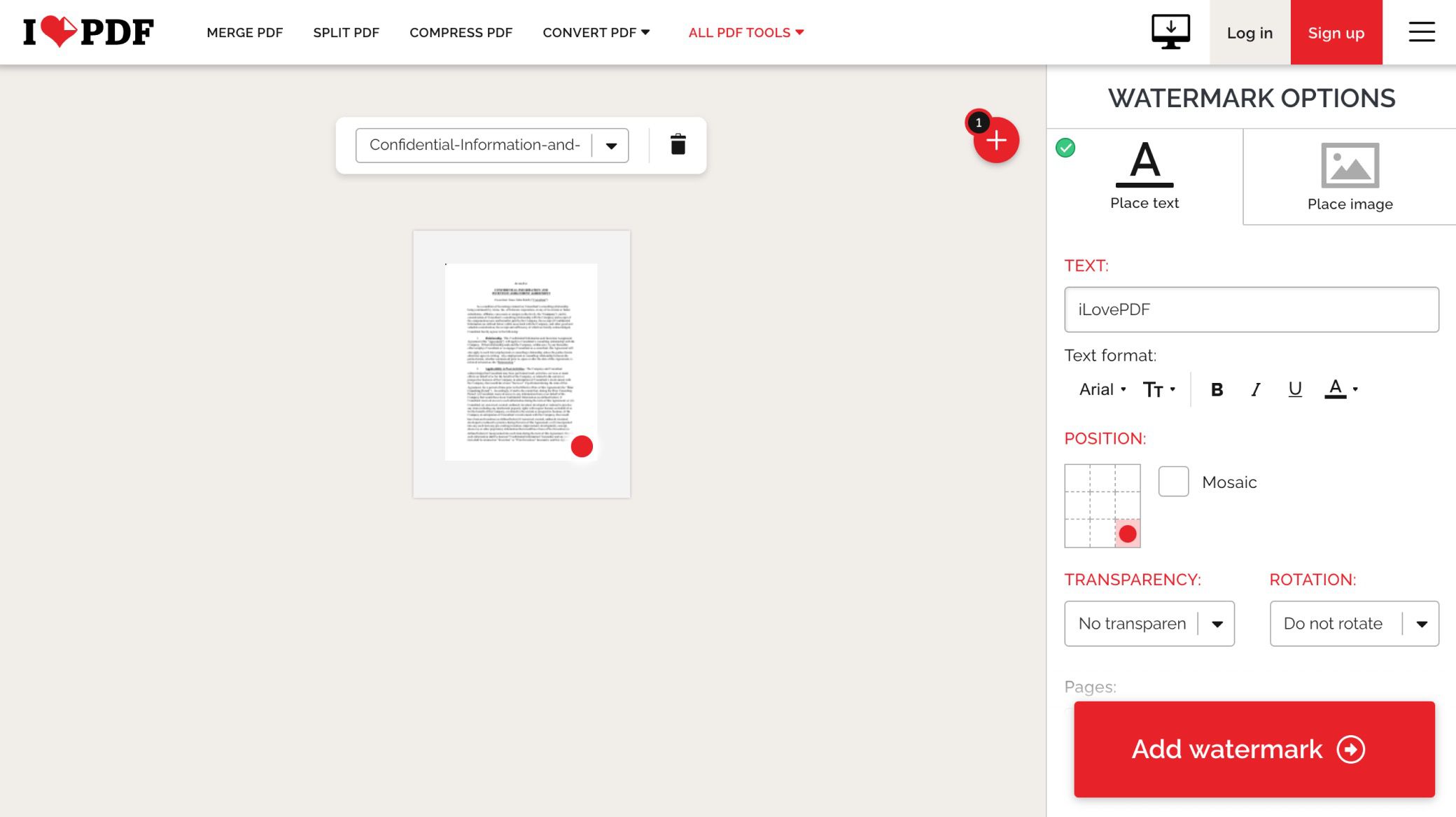 The ILovePDF converter is one of the simplest PDF converters available that uses a minimalist approach towards PDF conversion. It includes a full suite of free PDF processing tools, encompassing file conversions, compression, merging, watermarking, rotation, splitting, and more. You can sign up for more free features, such as 15 MB files, 2 hours of link life, and 10 downloads. There is also a premium edition with no advertisements, premium access to an iLovePDF mobile app, the largest file size per job, the maximum number of files per task, and other features.
Choose the file to convert or drag it into the box (you can also choose one from Dropbox or Google Drive).
Click the "Convert to Word" button.
When the file is ready, download it.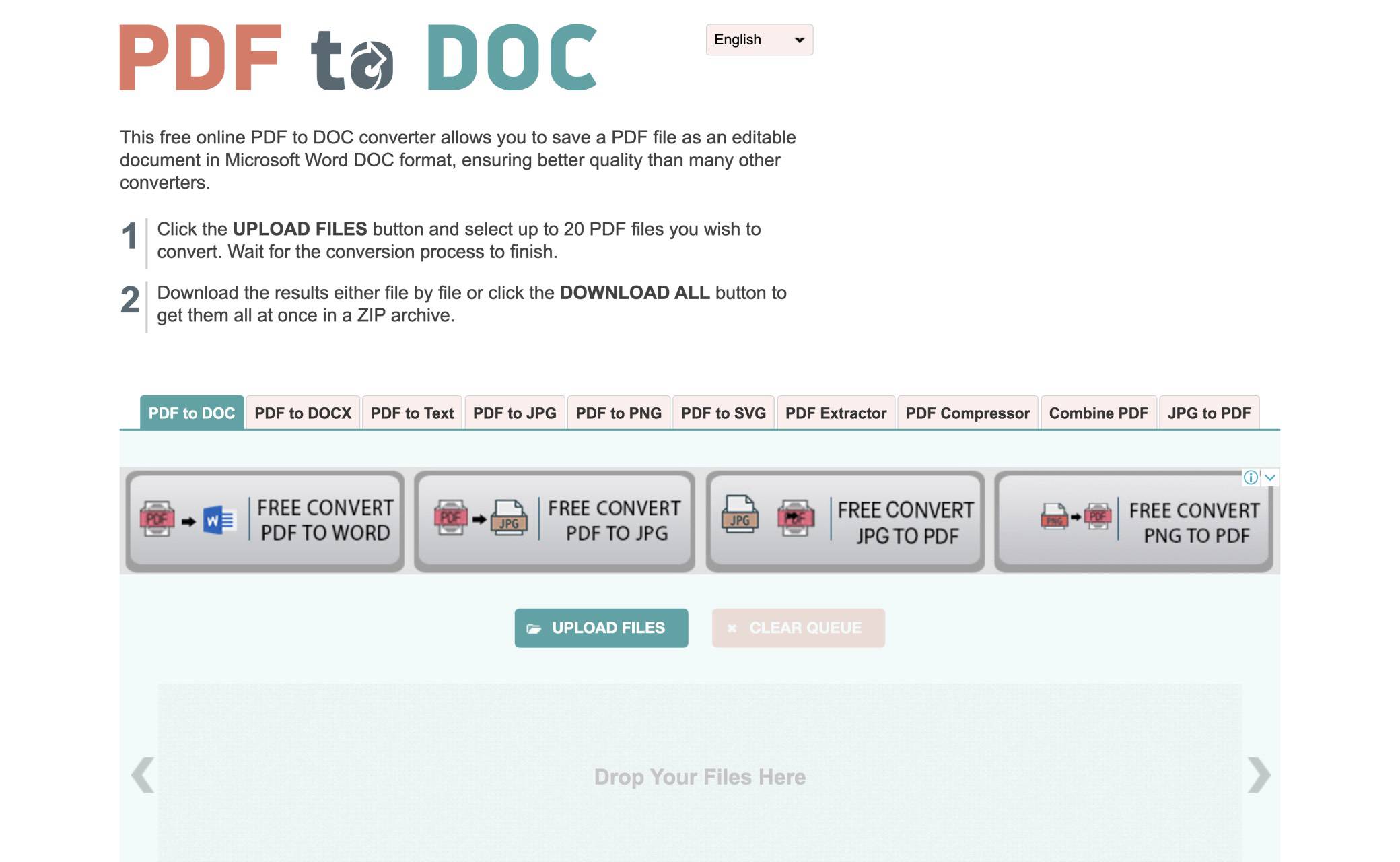 The UI of the PDF2DOC web service is relatively straightforward and easy to use. The service is free and works on mobile devices. PDF2DOC keeps the original PDF text, fonts, layout, and bitmap graphics in the resulting Word document. You may convert up to 20 files at a time and download the files one by one or all at once in ZIP archive format.
Just click the Upload Files button or drop your files into the box (up to 20 files).
Wait for the conversion procedure to finish.
Download converted files either file by file or click the "Download All" option to download them all at once in a ZIP package.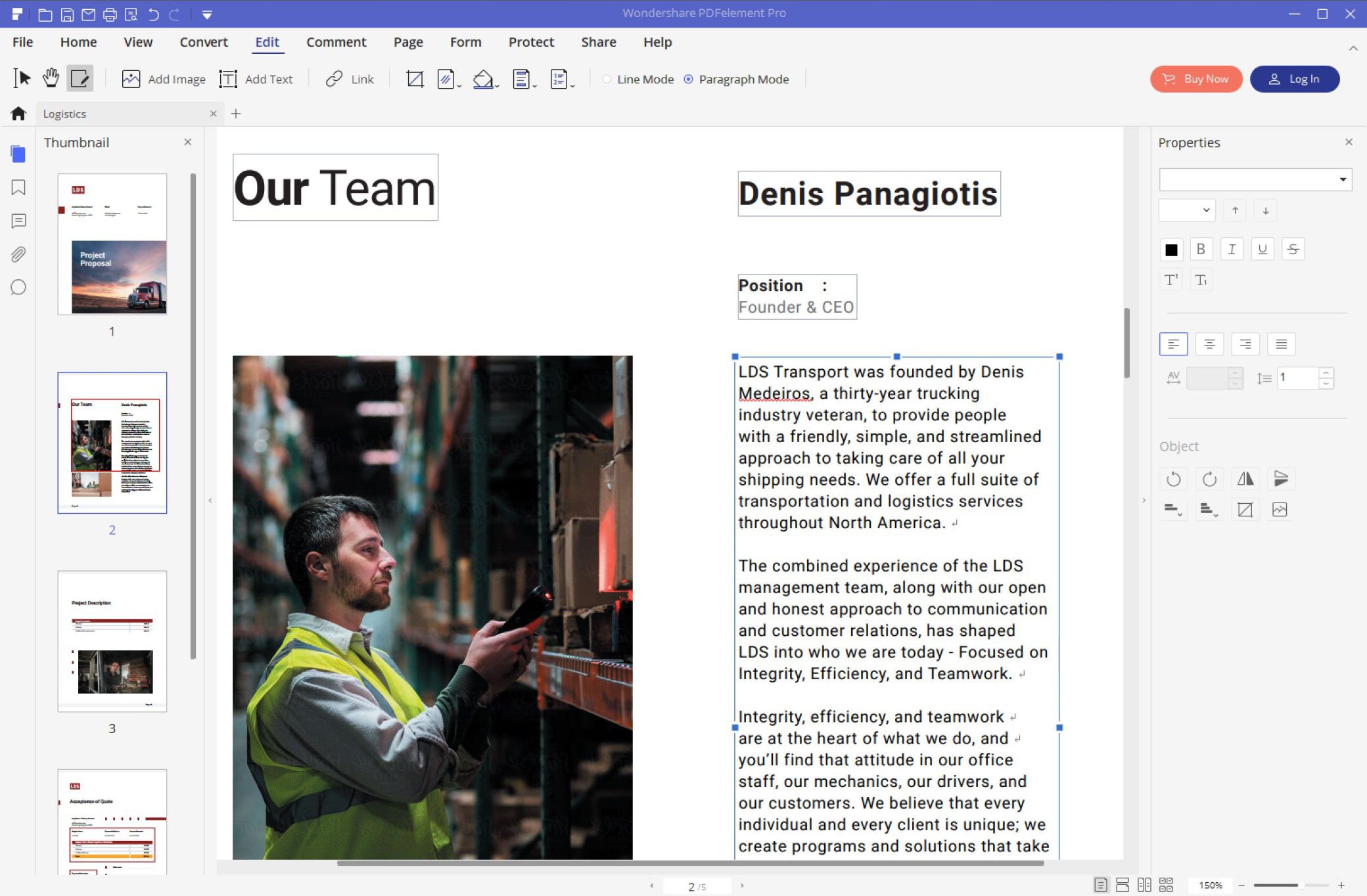 The issue is developing a means to convert PDFs to Word or other applications while also being usable and not unduly complex. Wondershare's PDFelement accomplishes exactly that. They have managed to produce a professional, feature-rich tool that converts PDFs to Word, Excel, EPUB, PPT, Pages, HTML, RTF, and text formats effortlessly without hurting the basic user interface. Along with its ease of use, PDFelement also allows you to annotate files, add text, export data, build forms, integrate password encryption, and permission-based limitations.
PDFelement is a full-service solution to produce and distribute PDF forms like magic. PDFelement provides a free trial to get you started and then two premium membership levels. The standard edition is quite restricted and does not have all the fancy features you truly desire. To obtain all of the information you require, it is preferable to purchase the Pro Version. PDFelement has received numerous awards for its outstanding products. Some big-name businesses, like Hitachi and Deloitte, use PDFelement.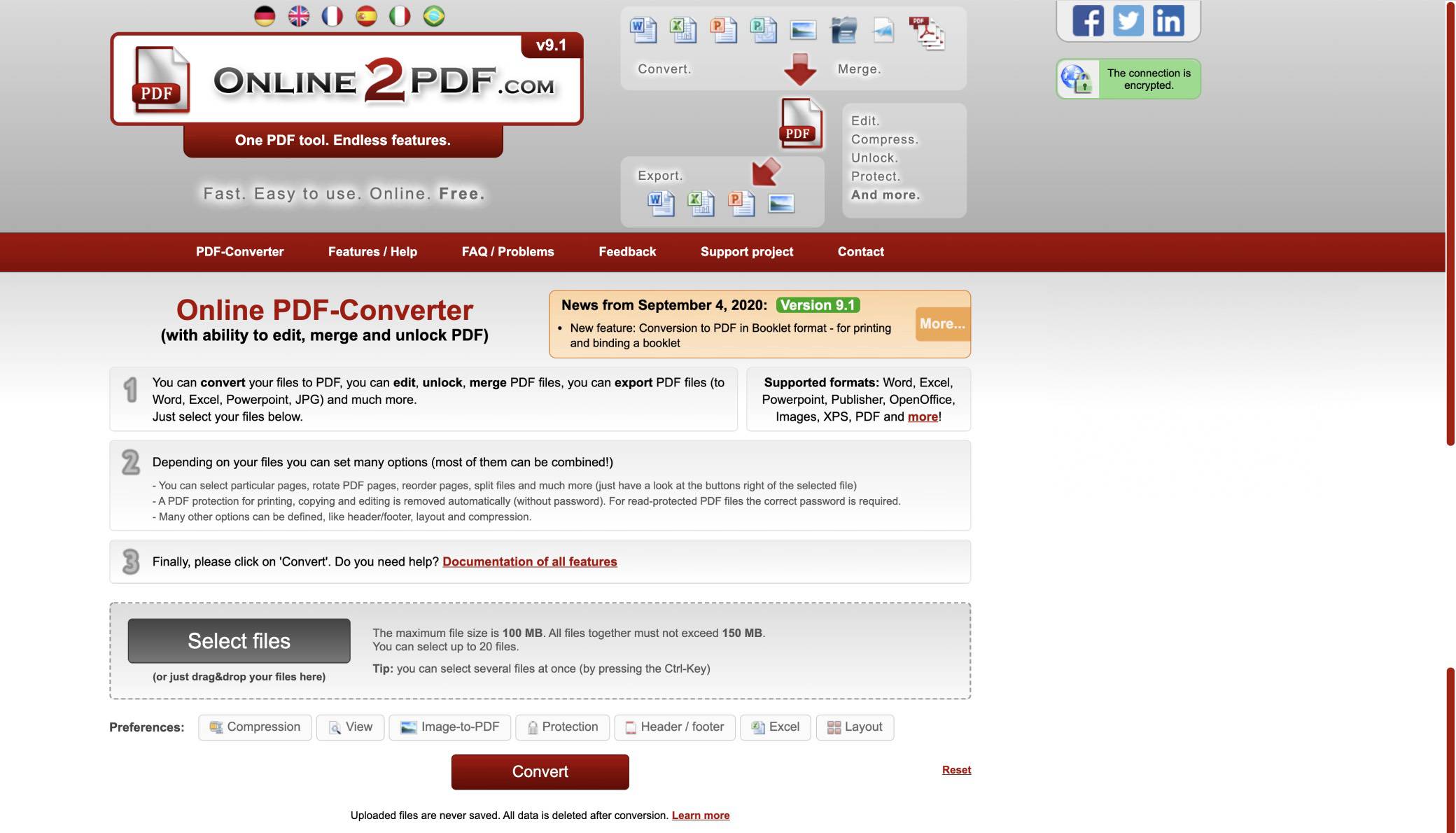 Online2PDF is one of the quickest and easiest ways to convert PDF files to Word files or even other Microsoft Office file formats. A one-stop PDF tool, Online2PDF is available in six different languages, making it one of the most popular and accessible online converters. Unlike other more minimalist converters, Online2PDF keeps PDF annotations during conversion so that comments and corrections are saved in your new document. Online2PDF also enables batch conversions, which is great for individuals wishing to work with several different files at the same time.
To utilize Online2PDF, click the link at the top of the page to open up the site.
Once you have the webpage open in front of you, scroll down to the option marked "Select files".
Click "Pick files" to select up to twenty files to convert at the same time.
Once you have picked your files, choose the sort of file type you would want to convert them too with the "Convert to" list button.
Press the big red "Convert" button to get started. With this step, you're all done, since the freshly converted files will download immediately.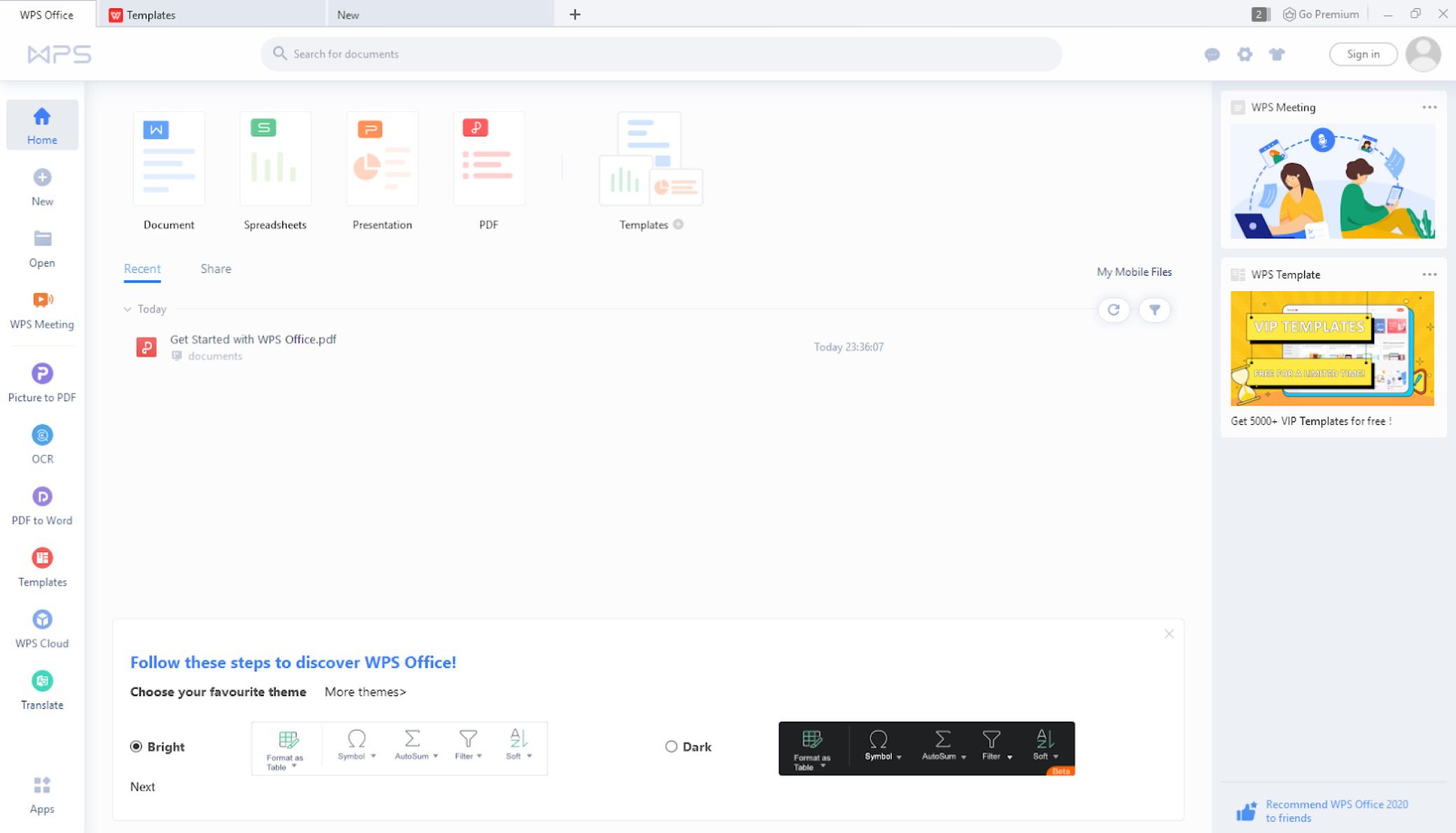 Because it is a desktop utility, the WPS PDF to Word Converter is faster than many internet applications. The software handles files in batches, retaining the quality of your files and properly replicating text fonts and design weights. You may convert up to five pages with the free version of the software, but if you need to convert files without a limit on the number of pages, the premium edition of the app will cost you $19.99.
Launch WPS Writer, click on Special Features > PDF to Word.
When it opens up the WPS PDF to Word Converter, drag or open a PDF file from your computer to the converted area.
Choose the stored type and saved location in terms of your demands, then click "Start" to convert your PDF file.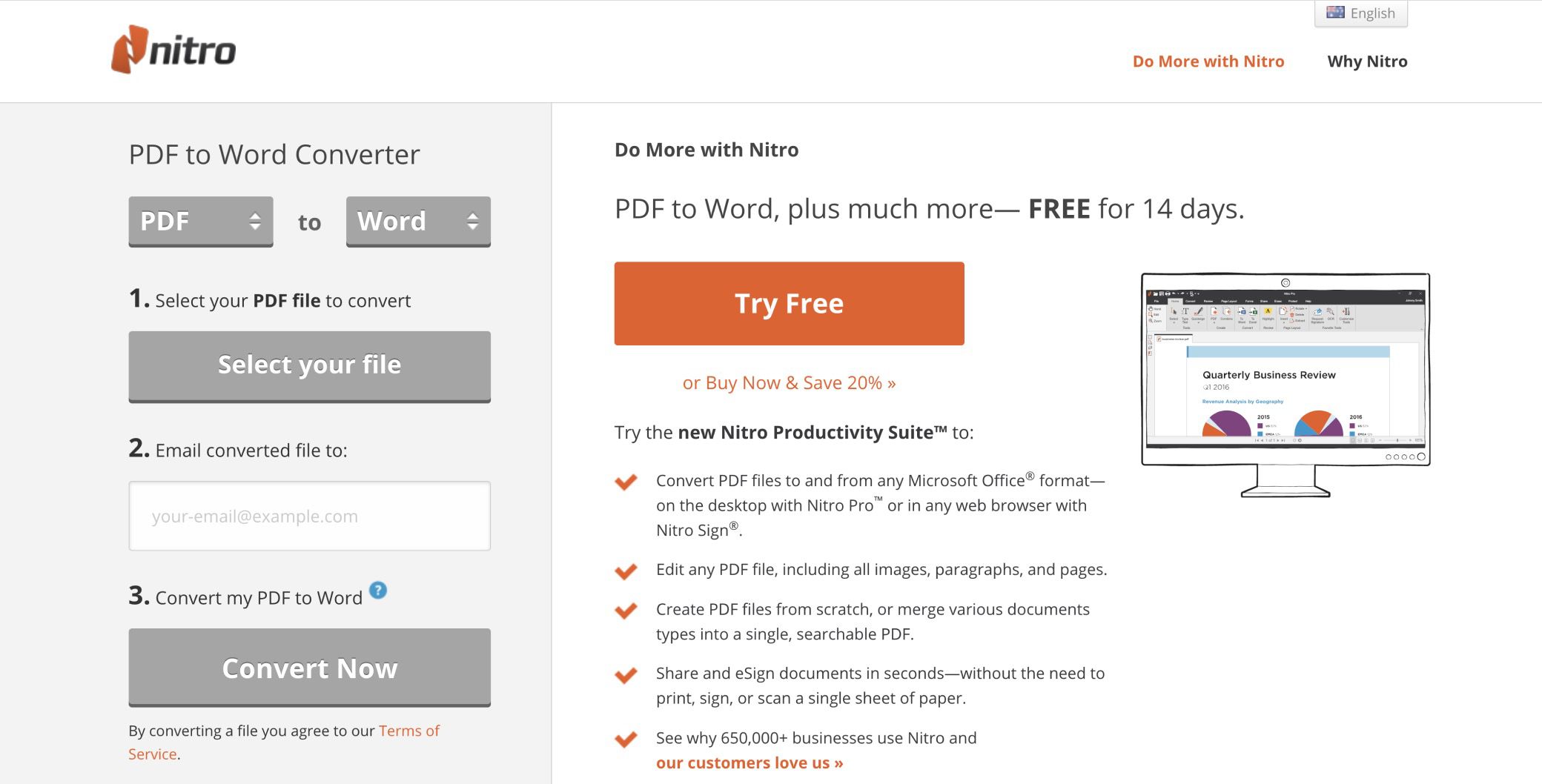 Nitro PDF to Word Converter is a free tool that converts PDF files to Word documents. There are two versions of the Nitro PDF to Word Converter: a desktop tool for Windows and an internet version that is free. We'll consider the second one. The free online PDF to Word Converter allows uploading multiple files and choosing numerous formats (including Word, PowerPoint, and Excel) (including Word, PowerPoint, and Excel).
Once your file is converted, it will be provided to you through email. One of the major drawbacks is that each email address is restricted to five file conversions each month, a restriction that, for sure, restricts The quality of the converted file is decent; the text is retained adequately, but there can be some difficulties with graphics, rogue spaces, and line breaks.
Select the PDF file you need to convert.
Indicate an email address you wish to send the converted file to.
Click the "Convert Now" button to start.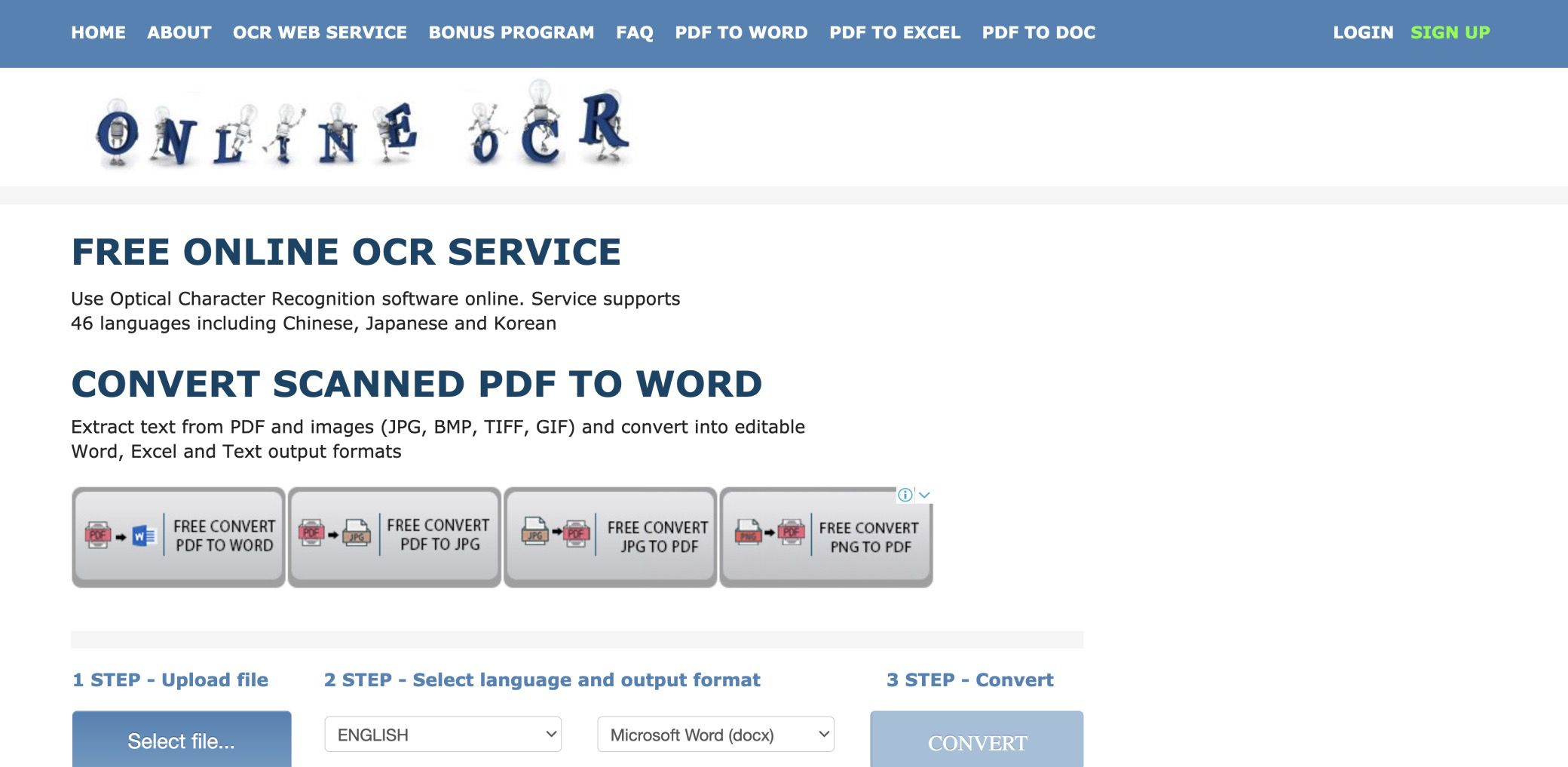 For OnlineOCR, it's all in the name. If you don't already know, OCR stands for optical character recognition software, a crucial tool for identifying foreign characters throughout the conversion process. With incorporated OCR technology, the OnlineOCR converter is one of the greatest solutions for people wishing to convert documents, including those with foreign language characters such as those found in Korean, Chinese, and Japanese.
With over 45 supported languages, there's a strong possibility that OnlineOCR will work for you. The sole negative of OnlineOCR is a conversion restriction for visitors set at 15 conversions per hour. If you have numerous conversions to accomplish in a tight time frame, OnlineOCR may not be the best solution for you.
To use the OnlineOCR converter, first open the site using the link in the header.
Follow the procedures on the webpage by uploading your file with the "Select file" button.
Next, pick the language and your chosen export format.
Click "Convert" to obtain your freshly converted file.

SodaPDF is a flexible application with a range of useful options available for anything from merging and compressing PDFs to editing and, of course, converting PDFs to Word. While largely offered as an online browser service, SodaPDF is also available for use offline with its downloaded version. SodaPDF is capable of batch converting, which is great for completing bulk conversions efficiently.
One of the bonuses with SodaPDF is the fact that converted files are erased from their online servers in 24 hours or less, making this a top pick for individuals concerned about privacy. Unlike other converters like OnlineOCR, SodaPDF is only available in a limited number of languages. For individuals dealing with non-Latin alphabets or with other special characters, mileage with SodaPDF may vary.
To use SodaPDF, access the webpage by clicking the link in the section header.
Drop your files into the box or use the "Choose file" option to upload your files from your hard drive, Google Drive, or Dropbox account.
Selecting a word file will immediately convert it to PDF.
Selecting a PDF file will offer you the choice to pick your chosen output file format.
Selecting the file type will start the converting procedure automatically.
Download your updated file with the "Download Now" button.

FreePDFconverter is one of the simplest and cleanest converters available online. Free from intrusive and crowded ads, FreePDFconverter is beautiful and displays a user-friendly layout. And with over ten million users and many more successful conversions, FreePDFconverter is recognized for its trustworthiness among its devoted user base.
With a broad selection of PDF-capable tools, FreePDFconverter can help you modify your PDF documents by splitting, compressing, rotating, and eliminating unwanted pages. While these tools are wonderful for editing PDFs, this converter makes no mention of languages other than English, so it may not be calibrated for optical character recognition. Finally, despite the name, this converter is not free. Upon attempting to convert, you will receive a popup requesting that you sign up and subscribe for $5 a month. For this reason, we cannot suggest FreePDFConverter since it does not live up to its name.
To access FreePDFconverter, click the link at the top of this section.
Click the blue "Choose PDF File" button or drag your files into the box.
Upon picking a file, the converter will convert it to Word automatically.
If your work is longer than two pages, you will need to pay and subscribe.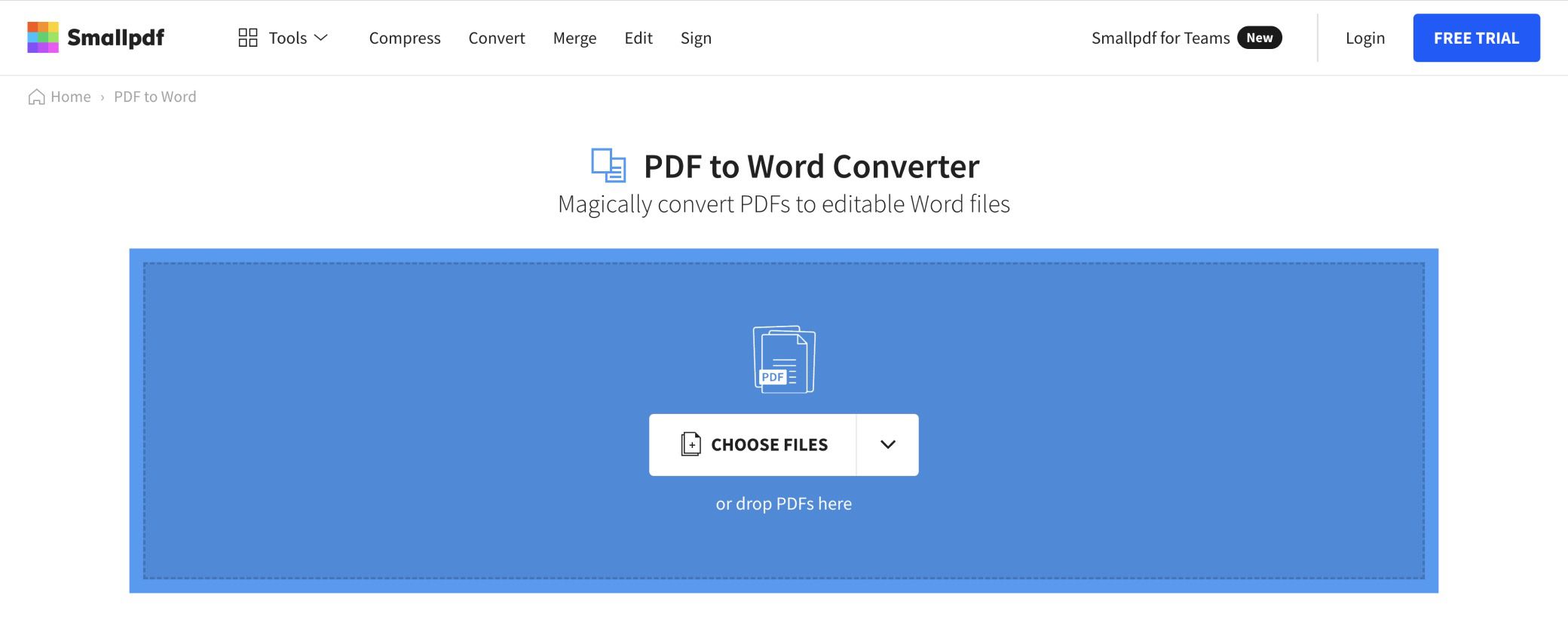 SmallPDF is an efficient browser-based PDF to Word converting program that includes a simple and easy-to-use interface and is concentrated on offering a fantastic user experience. SmallPDF can convert files from PDF to many other formats and vice versa. Besides, it performs other tasks like editing PDFs, merging PDFs, compression of PDFs, scanning, dividing, merging, rotating, and converting documents. There are also some limited security measures, such as electronic document signing and password protection.
Click the "Choose file" button to add your file, or just drop the file into the box.
Choose the format you wish to convert to (Word, Excel, or PPT) (Word, Excel, or PPT).
Download the file, share it, save it to Dropbox or Google storage.
How to Convert Word to PDF, Free or Not?
Invented by Adobe in the 1990s, the PDF was a proprietary file type protected by patent up until 2008. Since then, modifying and converting PDFs has been free from licensing obligations, but converting PDFs to Word documents remains challenging since few free solutions offer this function. For a long time, converting PDF to Word was only feasible with Adobe's proprietary product, Adobe Acrobat.
Fortunately, a number of free PDF to Word converters have recently come up with remarkable success, democratizing this service once and for all. With an abundance of free development tools and converters accessible both online and for download, modifying PDFs has never been easier. Beyond converting to Word, PDFs may also be converted to other file kinds, including picture files.
While the PDF developer Adobe still maintains the patent on the PDF, they have offered it to the public royalty-free. This implies that anybody may use and alter PDFs so long as they adhere to Adobe's original PDF guidelines. If you're using a Mac, you may always use Adobe Acrobat as indicated above. Alternatively, you may use the capabilities that are fully built-in to the Mac.
Here's a guide.
Open the PDF file by double-clicking on it.
Highlight and copy all the content included in the document.
To hold Command + Shift + 4 while pressing Command + Shift + 4.
This will extract a picture from the document.
Click and drag the mouse so that it fits the frame of the image you wish to remove. Now released.
Open the Pages app and paste the content you copied into a blank document. Edit the text and allow room for your photographs. Drag the photographs you retrieved and stored on the desktop into the Pages document. Make sure to insert them as needed. Save the file as a PDF.
Your Windows PC can't extract photos the same way Macs do. But there's a simple method to go about it. Convert the PDF document into Word and then edit it as you would a Word document.
You may use a PDF to Word converter online or use Adobe Acrobat.
howto-edit-pdf image
Today, we'll go through how to convert PDF to Word using Adobe Acrobat.
Open the Adobe Acrobat application.
Click on File > Open.
Select the PDF document.
After the document opens, click on Export PDF in the toolbar on your right-hand side.
Select "Microsoft Word" and click Export.
You now have an editable word document.
Make the needed modifications, and then save it as a PDF.
How to Edit PDF on Windows
While not free, Adobe Acrobat is the original PDF converter, capable of handling all your converting and PDF editing needs. What's more, is that Adobe Acrobat allows you to safeguard your original PDFs by applying for password protection or defining file permissions for editing and copying. Adobe Acrobat is vital for organizations wishing to secure their intellectual property. It is for this reason that Adobe maintains its position as an industry leader and continues to profit off of its unique PDF file format.
Adobe Acrobat is a premium service that may be out of reach for individuals wishing to merely convert a one-off document here and there. However, for students, most university libraries have subscriptions to Acrobat, making it available on most university campuses and occasionally even public libraries. Likewise, many firms and corporations have subscriptions as well. If you're looking for a free tool, try any of the finest free PDF editing tools featured in our review. To convert a PDF to Word in Adobe Acrobat, open your file in Acrobat.
Click on the "Export to PDF" feature on the right-hand side of the software.
Choose your chosen export format.
Click "Export," name the new file, and save it to your computer.
Converting Made Easy
By now, you should have discovered an application to handle all your conversion needs. It's typically a rare instance where one has to Convert PDF to Word, making the need to hunt for how to accomplish it irritating. Save yourself some future effort by bookmarking this post for next time! If you'll need to simply modify a few words, please check out our simple follow-along instructions on how to edit PDF files on Mac and Windows by utilizing built-in tools, Adobe Acrobat, or other online PDF editors.