We've all heard about the benefits of VPNs (Virtual Private Networks). Their simple services help you remain anonymous and protect your identity while using the Internet.
But VPSs (Virtual Private Servers) are on another level. Although they are often confused with VPNs, they provide a completely different level of services.
A VPS is not a browser extension, it is not a program, neither a client to connect to a server. The VPS is the server!! VPS is a cloud-based server, usually with high-speed connection and performance. You can run anything on the VPS, from web hosting, download/upload unlimited digital files, stream your media online, and yes… you can even host your own VPN!
So much you can do on a VPS Seedbox and remain anonymous!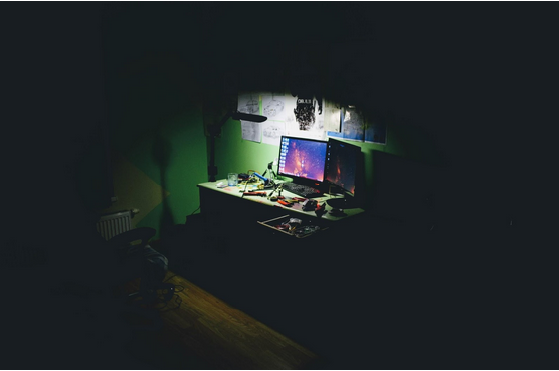 Photo by Kaur Kristjan on Unsplash
So What Exactly is a VPS Seedbox?
In a nutshell, a VPS Seedbox is an online service used to download and upload digital files at high speeds through P2P methods like BitTorrent while keeping 100% privacy.
Let's break down the concept: VPS + Seedbox… 
The VPS.
A VPS (Virtual Private Server) is a cloud-based virtual machine rented using the as-a-Service model by a hosting service provider. The VPS runs in the provider's infrastructure and under the control of some virtualization hypervisor — Vmware, Hyper-V, KVM, OpenVZ, Xen, etc.
A VPS can be either dedicated or shared. When someone talks about the popular Virtual Dedicated Server, they might be referring to a Dedicated VPS. A dedicated VPS is a type of Internet hosting in which the client leases the entire server instance, and it is not shared with anyone else. On the other hand, in a shared resource, more than one client uses a single instance of the VPS.

As shown in the picture above, a VPS is part of a cloud-based private subnet inside a VPS Provider Network. VPSs are used for providing VPN services, web hosting, and of course, Seedboxes!
The Seedbox.
A Seedbox is a remote server dedicated for torrenting, a way of file sharing using P2P (Peer 2 Peer) protocols, such as BitTorrent.
A Seedbox can be a remote client, an online app, or a dedicated VPS. It can take any shape with the shape, as long as it is made especially for downloading and uploading torrent files safely and at very high speeds. When you download a torrent with the Seedbox, you can transfer it to your personal computer using other safe methods SFTP or FTPS, or even stream it online with a media server such as Plex.
The Seedbox by itself can be deployed on any server, from bare metal to virtualized servers. There are usually two types of Seedboxes, one is called a VPS Seedbox, and the other is the non-VPS Seedbox. 
The Non-VPS Seedbox is a dedicated server + applications designed to perform P2P information exchange.
The VPS Seedbox.
VPS + Seedbox = A remote virtual server made ready and especially for torrenting.
Although you could use a VPS Seedbox for other things such as VPN, web hosting, streaming, etc., a VPS seedbox is specially designed for P2P. A VPS Seedbox guarantees online anonymity, high-speed transfers, and more.
What are The Benefits of Using a VPS Seedbox?
VPS Seedboxes are explicitly made for torrenting. But some offer services far beyond file sharing, such as streaming, VPN, backup storage, and web/app hosting.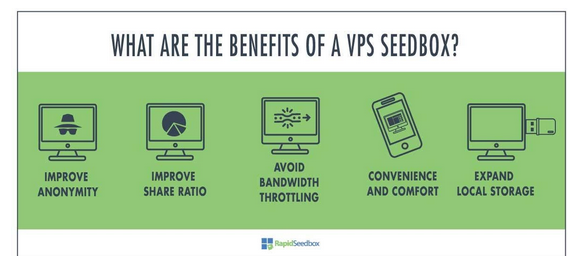 1. Improve Anonymity.
A VPS seedbox protects a torrent's anonymity. Although BitTorrent is entirely legal, ISPs and copyright trolls are looking for public IPs that use the BitTorrent protocol often. If you are using your home IP, you are at risk.
With a remote third-party VPS seedbox server with a different public IP from another country, your risk level drops to zero. Your ISP will only see encrypted traffic (which is not attractive to them).
2. Improve your Share Ratio.
Seedboxes were born out of a necessity to improve (or maintain) the share ratio in private communities while saving resources and staying anonymous.
Seedboxes are very popular in P2P communities, especially in private communities. The upload/download shared ratio is critical to be a part of these communities. A seedbox helps you maintain (and improve) your share ratio in torrent communities, without utilizing your resources.
3. Circumvent Bandwidth Throttling.
Your ISP also has limited resources. Their powerful routers are quickly overflowed when a large number of users start consuming too much bandwidth. IPSs will shape any traffic that uses a large portion of their bandwidth pipe. That is why ISPs are continuously fighting BitTorrent protocol traffic, as it takes a considerable portion of their bandwidth. Once they identify the BitTorrent port, they will shape its traffic and reduce the speed to less than 10%.
Seedboxes are used to avoid the bandwidth throttling imposed by ISPs. Since a seedbox is using another ISP and not using your home ISP to download torrents, you'll instantly avoid any throttling.
4. Convenience and Comfort.
Torrenting demands a tremendous amount of resources, especially if you are a serious user. There is only enough CPU, hard disk, memory, Internet data allowance, etc., to go around when using your computer and network to download torrents.
A VPS seedbox can take all that load.
For added comfort, Seedboxes can also be managed anywhere and from any device. You can even use your mobile to check your downloads on the go, download your content anywhere, and configure RSS Feeds to automatically download files as soon as they are released.
5. Expand your Local Storage.
You have two choices when using a seedbox. Use it as a middle-man or as permanent cloud storage. When the seedbox acts as a middle-man, you would use it to download or seed torrents, and then download them from the seedbox into your computer.
Some users love leaving their content on the seedbox. Having the cloud-based storage allows them to download or stream content anywhere and from any device.
6. More Protection than a VPN.
Some VPN services do not allow P2P traffic, and worst of all, some retain logs of your traffic. If you are still interested in using a VPN for torrenting, either get a dedicated VPN service (with the zero-log keep policy and no traffic logging) or use your own VPS Seedbox with OpenVPN.
Final Words.
Although a VPN would provide a decent level of privacy and anonymity while browsing the Internet, some VPN services do not allow P2P traffic. And worst of all, some VPNs retain logs of your traffic.
A VPS Seedbox with OpenVPN is like having your VPN service provider. These virtual private servers guarantee incredible download/upload speeds, and you can download torrents with 100% anonymity!