It is getting more impossible to use the Internet without being bombarded with irrelevant advertisements. This is logical given that it is a marketing tactic that helps websites to generate revenue. However, having too many advertising in your browser or applications might be bothersome at times. This is where the best ad blocker for iPhone comes into play.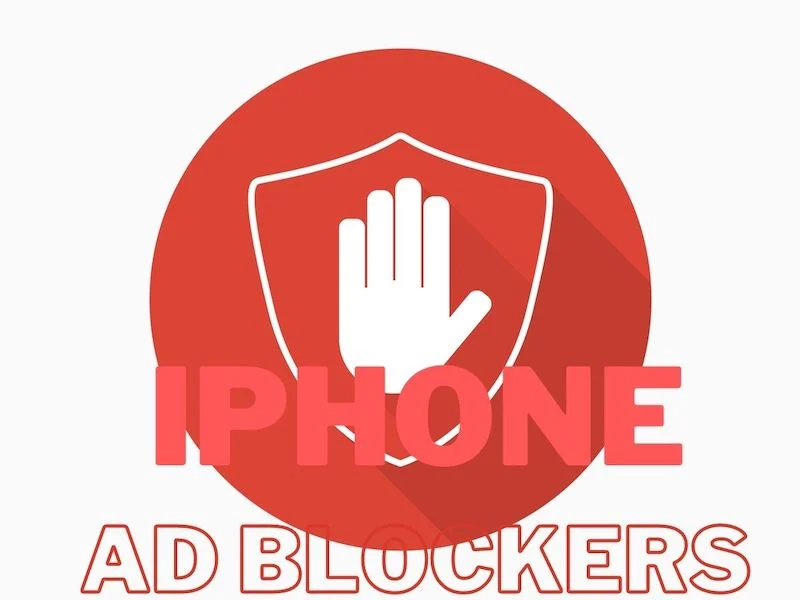 Even though iPhones have an ad blocker built in, it is useless. As a result, it is preferable to use ad blocker applications to avoid advertisements and efficiently keep your online surfing actions secret. However, like with any other program, finding the best ad blocker for iPhone might be difficult. That is why we have produced a list of the best ad blockers for iPhone. We not only evaluate the best ad blocker for iPhone, but we also explain how to use them.
Why should you use an iPhone ad blocker?
There are many reasons why you should use an ad blocker on your iPhone.
Ad blockers may improve website loading speeds by stopping the browser from downloading superfluous and potentially hazardous scripts, spyware, or adware.
They may also help you hold battery life and minimize the amount of data you utilize.
Although blocking internet adverts is debatable, web users have a right to engage with information without continual interruptions and corporate snooping.
Some free applications may also deliver in-app advertisements, however app creators may also depend on advertisements for revenue, therefore the best option to avoid adverts inside iPhone apps is to pay for the apps you use.
What features should an ad blocker have?
Do you really need an ad blocker?
Do you want an ad blocker that just blocks adverts or an ad blocker that also prevents tracking?
Do you want an ad blocker that just prevents pop-ups or one that blocks all ads?
When browsing for an ad blocker for your iPhone, opt for one that has strict privacy regulations. This will assist to guarantee that your personal information is not disclosed to third-party corporations. It would also be beneficial to check for a high review rating, since this would suggest that the blocker is both effective and popular. Finally, avoid blockers that route phone communication via their servers, since this may violate your privacy.
How to Enable an Ad Blocker on an iPhone
When you download an ad blocker on your iPhone, it is not immediately usable. Instead, this function must be activated in the iPhone's settings. You can learn how to accomplish this for Safari here.
Go to Settings on your iPhone.
Click on Safari
Select Content Blockers from the list of options.
Following that, the ad blocker you installed on your iPhone should appear.
Then, click the switch to activate the already-installed ad blocker.
Top 6 Best Ad Blocker For iPhone in 2023
The bulk of the best ad blockers for iPhone free, although a handful need a membership. This article will go through some of the best ad blockers for iPhone.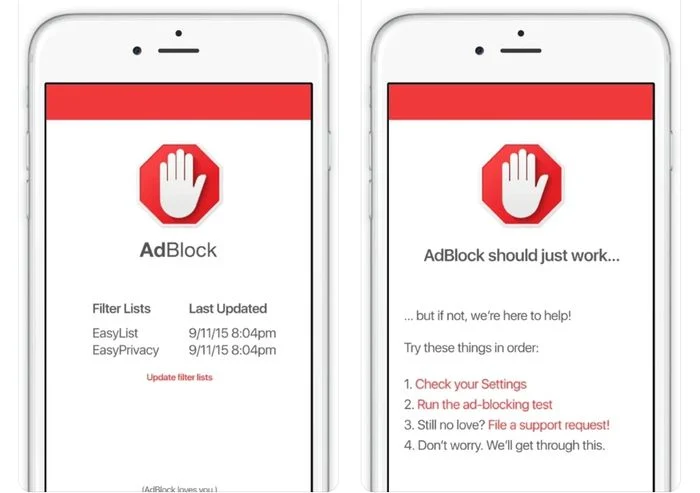 If you want a personalized program to block adverts with a selection of filters that function automatically on the iPhone, Adblock is the solution for you. This means you may use the app's default block list, add new ones, or even construct your own URL-based blocklist to create the surfing experience you want. Furthermore, the software is tightly integrated with Safari and includes a DNS proxy service that tells you about the security of a website before you access it.
This free iPhone ad blocker prevents you from seeing almost all advertisements when surfing the web. By preventing pop-ups and advertisements from different websites and applications, the program also helps to establish a secure Internet experience and makes your iPhone run more effectively. The "Fair" component of AdBlocker may be observed when you allow certain sorts of adverts or even whitelist ad-supported websites that you don't want to lose money from.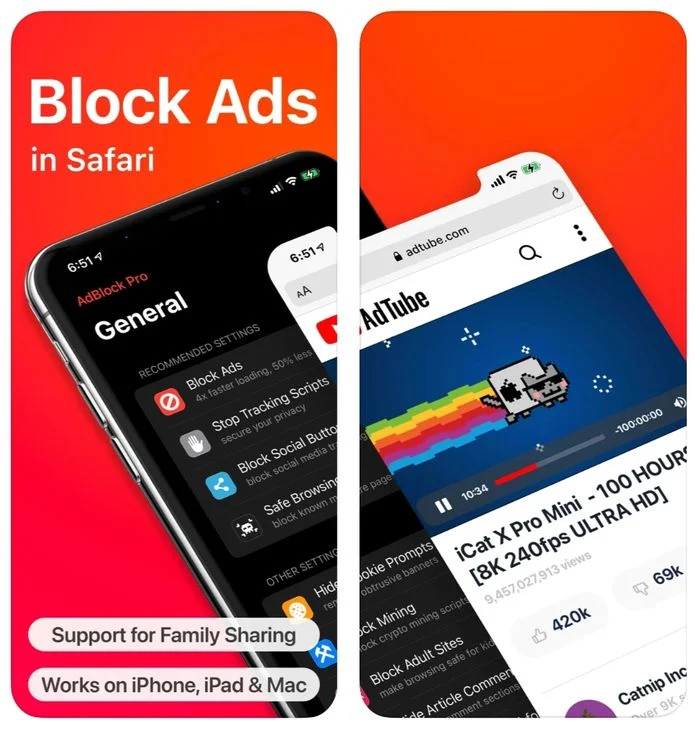 This complete software solution successfully blocks annoying advertisements in Safari. Adblock Pro, without exception, aids in the blocking of pop-ups, annoying video adverts, and Internet faults. With this software, you will be able to enjoy ad-free streaming and a 2x quicker surfing experience in Safari. It will also save you from getting data-drained by meaningless site stuff.
The program also works around anti-ad filters and enables you to sync your settings with other devices through iCloud. Adblock Pro is more expensive than the others, but its features outperform them in certain respects, so it's worthwhile. Several positive reviews on the Apple App Store website demonstrate how well the software satisfies all of its requirements.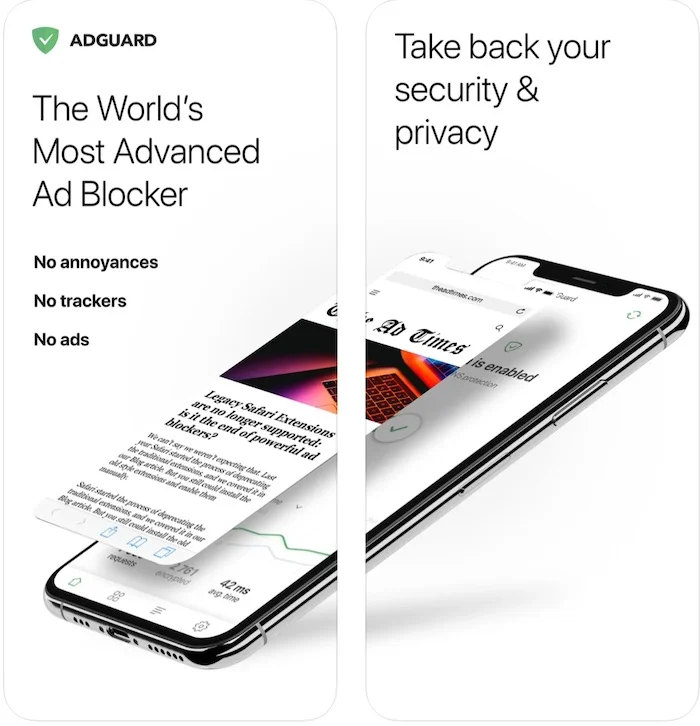 AdGuard is the best ad blocker for iPhone Safari, removing advertisements while also protecting your privacy with powerful tracking protection. There is a free and a paid version. The free version includes Safari ad filtering, privacy protection, quicker surfing, improved battery life, and other features.
To keep you safe from malicious websites, AdGuard Premium includes URL-based filters and DNS privacy filters.
Trackers are disabled on social networking websites, and Safari has been cleaned up to enhance your surfing experience. AdGuard also includes an ad blocker, antivirus, and firewall to keep customers' devices safe. On the App Store, a lifetime membership to AdGuard costs $12.99, $4.99 per year, or $0.99 per month.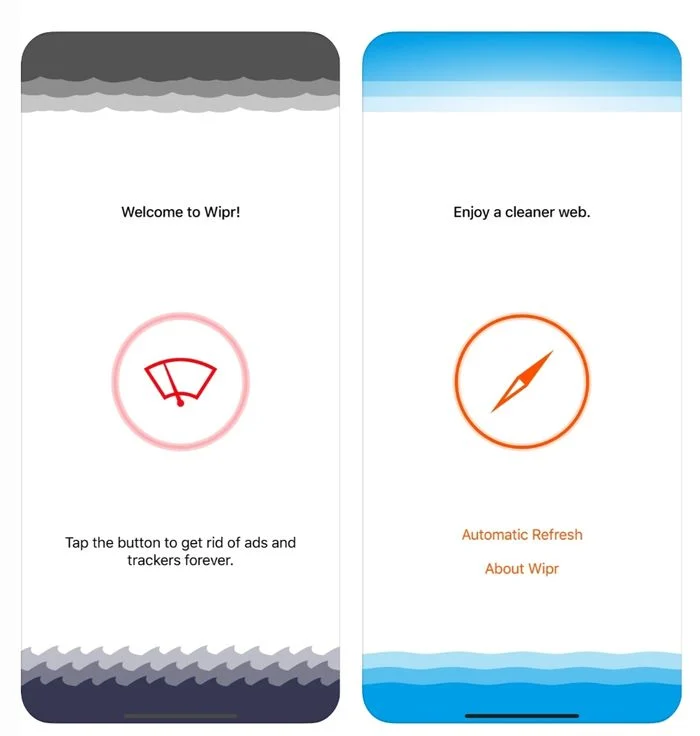 Ad blockers might be difficult to use at times, but solutions like Wipr make the process as straightforward as possible. Wipr is a best ad blockers for iPhone applications since it is simple to use and stops advertising from different websites from interfering with your surfing experience. The program may also update itself to guarantee that you do not encounter any unwanted advertisements when surfing the web.
Wipr, in addition to ad blocking, does an outstanding job of safeguarding your privacy and keeping trackers of all types at bay. Wipr may prevent bitcoin miners, EU cookie and GDPR warnings, and anything else that comes in the way of your online browsing.
The nicest part about this app is how affordable it is. To fully use this software, you must pay a one-time membership cost of $1.99.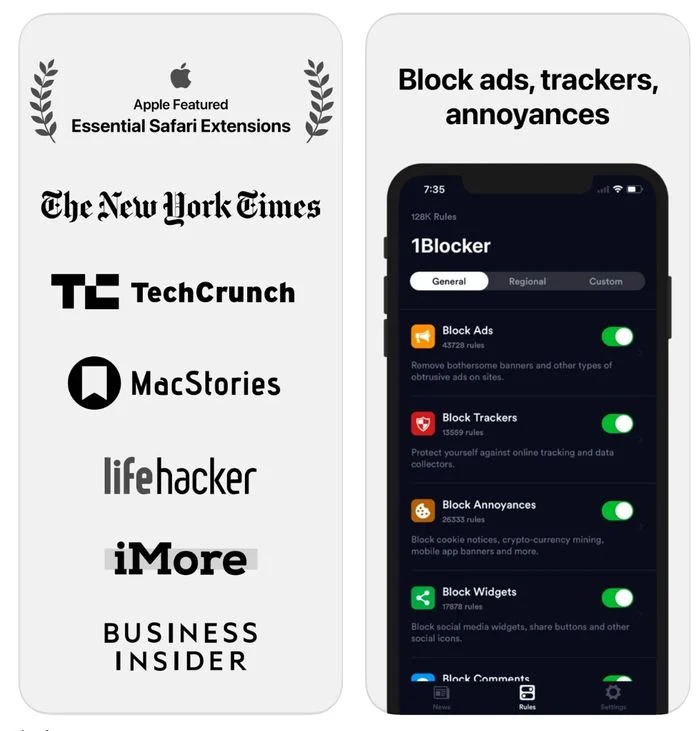 If you want an effective adblocker that can help you eliminate any kind of advertisement from the Internet and make your entire online experience less stressful, 1Blocker is the solution for you. When the capability was incorporated on the iPhone and iPad, this software was one of the fantastic ad blockers made for iOS. This program is also quite versatile, since you can simply choose which platforms to ban and how to filter the information.
This app is meant to quickly block advertisements, pop-ups, social network widgets, trackers, and other unwanted content. 1Blocker X is a simple and lightweight program with several features that will keep your Internet connection secure and ad-free. The app is available in both free and paid versions. If you simply want to block a few adverts, the free version is absolutely enough. If you want to use the app's advanced capabilities, such as establishing custom rules, custom filters, or whitelisting your favorite websites, you may upgrade to the commercial version.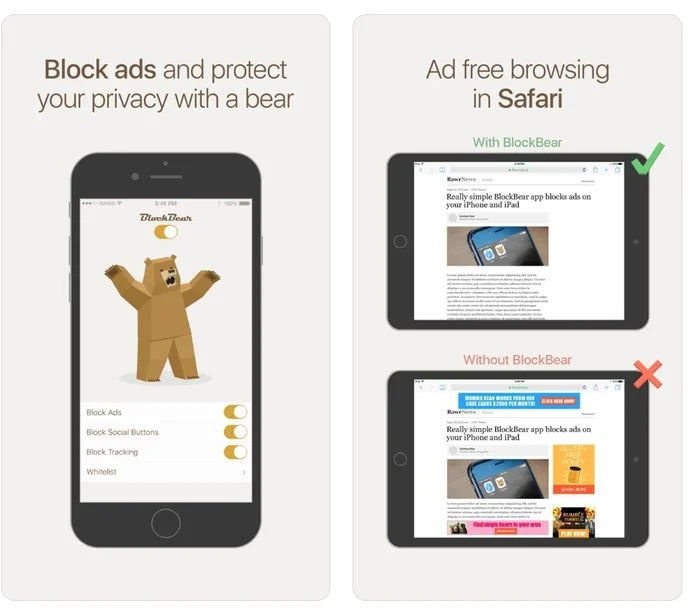 BlockBear is yet another best ad blockers for iPhone. Not only does the software prevent adverts, but it also protects your iPhone from intrusive online tracking. Websites will load three to four times quicker if you use the BlockBear ad blocker. Another notable feature of this program is its user-friendly interface and ability to safeguard your online privacy by blocking cookies and scripts from malicious websites.
FAQs:
Is it safe to use Ad Blockers?
The basic goal of downloading any of these best ad blocker for iPhone is to assist in reducing ad clutter on websites, keeping your internet activity secret, and preventing infections from being communicated by adverts. You can trust an app if it can accomplish this. All you need is one of the best applications for this, which we recommend in this article.
What is the best ad blocker app for iPhone?
AdGuard is the best ad blocker app for iPhone. It will not only remove the annoying advertisements, but it will also secure your privacy with powerful tracking protection. Because AdGuard for iOS is an open-source application, it is completely transparent and secure. Although it is free, advanced users may subscribe to the Premium plan.
Is there an ad blocker built into the iPhone?
The iPhone includes an ad blocker, however it only prevents pop-ups and redirection. However, for a better ad-free experience, you might install a third-party content blocker on your iPhone.