Due to a prolific growth of the digital economy, graphic design became almost omnipresent. Everybody needs images to create a design for a web-site, blog, business card, flyer, poster or label. If you are a blogger, you will need illustrations or photos for your social network profile and posts. If you are a teacher, then you surely look often for free pictures like clipart images. Graphic design is also used in videos, games, books, newspapers, magazines, mobile apps. In 2020, the number of graphic stock sites has skyrocketed. Indeed, there are now hundreds of them for every taste: photo, clipart, vector, video, 3D stocks etc. The following list features my favourite 4 stock sites that may be worth considering for everybody.
1: Pixabay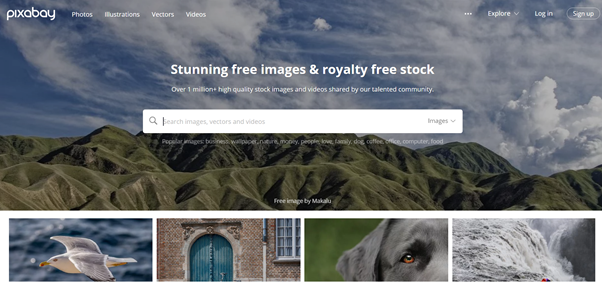 Upside (+)
You cannot deny that it is one of the best in its category. Over 1 million of free photos, vectors, illustrations. The search of images is simple and productive: choose by keyword, orientation or width. It is easy to download the chosen image in different resolutions and formats like PNG, SVG. You can use all images in commercial use without any attribution. Pixabay is probably the most respectable stock website, since it was a pioneer setting high standards for a free-to-use image industry.
Downside (-)
Originally, all images on Pixabay were released under creative commons CC0 license. In 2019, they changed the license by calling it Pixaby license. It imposes more restrictions than CCO license like prohibiting to sell and redistribute images. Many users were annoyed by this unpredictable policy. Moreover, Pixabay does not allow users, who upload their pictures, to choose the license they want. As for the quality of images, it is not consistently high and you need to spend some time to find what you need.
2: Freepik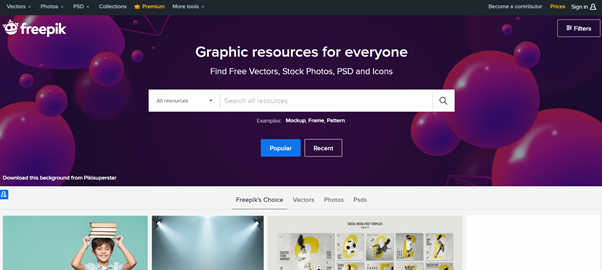 Upside (+)
Freepik is packed with several millions of remarkable designs. For 10 years, they succeeded to grow into a huge empire in the graphic world. The selection of vectors, illustrations and photos is convincing. Most of vectors are available in EPS format, while photos are in JPG. The user interface and search give also the best experience. Freepik gives you inspiration not only in terms of a design, but also in terms of how to manage hundreds of designers to bring the beauty of graphics to the masses.
Downside (-)
Freepik is not really free. Free user account does not allow you to use images without having to credit the author. Moreover, you do not have an access to all premium images. You must acquire one of Freepik premium plans to benefit from an extended licence and an exclusive selection of resources. Even if you pay, they will not allow you to sell print on demand items to multiple clients.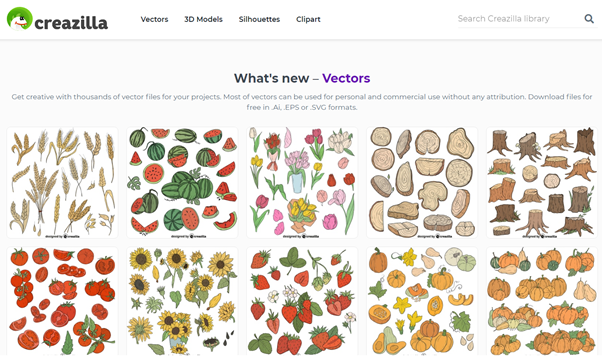 Upside (+)
Creazilla is one of those fresh start-ups which want to conquer the graphic world. Who doesn't? What is most pleasant about this platform is that they try to embrace all the best and avoid all the worse of the free graphic market. Unlike Freepik, Creazilla is completely free of charge with no additional conditions. So, you do not need to purchase any monthly subscription to use their premium graphics. Surprisingly, Creazilla allows users to sell print on demand products to multiple clients. In most cases, attribution is not required, though they beg you to link back to their site wherever possible.
Downside (-)
Compared to previous giants like Pixabay and Freepik, Creazilla has a limited selection of resources. However, it is growing steadily and is very enthusiastic about the future. The search of images also needs improvement as it does not filter images by sections.
4: Openclipart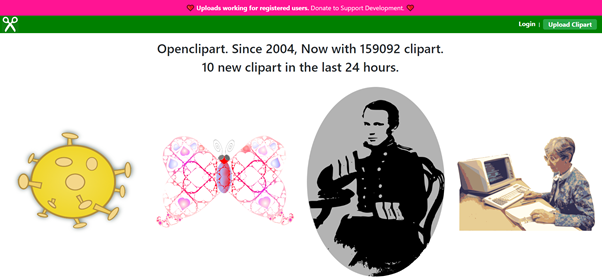 Upside (+)
Openclipart is propably one of the oldest stocks out of this list. It has over 100K clipart and vector images. It is completely free for commercial use and attribution is not required. Searching with keyword is easy. You can download images in big size, medium size and small size. Sometimes we say "Simple is better". This is what Openclipart about, since we often need something simple and efficient at the same time. Moreover, you have a great selection of retro images on this platform. If hippies in 60s created their own stock site, this would be Openclipart.
Downside (-)
Openclipart was built with spirit of sharing graphics like Pixaby, so anybody could upload any images on this website without editorial control. The problem is that if you need high quality exclusive pictures, you will have a difficulty in finding them on Openclipart. A huge portion of images offered here is too minimalistic and a bit awkward.