That's the question nearly all merchants and entrepreneurs face in the eCommerce domain. Briefly speaking, dropshipping is a retail model where the manufacturer or the supplier stocks the inventory and ships goods to the customer on your behalf. You have the power to decide the product price and perform marketing activities.
While affiliate marketing also involves the identical handling and shipping of inventory, you are eligible only for a commission. While you are still responsible for marketing but, you cannot set the prices for goods.
In detail, affiliate marketing is a performance-based marketing technique where a business (preferably, an online retailer) compensates an affiliate or an external website monetarily for sales generated following its own marketing efforts.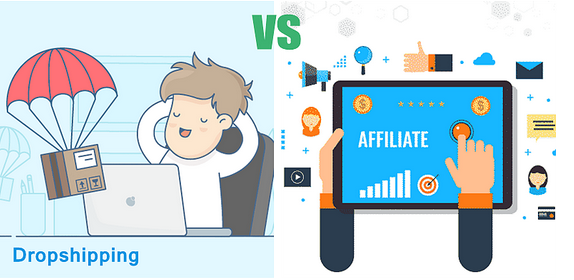 A pictorial representation of dropshipping and affiliate marketing business models
A very low-risk business model
Comparatively, dropshipping is less risky since you receive income regularly. There is no minimum sale amount to achieve. However, affiliate marketing requires you to make a certain amount of sales to receive a commission.
No barriers to enter
Along with relatively nil investment, you can enjoy complete ownership of the products you wish to sell. You can also choose how you want to sell them. All you need is a domain and hosting.
Flexible options to earn with high margins
Since affiliate marketing is a commission-only model, earning capacity is very limited. Whereas in dropshipping, you can buy a product for a specific price and sell it for a higher price. The earning takes a beating against marketing costs.
You can build your brand
This model allows you to have your website and build assets by advertising and by generating traffic. You can add more niches in the future and expand your business. However, in affiliate marketing, you are solely selling someone else's products without any control.
The Cons Of Dropshipping
Managing customer support
Customer support is wholly your responsibility and you need to keep customers informed about all the happenings. However, you can outsource this portion to third-party providers and concentrate on your business.
Less control over shipping
Shipping of the products is something you don't have control over in dropshipping. This can lead to customer complaints related to the delivery and refunds. Though the supplier is responsible for shipping the goods, its you who takes the blame for delays in delivery.
The Pros Of Affiliate Marketing
You are free to enter
All eCommerce stores have an affiliate program for anyone to join and start promoting links of the products on their website. All for free. You will bear the marketing costs and apply for a rebate during the tax season.
A great source of passive income
All you need to do is to set up the model to market the affiliate products. After that, money will start coming in as and when your website visitors click the product links and make a purchase.
No need for customer support
It's only the leads you are working on and, not the products in actual. Hence, all customer support is handled by the business owner whose products you are marketing.
The Cons Of Affiliate Marketing
A small percentage to earn
You are paid only in commissions that can be much less compared to the marketing costs. Some products can be expensive and you need to spend money to search for the right audience.
Payments are often delayed
Several issues like financial crisis, backlogs, and shutting down can lead to delayed payments by the merchant.
Affiliate links can be removed
People generally don't trust affiliate links and remove the link and manually enter the URL of the particular website they wish to visit. This act greatly reduces the earning potential for the affiliates.
Dropshipping And Affiliate Marketing Lock Horns
With a comprehensive picture in mind, affiliate marketing is an ideal business model for starters. It empowers you to start earning without engaging in customer support and other awkward situations. However, the disadvantages heavily weigh your earning potential when you depend solely on other businesses to make money.
While you need not eliminate affiliate marketing, adding dropshipping to your business is a lucrative option. There are strong reasons to support the same, including:
You can choose your own products to sell and set the price too
You earn more by selling physical goods
You chances of having a successful Ad campaign are higher
You can have affiliates to send you leads
Customers will come back to your website to shop for more. But, in affiliate marketing, they will go directly to the website you referred them to
You can build your brand and have a bigger audience following