Dust and heat are two enemies of computer hardware. While dust may be blown out on a weekly basis if necessary, regulating heat is another story. When computer components like the CPU, GPU, and drives get too hot, their performance suffers dramatically, and the components may even be destroyed.
This is where a computer's case or CPU fans, as well as fan speed control software, may assist in reducing heat to tolerable levels. This type of fan control software allows you to regulate the fan speed, build fan performance profiles, and so on.
Top 10 Best Computer Fan Speed Control in 2021
In this post, we've compiled a list of the best fan speed control software programs for Windows and Mac PCs, laptops, and even vendor-specific apps with a variety of extra functions.
1. NoteBook Fan Control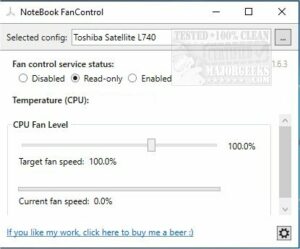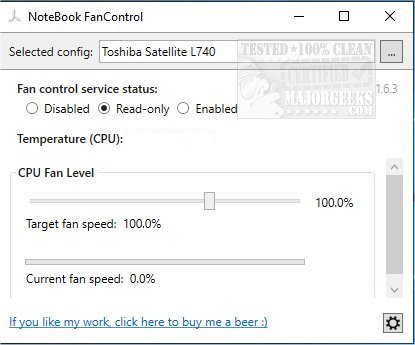 Because all of the components are crammed into a compact chassis, notebooks and laptops may get very hot very rapidly. NoteBook fan speed control is certainly worth a look if you've ever wanted to keep an eye on your notebook's CPU temperature and get more out of the internal fans.
It has a straightforward user interface that doesn't get in the way. The CPU temperature and a selection of fan speed control preset are displayed to assist you in getting started. Because the program is hidden as an icon in the tray, it is not always visible.
The good news is that this software already works with well-known manufacturers like Dell, Lenovo, Acer, and Asus. As a result, it will work well with a broad range of laptops and notebooks. This is another free utility.
2. SpeedFan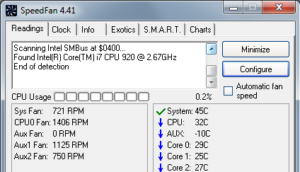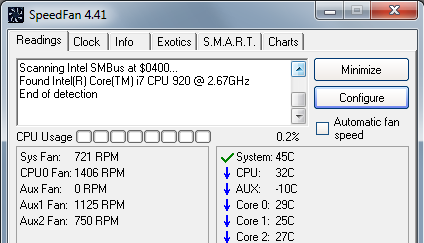 Speedfan is arguably the most popular and free fan speed control software. It's for individuals who want all of their knowledge provided in a straightforward and unprejudiced manner. It can monitor fan speeds and adjust them automatically in response to heat, but it can also do a lot more.
The Speedfan is for people who wish to keep a close check on their system's performance as well as the performance of numerous peripheral components. It will keep track of temperatures on the motherboard's compatible components, such as the GPU and CPU.
It can also access S.M.A.R.T data and display the temperatures of connected peripherals like hard drives, as well as monitor voltages and much more. It runs on virtually all versions of Windows, from Windows 9.x to Windows 10.
3. Argus Monitor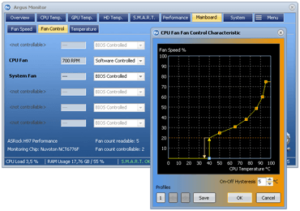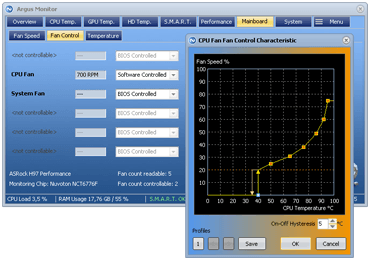 The appropriately titled Argus Monitor is a smart piece of software that displays data in a user-friendly and appealing manner. It will link with S.M.A.R.T and display the health status and temperature of hard disks and other devices, as well as give granular control over CPU and GPU fan speeds.
You'll also get a program that allows you to do typical SSD and HDD performance tests. You can manage fan speeds, monitor CPU performance, frequency, and temperature, and get important information about the health of your linked disks in addition to monitoring heat.
This is beneficial since it is intended to alert you prior to a drive failure. A 30-day trial term is available with the product. Then you must purchase a license, which costs about $9.90 per year.
4. HWMonitor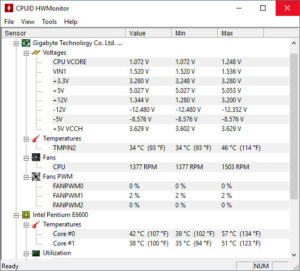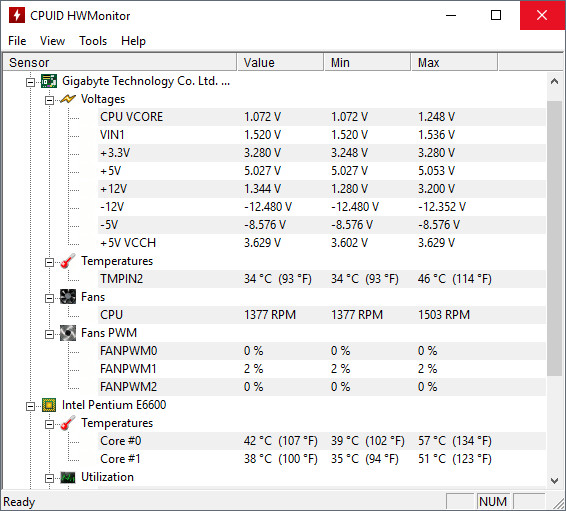 HWMonitor is a free hardware and temperature monitoring software aimed at hobbyists and those who enjoy free things. It runs on Windows and is available in 32-bit and 64-bit versions. Thermal readings and overclocking for the newest AMD and Intel CPUs are also supported. Indeed, the software's webpage has a hall of fame table honoring people who have successfully overclocked their PCs to incredible levels!
The HWMonitor gives you a temperature reading for different supported parts of the motherboard, such as the CPU, GPU, and connected drives. For disks, there is additional RPM monitoring and S.M.A.R.T reading functionality (no fan control, however).
5. EasyTune 5 from Gigabyte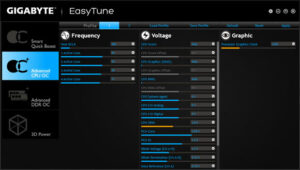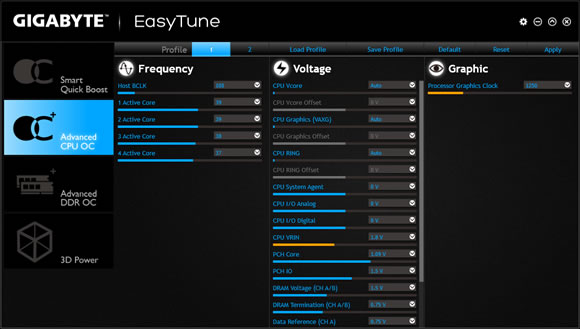 Easytune 5 is a user-friendly piece of software that focuses on Gigabyte motherboards and provides all the information in an easy-to-read style. Many individuals like overclocking their CPUs in order to increase the power and performance of their computer systems.
This is a piece of cake using Easytune Simply click the right-hand button to get started. Under the "smart-fan" area, you can also easily access settings for fan CPU speed control and adjust the RPM (Revolutions per Minute) of the CPU fans.
If your motherboard has a North-Bridge cooling fan, you can even set an on/off timer for it. There are two settings to choose from: Easy and Advanced. It's advisable to start with simple mode and then move to the advanced mode when you're ready to modify other important parameters like RAM boosting.
6. Corsair Link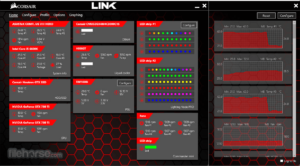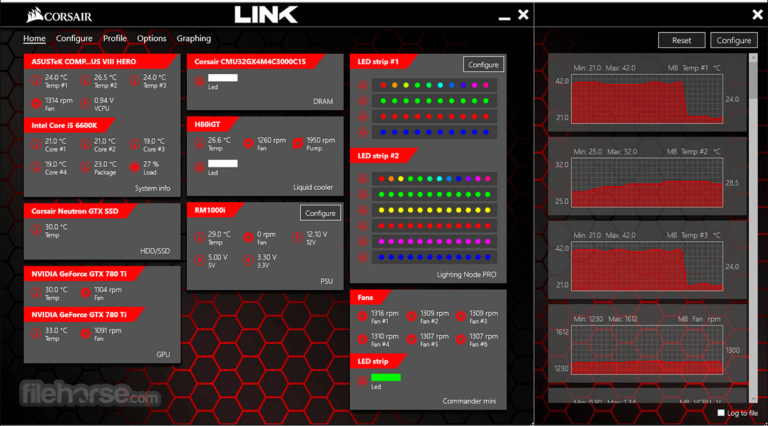 Corsair Link is a fantastic piece of software that is quite complex and has a wealth of data for Corsair systems. Despite this, it maintains an appealing, clean, and simple interface that lets you view everything you need at a glance, including core temperatures, fan speeds, SSD and HDD temperatures, and health status, and more.
Everything in the Corsair Link system efficiently feeds data to the program. The program is connected to your case fans, motherboard fans, SSDs, CPUs, GPUs, and even LED lighting strips. There's also a tab in the program that tells you where these parts are in a picture of your case.
Despite the fact that Corsair Link supports different manufacturers, using Corsair components in your system will provide you with the finest and most comprehensive experience. This will allow for comprehensive performance monitoring and management.
7. Macs Fan Control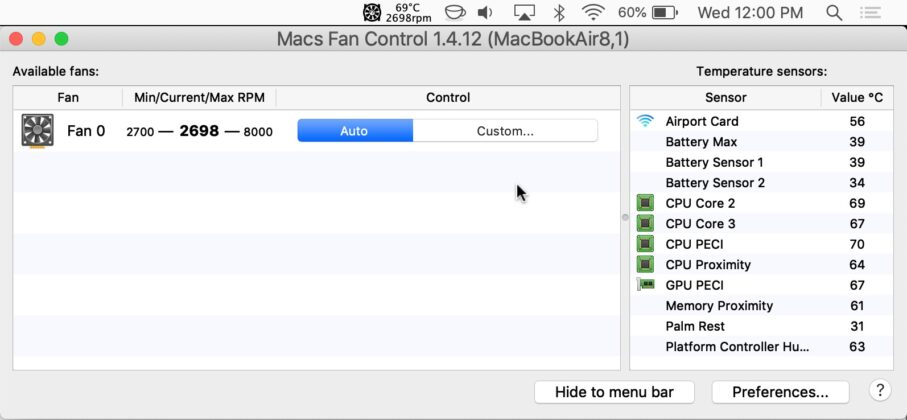 There hasn't been much in the way of fan speed control and temperature monitoring for Mac laptops until now, thanks to Mac Fan Control. It requires macOS Sierra or later and provides real-time monitoring of component fan speeds and temperatures.
S.M.A.R.T. is also available on the Mac, so you may check the health of any linked drives. This program may not have all of the intricacies of, say, Corsair Link, but it has all that most users will need for their MAC system. You may set the RPM speed of fans in connection with a temperature sensor, for example.
8. MSI Afterburner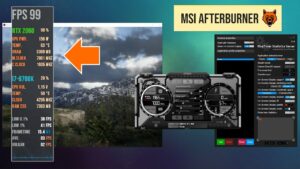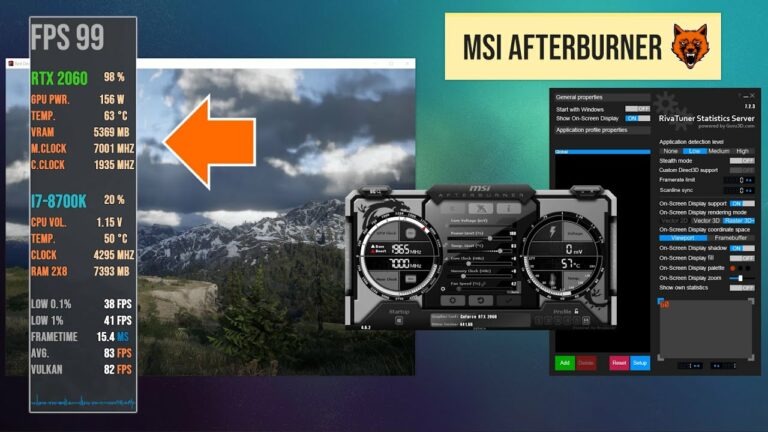 The Afterburner, like Corsair Link before it, is a vendor-specific utility. MSI has a long history of producing high-quality motherboards and other computer components. The Afterburner is designed for users who want to get the most out of their GPUs and computers in general.
It can also work with a variety of different graphics cards. High-end computers are frequently required by computer gamers in order to run visuals and execute demanding games smoothly and without errors. This is also why contemporary GPUs require their own set of fans and heatsink arrangements to remain cool, taking up a lot of "real-estate" on the motherboard.
This is also why contemporary GPUs may be overclocked for increased performance. The issue is that overclocking the graphics card causes the machine to overheat. The MSI Afterburner not only lets you boost your GPU's voltage and clock frequency but also gives you complete control over fan cooling. In addition to the aforesaid capabilities, the beautiful display offers information about the CPU and other connected devices.
9. smcFanControl for MAC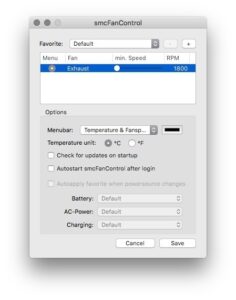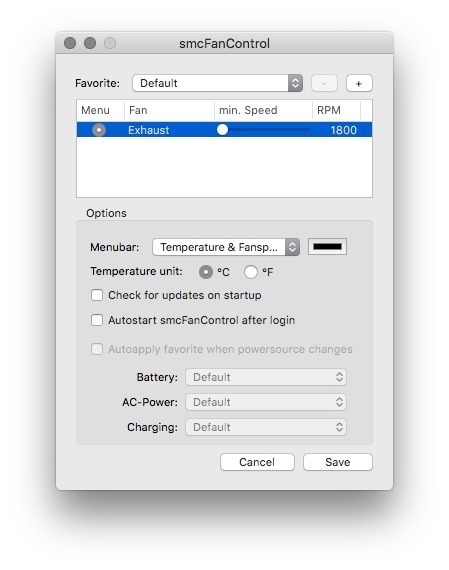 smcFanControl is a small, no-frills program. If your Mac has been running hot recently, you may use smcFanControl to establish a minimum RPM for your case fans. This means your fans will never slow down below the preset speed, ensuring that your Intel Mac operates as cool as possible, even in the hottest summer months.
10. ZOTAC FireStorm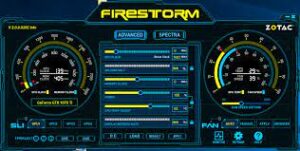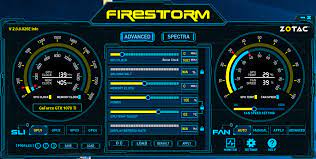 With their appealing line of custom MEK gaming PCs and Zbox small PCs, ZOTAC has been making waves. The Firestorm continues the ZOTAC heritage of delivering unrivaled performance. Firestorm has a fantastic futuristic interface, which is the first thing you'll notice.
Everything you need is there in front of you in a perspective that seems like it belongs in the current HALO game. Whether you want to tweak the speed of your graphics card, the memory clock, or the voltage and frequency of your CPU, Firestorm has it all.
You may pick from several fan profiles with the integrated Active Fan Control to manage fan noise and computer performance. For Zotac graphics cards, you also get real-time information on health status, temperature, RAM, CPU and GPU speeds, and resource allocation.