An inflatable kiddie pool is a godsend on hot summer days, keeping your kids cool and (hopefully) less fussy. They're simple to put up and maintain, and they may provide hours of entertainment without the use of a screen. Read on for our top picks for the best inflatable kiddie pools on the market, as well as advice on a variety of important factors to keep in mind when shopping, whether you're looking for something small and inexpensive or a larger model that can accommodate the entire family and is safe for the youngest members.
Top 10 Best Inflatable Kiddie Pools For Summer In 2021
Inflatable kiddie pools are especially enticing because of the convenience of construction. "You can buy an inflatable kiddie pool and have it transported to your house in a week, set up takes one day or less, and in some cases, only a couple of hours." To inflate them, you can usually use a manual pump or an electric or battery-powered pump. While most people remember inflatable pools as little, spherical kiddie pools from their youth, they've grown significantly over time, with some having built-in chairs and slides and others having their own pumps and filters. We interviewed experts to see what you should consider before buying one and how to maintain it safe and hygienic for the entire family, whether you choose the simple way or go for a more bells and whistles alternative.
What to Think About
Of course, you'll want to start by looking for an age-appropriate kiddie pool—and then decide if you and older siblings and adults want to get in or stay on the sidelines. PVC is used to make toddler pools; some are BPA and lead-free, and those on the upper end are at least 0.4mm thick. Kiddie pools are typically two feet high or somewhat less, while big pools can be up to ten feet wide. Look for pools that fulfill government safety regulations (all of the ones we examine below do) and versions with separate air chambers to assist in keeping the side walls firm. Many people have three rings, but some only have two.
How We Decided inflatable pool

As previously stated, every kiddie pool we provide meets or exceeds US federal safety regulations. All have four-star or above-average customer ratings. We picked pools in a variety of shapes, sizes, and price ranges, including circular and rectangular alternatives that can fit two kids or full families, as well as budget-friendly and higher-end options. We emphasized material characteristics such as thickness and pools made of BPA- or phthalate-free PVC, as well as age ratings and size specifications.
1.

AKASO Kiddie Pool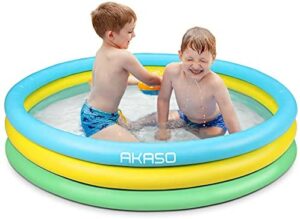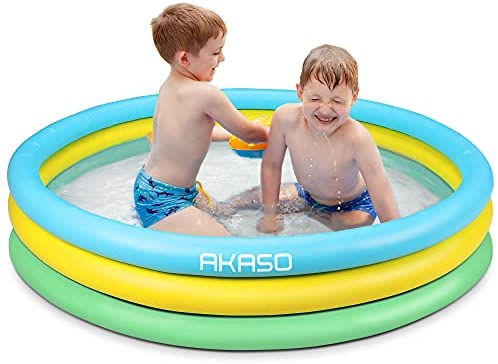 This alternative, with three basic summery hues, may lack the colorful graphic patterns of other toddler pools, but it scores top points for safety, having received all three of the key U.S. and international certifications for children's toys. As a result, you can anticipate a high-quality product constructed of BPA-free, non-toxic PVC, with a traction-enhancing floor and three air rings that inflate individually and feature double-layer valves to prevent leaking and improve side-wall stability. The pool is about five feet broad and a little more than one foot tall.
2.

FUNBOY Luxury Inflatable Kiddie Pool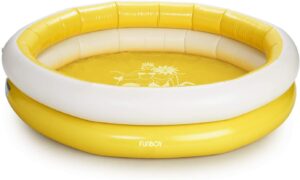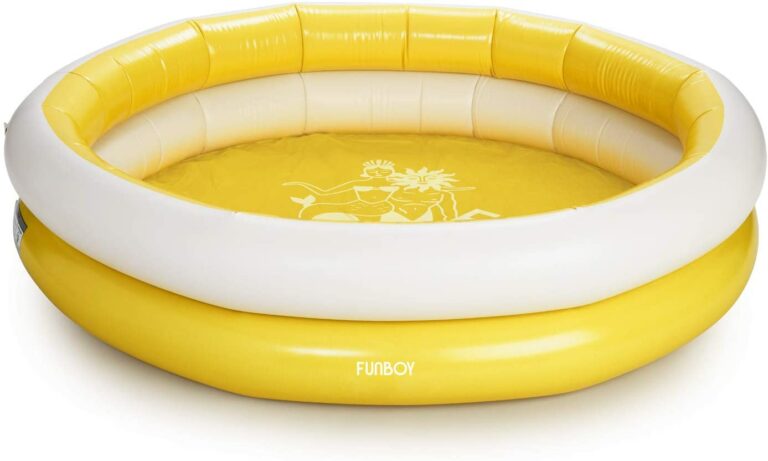 Look no farther than Funboy, situated in Venice Beach, California, for a super-stylish round kiddie pool. With patterns inspired by destinations like Ibiza—like the one shown—and eye-catching tie-dye, it's difficult to pick just one. All are hand-screened and manufactured from phthalate-free PVC, with a double-ring inflated air chamber, an integrated drain plug, and quick-inflate and deflate valves. The pool is five and a half feet wide and one and a half feet high, and it is suited for children aged six and up.
3.

Hesung Family Kiddie Pool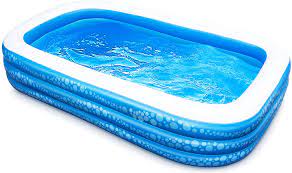 This high-quality kiddie pool has received great reviews from over 1,450 customers, with an amazing average rating of 4.8 stars. It is ideal for families and can easily hold two adults and two children. It's composed of phthalate-and lead-free vinyl that's UV-resistant, and multiple customers rave about its thickness (0.4mm) and durability. The rectangular pool is approximately eight feet long, four and a half feet wide, and two feet high. Each of the three rings has its own air chamber, which aids in the strength of the sidewall, and it weighs a heavy 12 pounds. The pool is suited for children aged three and up.
4.

Oyrgcik Family Kiddie Pool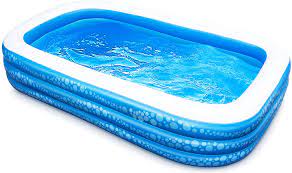 This pool is over 11 feet long and six feet broad, making it great for larger families seeking splash-time entertainment. It's composed of It is made of 40mm thick BPA-and lead-free PVC with a thick bottom, has a substantial 350-gallon capacity, three independent air chambers to hold its structure, and a drain adapter for easy emptying. The pool has two repair patches and features an appealing aquatic motif on the outside sides. It also comes in two lesser sizes.
5.

Aqcss Kiddie Pool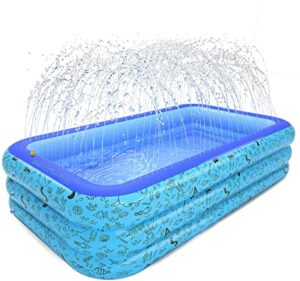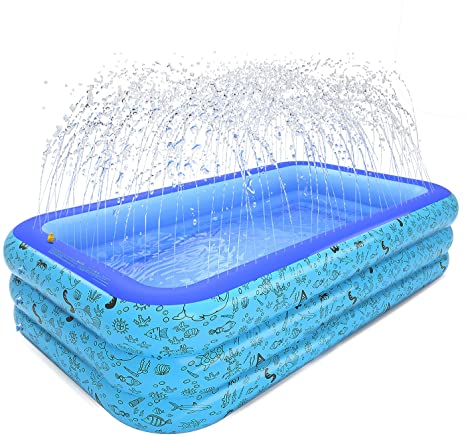 A rectangular inflatable kiddie pool with sprinklers is the way to go for extra cooling off for youngsters without having to perform a complete dunk. The water spray's height is adjustable for little children (but it should not be set higher than two-thirds of the pool's height), and the pool is made of BPA-free PVC. This two-toned blue alternative has a lovely ocean landscape with happy marine critters and boat-themed motifs like a helm and telescope on the bottom. It is more than seven feet long by five feet broad and has a two-foot-high sidewall. It has three independent air chambers for exterior wall stability, which also helps to avoid air leakage, and it includes three repair patches. It is appropriate for youngsters aged 3 and up.
6.

Hamdol Kiddie Pool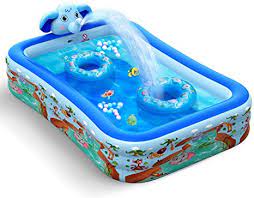 This pool is perfect for kids who don't mind getting their heads and faces drenched by a stream of water from above. It is made of 0.4mm-thick PVC and has an elephant with an arced waterfall emanating from its trunk, as well as four air chambers, each with a double intake and free-flow exhaust valve. It features a 153-gallon capacity with a mechanism that prevents it from being overfilled. It's also rather large—roughly eight feet long and six feet broad, with a side wall just under two feet high.
7.

Funavo Kiddie Pool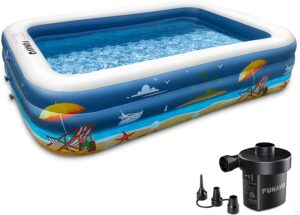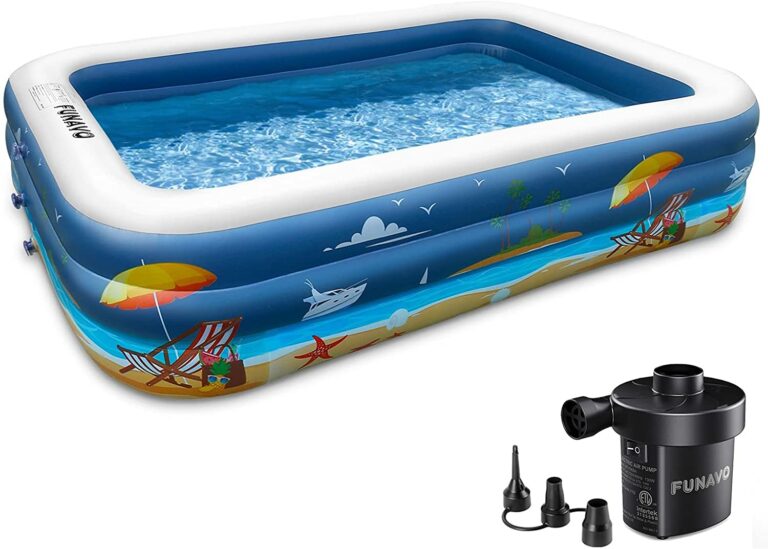 This rectangular inflatable kiddie pool is the only one in our survey that includes a pump—and it's a terrific value since the pricing isn't too far off from comparably sized alternatives. The 340-gallon pool is composed of 0.4mm thick lead-and BPA-free PVC and has three separate air chambers. It measures somewhat more than eight feet long, six feet wide, and a little under two feet high. On the outside of the pool, there is a stunning beach scene made in pleasant, non-garish colors. The electric pump is supposed to inflate the pool in five minutes or less, and the pool comes with a drainpipe and hose, as well as two repair patches. It is appropriate for youngsters aged 3 and up.
8.

Sloosh Inflatable Kiddie Pools (Set of 2)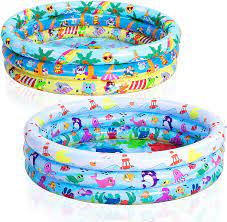 This set of two round kiddie pools, each with a distinct and beautiful blue-and-white design, doubles the enjoyment. They're perfect for two friends who want to have distinct play areas close to one other, or for older and younger siblings who have varying levels of comfort in the water. Both are 3.75 feet broad and less than a foot high and are suitable for children aged 3 and above. The three-chamber pools are composed of PVC and come with puncture repair patches.
9.

Joyin Inflatable Kiddie Pools (3-Pack)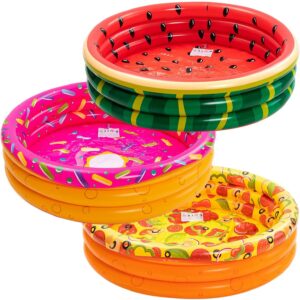 This trio, which costs around $35 at the time of writing, is another great buy that provides you with even more alternatives for outdoor fun. Fill one round kiddie pool with water and the others in novel ways, such as with pit balls (available separately) or ice for cool beverages and popsicles. They come in enticingly bright colors: one has a watermelon design, another like a huge doughnut with sprinkles, and the third resembles a personal pizza laden with toppings. Each is around four feet broad.
10.

Ocean Play Center inflatable kiddie pool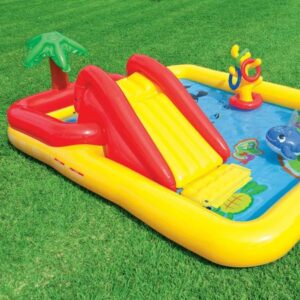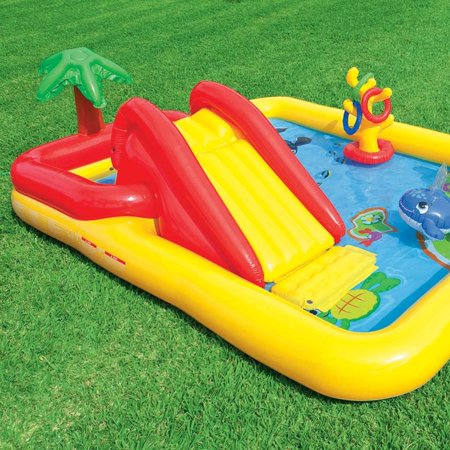 There's a lot going on with this inflatable kiddie pool with slide. Sprinklers, a ring toss, a slide, and even a somewhat deeper space in the rear for lounging and relaxing are all available. The inflatable kiddie pool with slides is short enough for parents' sanity while still being long enough for children's enjoyment. It is certain to be a big hit in any home.