Individuals and small companies might benefit from shipping label printers. Package labeling for everything from care packages to your company's goods will be a breeze with a good printer. Billions of items are shipped in a single month, and the global shipping industry must manage this increasing demand and supply market. The industry would be in turmoil if each package could not be tracked.
Shipping label printers come in handy in this situation. They ensure that all items arrive at their intended destination and play a key part in the supply chain process. They must perform several duties; they must be strong, long-lasting, and, most importantly, accurate.
Top 10 Best Shipping Label Printers in 2021
Each shipping label, however, is dependent on a printer and the quality of its output. Regardless of its significance, it is never the first thing that springs to mind. As a consequence, we'll look at the finest shipping label printers to buy in this piece. While this is not an exhaustive list, these finest alternatives are likely to provide you with high-quality label printing on a consistent basis.
What to Consider
Before purchasing a seemingly simple office item, it is critical to consider all of the aspects. Before you start looking for a shipping label printer, here's what you should know.
Compatibility with
When purchasing a shipping label printer, look for two types of compatibility: device compatibility and shipping compatibility. If your whole small business setup is centered on Apple devices, you'll need to invest in a printer that connects to everything Apple. Each shipping label printer works with a wide range of distribution methods and platforms, including USPS, UPS, Amazon, Shopify, Etsy, and others. It's essential to learn which shipping service your platform prefers and to choose a printer that can provide you the low shipping prices your business will most likely demand.
Speed
You should be worried about this machine's printing speed and output, especially if you run a small business. Certain printers can print up to 93 labels per minute, which is important if you need to print hundreds at once.
Connections
If you need to print labels while walking through aisles of items in a warehouse (or your basement slash home business shipping center), a Wi-Fi printer is the way to go. If you have infrequent shipments, a less convenient USB connection will save you a lot of money.
Printing in color
The vast majority of shipping labels are black and white in color. However, if your business intends to use the printer to create other items such as personalized tags, brand stickers, or banners, a color printer may save you money on a separate device.
Dimensions of the Label
Again, if you only need to print shipping labels, a single-size printer will be sufficient. Search for a printer that provides a variety of styles and sizes if you want to create barcode labels for your Amazon business or file folder labels.
How We Made Our Decision
We sifted through hundreds of options and expert and user evaluations of these specialty printers. We developed a list of shipping label options that will satisfy a wide range of individual and business demands at a wide range of prices. We only included shipping labels from companies with excellent customer service and good reviews.
1. Brother QL-800 High-Speed Professional Label Printer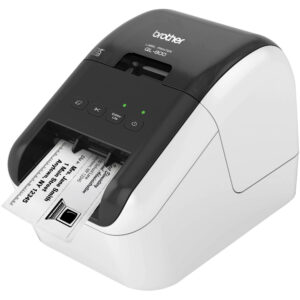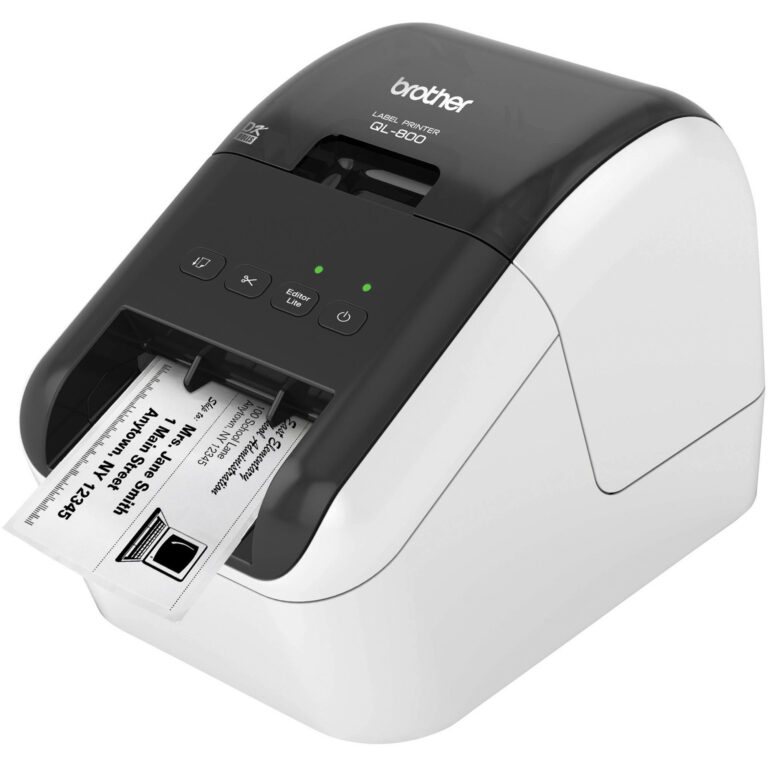 This shipping label printer allows customers to print labels in a variety of sizes from their PC, Mac, or Android mobile device. The output is quick (93 labels per minute), with high-quality printing in two colors (black and red) and a wide range of label kinds (small barcodes, addresses, and more). Users can connect via a USB cable. The auto-cutter prints banners and signs up to 3 feet long with the help of the auto-printer. According to one reviewer, it's ideal for "USPS labels for eBay sales." It does it quickly, well, and is simple to use.
2. Label Printer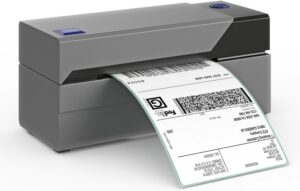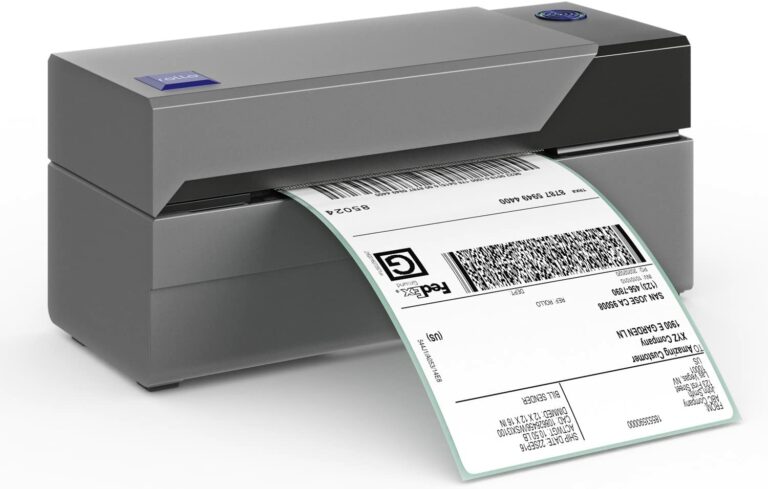 This monochrome printer is compatible with all major shipping systems, including Stamps.com, Shippo, Etsy, Shopify, eBay, and Amazon, and prints at the quality necessary for major courier providers such as USPS and FedEx. The printer is compatible with both PCs and Macs, and it prints labels 1.57 inches to 4.1 inches wide with no height restrictions. However, it is most effective on 4 x 6-inch labels, as well as warehouse, barcode, ID, and bulk mailing labels. It was nicknamed "Awesome" by one user. It appears to be too wonderful to be true. It's a fantastic, no-hassle product. I never imagined I'd fall in love with a printer."
3. BESTEASY Shipping Label Printer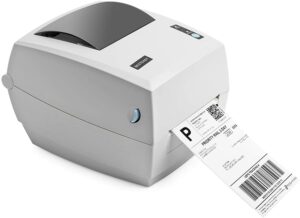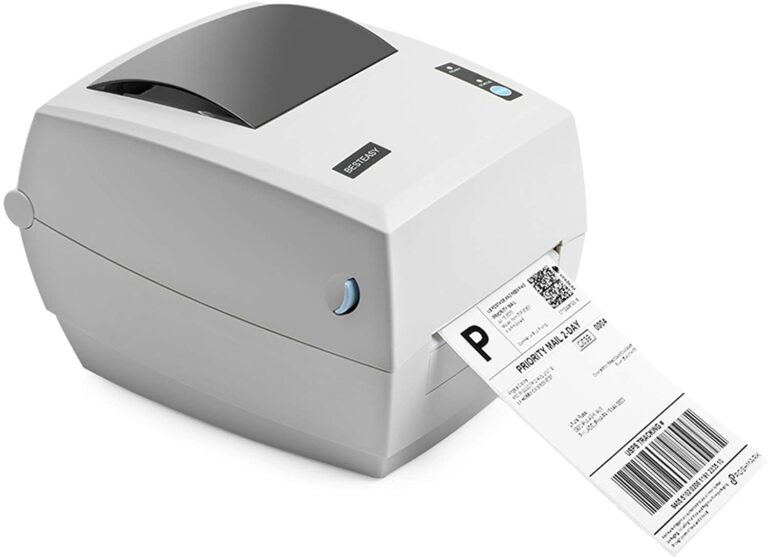 This grey and the black thermal printer comes with 100 4 x 6-inch folding labels and a video lesson that walks customers through installation, as well as a setup guide and user manual. The printer is fast and reliable, producing labels with widths ranging from 1.57 to 4.1 inches with no height limits. The printing quality is excellent, and while the printer is perfect for shipping, warehousing, barcode, mailing, and ID labels, it also works for a wide range of other applications. The printer is compatible with all PC and Mac systems and produces labels for all major postal carriers and distribution platforms, including UPS, USPS, Etsy, eBay, and Amazon, among others. According to one reviewer, the printer is "easy and time-saving, plus it makes my packages appear much more professional." This has really changed the game for our tiny business."
4. DYMO 1755120 LabelWriter 4XL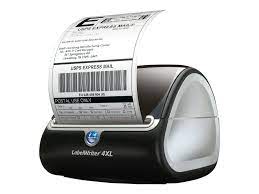 This printer prints up to 4 inch wide black and grey labels and is extremely configurable, with 60 distinct templates and the option to add text and artwork. Users may print up to 53 regular four-line address labels per minute or 129 high-capacity four-line address labels. DYMO is compatible with prominent online selling platforms and shipping carriers, and it is great for big shipment and warehousing labels, but it also works for file folders, name badges, and regular shipping and mailing requirements. The printer communicates with the computer through USB.
5.

Brother VC-500W Color Label And Photo Printer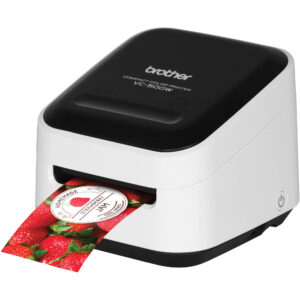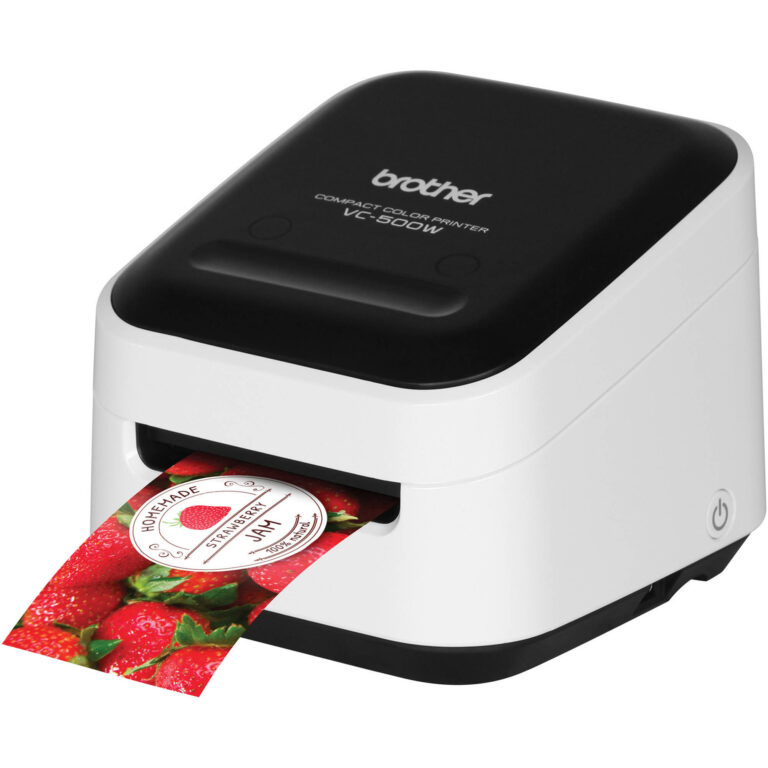 This little color printer employs ZINK Zero Ink Technology, which allows users to print in full color without the need for ink. The adhesive-backed paper has all of the essential colors. This is great for printing labels, pictures, stickers, and other products; it is suitable for a wide range of personal and business uses, including home décor. The printer is compatible with both PC and Mac platforms and allows users to print from over 10,000 applications. It connects wirelessly to Wi-Fi, enabling wireless printing and network sharing through a smartphone or tablet. One user lauded the "excellent" color quality and "dummy-proof" software.
6.

Arkscan 2054A Ethernet/LAN Shipping Label Printer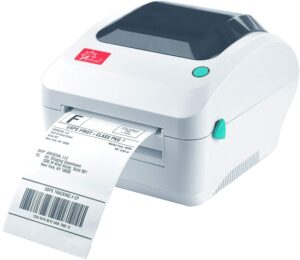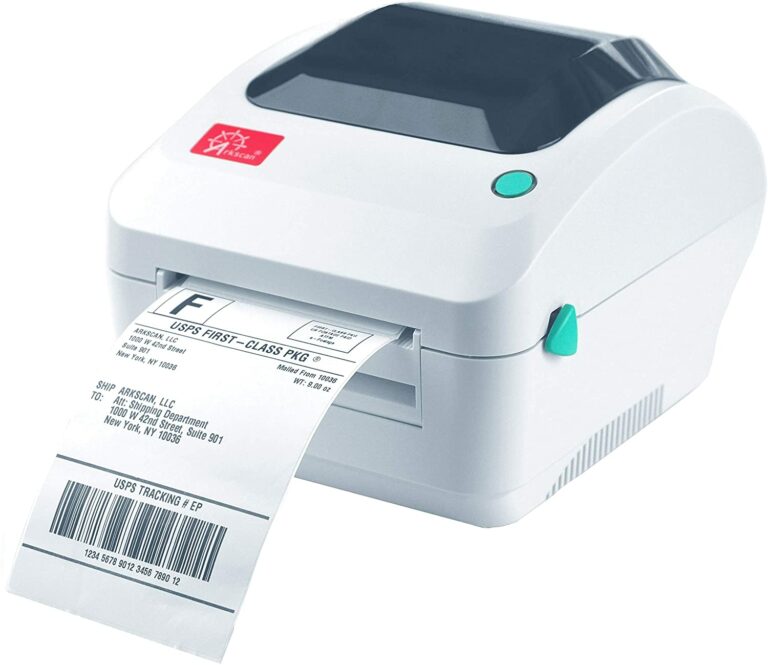 This monochrome label printer has a large number of label designs to pick from, works with different shipping software programs and platforms, and connects by Ethernet, USB, or WiFi, making it networkable and capable of printing from smartphones and tablets. The printer is great for shipping but may also be used for other purposes, such as file folders, signage, and content tags. The operating expenses are relatively minimal. "Of all the goods now on the market, this is your best choice," one customer enthused, while another commented, "This is an amazing printing setup." The customer service is the finest I've ever experienced. Ever. YouTube videos, the customer support that responds in SECONDS."
7.

Micmi Shipping Label Printer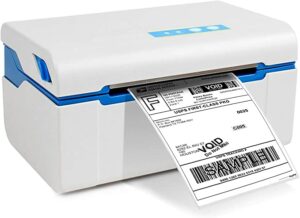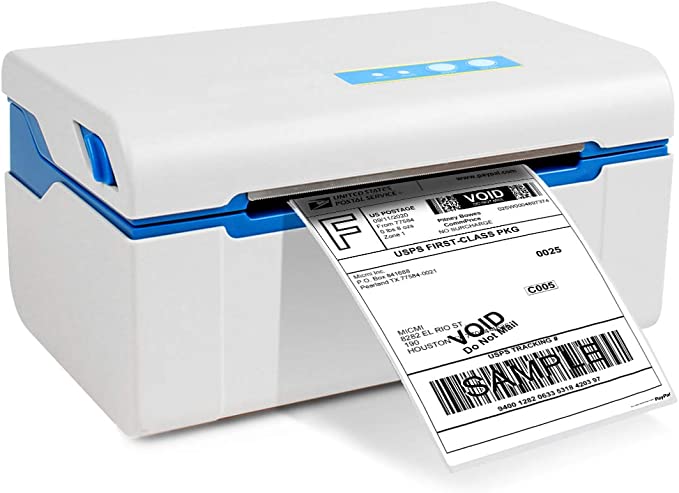 This multipurpose shipping label printer produces shipping, product, barcode, bulk mailing, and other labels. It can print labels in a range of sizes. This printer accepts a variety of printing materials, including thermal and folder thermal rolls. It prints at a rate of 2 to 5 inches per second and is compatible with both PC and Mac systems. It does not support the iOS or Android operating systems. This printer is compatible with all major distribution and delivery methods.
8.

Nemonic Label & Sticky Notes Printer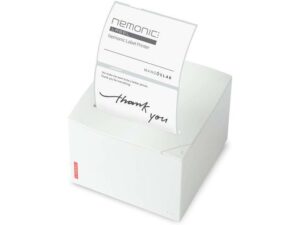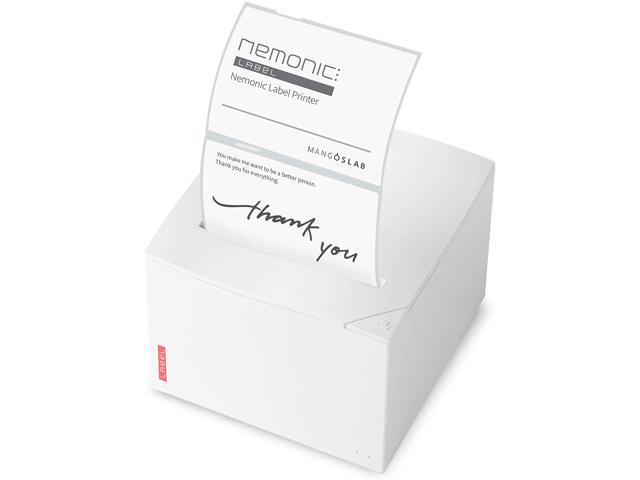 This Bluetooth and USB-enabled monochrome thermal shipping label printer are compatible with desktop PCs, cellphones, and Android devices. The printer uses white and clear water-resistant labels and is particularly popular with small enterprises. "I own a bakery and I need unique labels, but I didn't want to spend hundreds of dollars on bulk custom stickers," one reviewer commented. This printer's quality is outstanding." Another user stated, "I seldom post reviews since, let's face it, most items perform just as promised." However, I am impressed when a product outperforms its own expectations. This device is highly user-friendly, and it is great for people who want precise labels on a regular basis."
9. Phomemo M110 Bluetooth Label Maker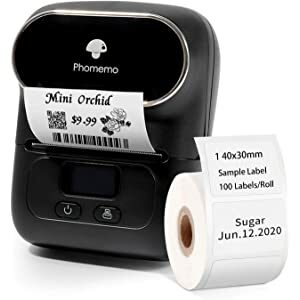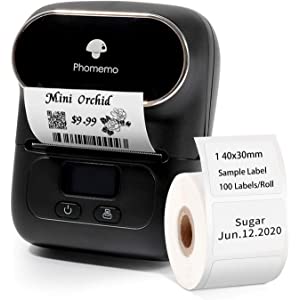 This monochrome wireless thermal mobile label printer with mini-Bluetooth connectivity links to mobile phones for printing on the move. Labels may be edited and typeset, and the printer supports Excel batch printing. There is no ink because it is a thermal printer. The printing range is up to 33 feet, and the connection is quite quick. According to one reviewer, the "printer is a very simple set-up. The Bluetooth links from the app to the printer simply by turning it on." Another customer adds, "While the majority of my sales are in my store, I have started selling some goods online, and having the label maker has made it extremely convenient for me to print labels from my online sales wherever I am."
10.

Brady BMP41 Printer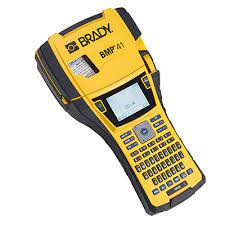 This is an industrial-strength labeling system that is meant to produce multiline labels for the unambiguous identification of cables, panels, circuit boards, and other industrial goods. The configuration includes a keyboard with letters A to Z and numerals 0 to 9, as well as a backlit LCD graphics display for quicker, more efficient labeling. The print quality is good, and the system is compatible with Excel, allowing for the input of images and symbols.