Finding yourself a top logo maker is essential to generating a professional looking logo, and it's much easier to obtain than you might think. All you need little more than an internet connection, a computer the determination and creativity to get the job done.
Professionals are an option, but they are not essential when presented with so many logo designing websites – so here we present to you our top 10 picks of the best logo makers on the internet.
1:
LogoMyWay.com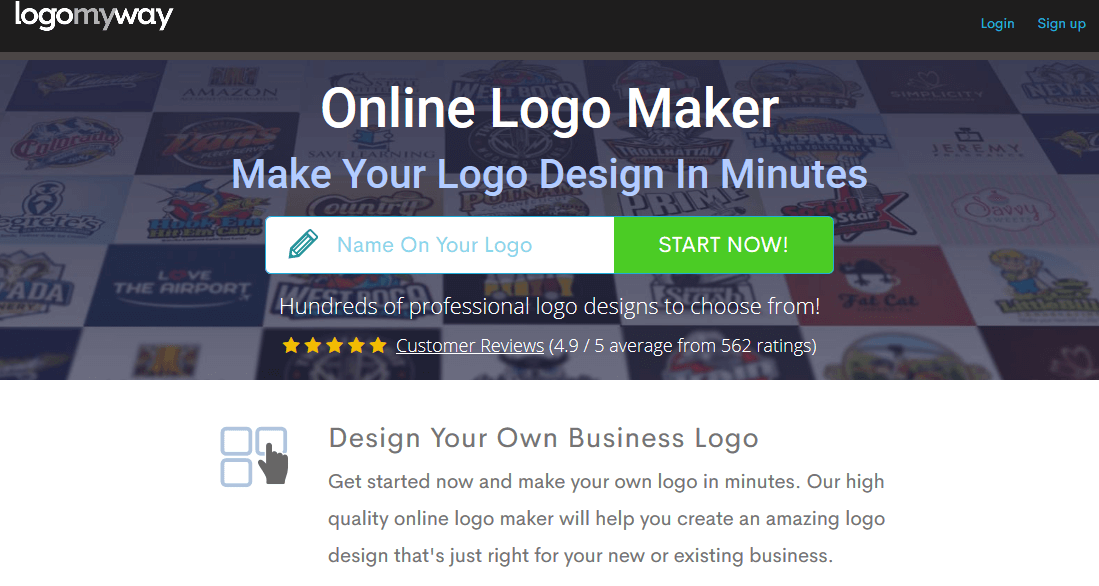 Allow us to introduce you to LogoMyWay Logo Maker as the #1, you can design a logo exactly the way you want. Expert designers are on hand to create your logos or you can create them yourself using the built-in tools. Simply change the fonts, colors, size, and text to fit your brand. You will also receive full commercial use rights for your new logo.
You can instantly download files that can be used on any application you choose with websites, t-shirts, hats, mugs, pens, business cards, and much more. If you would like a more personal touch added to your logo after using their logo maker, they can connect you with a professional logo designer to make even more changes to your logo.
You'll receive high-resolution vector files and the master file, so working with a logo designer on any changes will be simple.
2: Designhill
Business owners and graphic designers from all corners of the internet use our first entry daily. This software's features are numerous, and it's uses stretch far beyond its comprehensive logo maker. You can also use the website's built-in ability to host your contest for designing logos – if you're looking for a quick and easy way to expose your logo design to who knows how many potential buyers, then this is the service you want. A wide range of logos, low prices.
Other than meeting all your logo designing needs, this site can also be used to expand your influence in the marketplace through brochures, custom websites, t-shirts, business, and a plethora of other design options – selectable at your fingertips!
3: Logaster
Logaster is exactly what it sounds like: A great place to go to get star logos. Ok, that doesn't quite work, but Logaster is among the most used online software of any logo creator anywhere on the internet – so it's certainly worth having a look at their website no matter what your experience range is.
Zip files are the primary method of moving data on the site and even if your images are low resolution, you can still download your logos in high resolution and print your images in high-res too, at a very reasonable cost. Perfect for creating your modified logos, logotypes, and symbol logos.
4: Foundry
Foundry can guide a new user through its online service list and turn your drab logo into a professional masterpiece, even if you have made little to no experience. This tool allows you to use your iPhone or your iPad to create your logo. This tool is certainly worth a look if you are planning on creating stunning logos as the huge array of advanced text options along with over 3000 icons and symbols to get you going on your way to designing your masterpiece.
If you are looking to download your logos in multiple formats, Foundry can do so in JPG and PNG.
5: Free Logo Design Engine
This next one is an enticing prospect to beginner logo designers with the in-built help functionality of allowing the user to select the appropriate fonts, templates, and any mix of colors that is needed – and all this can be done in seconds. Free Logo Design Engine ranks highly in most online professionals go-to logo designing tools.
They are used by more than 100,000 customers from all over the internet and the projects completed using this software have been up to an award-winning standard. It is amazingly simple to use, and you can try the huge selection of graphics and free logos for free today (although you are charged for high-res images)!
6: Canva
Free images, social platform, and layouts along with over free stock templates, the online resource, Canva, is extremely useful to create your logo. This can be used by anyone of any experience levels. You will have access to extremely easy to use drag and drop interfaces, a plethora of tools and you will also have the ability to download your images, not only in JPG but also in PNG and PDF formats – and at no extra cost to you.  
7: Logo Genie
Our next pick is a creative and well-known tool that will help et your flair going. Like others on our list, this one comes with a helpful, user-friendly tutorial interface to walk you through the more difficult parts of logo design.
But arguably the most comprehensive tool that Logo Genie has at its disposal is the ability to edit and customize your logos, through orientation changes, alteration of gradient and color change, and, like many others, you can purchase your logo in multiple formats: JPG, PNG, PDF and also the addition of EPS for this particular software.
8: Logo Garden
Logo Garden will allow you to design and realize your logo in minutes. The target demographic for this one is more suited towards the accounting and transportation industries, given the complexity of the logo templates and the design tools, but it also includes thousands of brand symbols so it can be used by anyone from any industry.
Sophisticated layout options are a good place for start-up businesses to come and create their custom logos to help establish that brand identity as soon as possible. Anyone who is looking to move down the merchandising route, will find logo designers for business cards, t-shirts, smartphone covers, coffee mugs, and many more while using the Logo Garden tool. 
Over 1.5 million entrepreneurs have used this software to design their unique logos and there is no reason you cannot do the same!
9: GraphicSpring
We don't want to refer to this as the Fast track option, that's really what it is. If you are looking for a logo to be completed in a minute or under, this is the site to go to. JPG, PNG, PDF, and SVG are the available formats for your logos and if your logo is of the generalized variety then it will cost you $20 for the pleasure. However, it is worth noting that this software will also charge you $150 if you are looking for a professionally designed logo for your business (and there are not many good options on Fiverr).
If your housekeeping service needs a varied range of free templates and you want to give your new logo a polished design, then look no further than GraphicSpring.
10: Logo Factory
If the watermark style logo is more your cup of tea, then Logo Factory is exactly what you are looking for. Untold numbers of establishments use the service, but some of the bigger names are IBM, Instagram, and Google.
This platform includes the ability to create your logo merely by providing the website with your business name, choosing a color and then selecting from a variety of and then selecting from a variety of fonts and sizes before you feel right with your product. No registration or subscription is provided either.
Whatever type of logo you are looking to design, this selection of beauties should get you started (and probably finished) on your journey to creating your dream business monument. Various industries and all manner of professionals agree that these are some of the best places to get started or to polish off your new logo.