Sitting around a fire has been an essential aspect of our culture since, well, since fire was harnessed. However, the epidemic has shed new light on the significance of this age-old practice. For many, gathering around a fire in the backyard was the ideal way to interact while keeping a safe distance. And not every one of those flames was created with wood. Gas fire pits, which can run on either propane or natural gas, have grown popular in recent years.
"Because of the epidemic and people remaining at home, our business rose tenfold," says Patrick Schatz, a mechanical engineer with Hearth Products Controls, a manufacturer of high-end gas fire pit technologies and installations. Schatz believes that consumers prefer gas fire pits to wood fire pits due to their simplicity of usage.
"You don't have to go out and get wood," he explains. "You are not required to clear up the ash. And because gas flames burn cleanly, there is no smoke, which may be the most vexing aspect of a fire." Because gas fire pits are also considered appliances, they can be put closer to existing structures, but wood fire pits must typically be 25 feet away from residences or decks.
Top 7 Best Gas Fire Pits for Your Backyard & Patio in 2021
However, that simplicity of use comes at a cost—literally. Gas fire pits are sometimes significantly more costly than wood fire pits. Even the most powerful gas flames are not as warm as a wood fire because fire pit valves are set to generate a visually pleasing yellow flame, resulting in a lower burn temperature than a wood fire of the same size. However, if you want a no-hassle fire to create ambiance and warmth in your backyard or on your patio, gas maybe your best option.
Important Factors to Consider
The first thing to think about when selecting gas fire pits is the space you want to fill. Fire pits come in a variety of forms and sizes, from little tabletop fires to enormous concrete structures designed to anchor a garden. Choose a big gas fire pits with a BTU output of 50,000 or greater if you want to give warmth. Although some smaller choices aren't as warm, they can nevertheless provide a warm environment for one or two individuals.
Many modern fire pits are intended to utilize 20-pound propane tanks, while others require natural gas, which is provided through a connection to your house line. A handful of them can be set up for either gas source. "If you have access to it, natural gas is usually a better alternative," Schatz says, adding that natural gas is the best option because there are no tanks to hide or replace. Once the line is installed, it is also much less expensive than propane.
However, remember to pay for installation; connecting a gas line to a gas fire pits would cost approximately $25 per linear foot. Connecting a fire pit to a 20-pound propane tank, on the other hand, is no different than connecting a tank to your gas grill, and propane burns more effectively than natural gas. Propane fire pits may also need some little assembly. In our experience, the process is usually less complex than assembling a gas barbecue.
It's also worth thinking about your fire pit's igniting method. Match lighted and push-button ignition systems are the two most common types of ignition systems. To use the match lighted system, switch on the gas and then hover a lit match over the gas output. It is generally less expensive and more dependable than a push-button device, however, some people are concerned about holding a lighted match over dangerous gas.
To light the flame, the push-button mechanism generates a spark at the gas outlet. These buttons are often powered by a battery, which must be replaced on a regular basis. Permanent gas fire pit installations will frequently employ a push-button igniting mechanism that is powered by a continuous electric source. According to Schatz, safety should be a primary priority, and any permanent natural gas fire pits you pick should have features such as flame detection sensors and automated gas shutdown valves.
Look for propane fire pits that meet CSA (Canadian Requirements Association), ANSI (American National Standards Institute), or UL (Underwriters Laboratories) safety standards. Finally, consider the materials used to construct the gas fire pits, notably the burner mechanism that shelters and generates the flame. "That should be constructed of stainless steel, which will last longer than other materials," Schatz adds.
How We Decided
The following is a list of the top seven gas fire pits on the market in 2021. Over the course of my 15-year career covering outdoor gear, I've tried several of the goods on this list, but I relied on Schatz's recommendations on safety and materials as the foundation of my study. I also relied extensively on professional suggestions and research that incorporates user feedback.
While compiling this list, I kept size, fuel type, materials, aesthetics, and price in mind. Except for circular bowls, dimensions are shown in length, breadth, and height order. Continue reading to uncover the best solution for your house.
1.

Bali Outdoors Fire Pit Rectangular Tabletop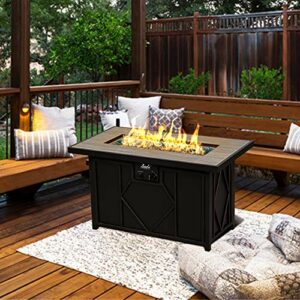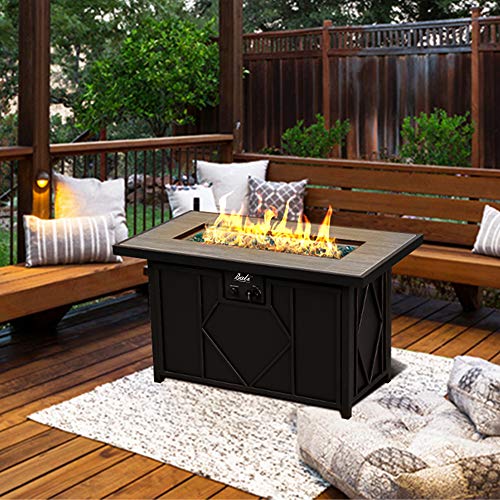 Size: 42 x 24 x 24 in.  
BTUs: 60,000  
Fuel: Propane 
The Bali Outdoors gas fire pits are long and thin, making them ideal for use as a coffee table in front of a couch. The burner is constructed of stainless steel, while the table is made of alloy steel that looks like a cabinet and conceals a 20-pound propane tank (sold separately). The surface is slate, and there is an insert that covers the burner if you don't want to use the table with flames.
Because of the 60,000 BTU output, customers note that the flame is unexpectedly warm. If your patio is windy or you have little children with wandering hands, the burner is encircled by 15 pounds of fire glass beads, and you may add an optional glass wind guard that surrounds the flame.
2.

Outland Living 410 Square Fire Table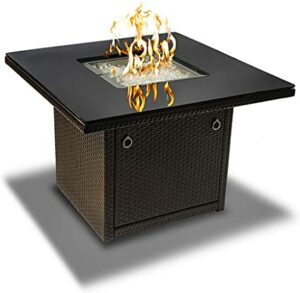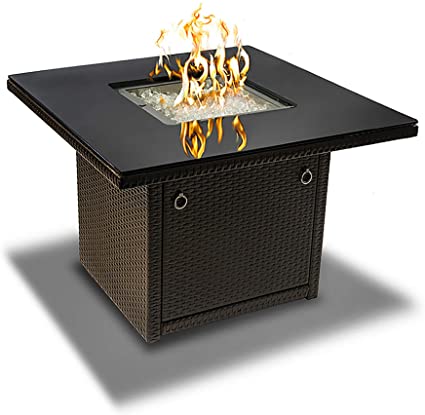 Size: 36 x 36 x 24.5 in. 
BTUs: 42,500 
Fuel: Propane
The metal frame with polyethylene "wicker" sides of this table is designed to endure the weather while concealing a 20-pound tank within the square accent table. Meanwhile, in the center of the table, a stainless steel burner produces a maximum of 42,500 BTUs. The flame is surrounded by black tempered glass, with enough area for a drink or small dish, and the burner is surrounded by 15 pounds of beautiful glass pebbles.
This is one of the most popular table fire pits on the market due to its dependable construction and consistent heat production but bears in mind that an insert to cover the burner and create a solid table is optional.
3.

Outdoor Plus Del Mar Gas Fire Pit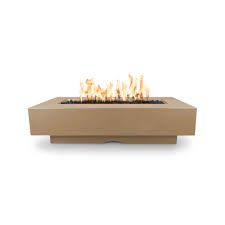 Size: 48 x 28 x 15 in.
BTUs: 65,000 
Fuel: Natural gas or propane 
Consider the contemporary Outdoor Plus Del Mar, a concrete fire pit produced in the United States and intended to last (the company's stress testing includes running vehicles over its fire pits). The Del Mar may be powered by natural gas or propane and features an adjustable height flame that can produce up to 65,000 BTUs. There is no push-button ignition, therefore you must use a match or lighter.
4.

Fire Topper Gas Fire Bowl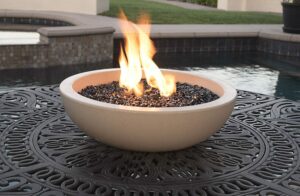 Size: 18 in. diameter x 6 in.
BTUs: 40,000  
Fuel: Propane  
Consider this stand-alone fire bowl if you already have a patio table with a hole in the center for an umbrella. It's meant to sit on top of the table, with the regulator hose passing through the umbrella hole and connecting to a 20-pound propane tank in place of the umbrella stand. It's a clever technique to breathe fresh life into an old patio table. The Fire Topper is built of concrete and has a stainless-steel burner (the entire thing weighs 38 pounds) that is coated with tiny lava rock and produces a solid flame and 50,000 BTUs.
5.

Fire Pit Art Bella Luna Gas Fire Bowl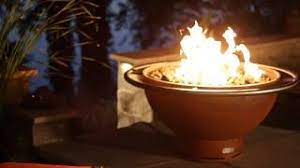 Size: 42 in. diameter x 24 in.
BTUs: 120,000 
Fuel: Natural gas
The Bella Luna is a work of sculptural art as well as a gas fire pits. It is made of a quarter-inch thick carbon steel bowl with a stainless steel ring and is filled with lava rock. Turn on the stainless-steel burner with an electric ignition mechanism similar to that of a grill and stand back as 120,000 BTUs of heat radiate from the wide blaze, making this the warmest fire pit on our list. Buyers should be aware, however, that the Bella Luna only works with natural gas, which means installation would require the assistance of a plumber.
6.

Outland Living 883 Mega Gas Fire Pit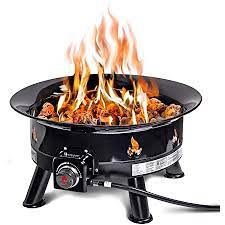 Size: 24 in. diameter x 13 in.
BTUs: 58,000 
Fuel: Propane 
Sometimes you simply want to relax next to a traditional campfire, and Outland Living's 883 Mega comes close in a portable gas arrangement. This is one of the largest portable gas fire pits available on the market. It's large enough to function as your regular backyard fire pit, but at 34 pounds, it's light enough to load up and go to the beach or camping. It includes a stainless-steel burner with a powder-coated steel bowl, lava rocks, adjustable flame height, and, best of all, a 10-foot line that makes concealing the propane tank simple.
7.

Terra Flame Geo Fire Bowl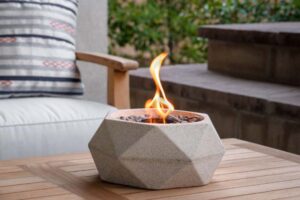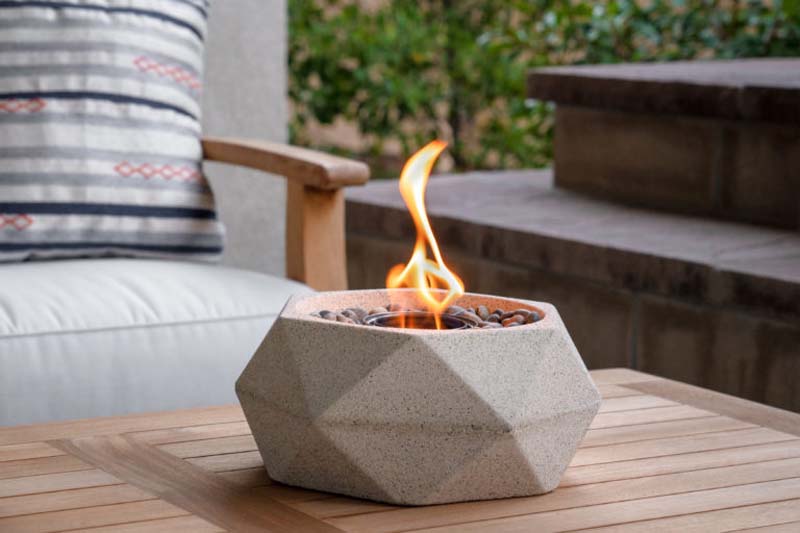 Size: 11 in. diameter x 5.13 in.
BTUs: Not available 
Fuel: Gel 
There are less costly tabletop gas fire pits available, but the Geo Fire Basin is a more substantial alternative due to its solid concrete bowl filled with Mexican river stones. So there's considerable weight to this dish (14 pounds, to be exact), but the flame serves more as decoration than purpose. The Geo Fire Bowl runs on replacement gel packs (three cans are included).
Simply place the gel pack in the center of the bowl and fire it with a match or lighter. It creates a 7-inch-tall flame that can be used to toast marshmallows, but it doesn't emit much heat. Consider it more like an immediate ambiance.