If you want to relax in a hammock but don't have a grove of 75-year-old maple trees in your garden, investing in a unique hammock stands is the answer. They have metal links connected to hook up your hammock in minutes so you can plunge into your summer book or have an afternoon nap and rock yourself to sleep, whether they are made of hardwood or steel.
Top 9 Best Hammock Stands for Summer Days in 2021
A classic hammock stand is a fantastic complement to any outdoor setting (though youngsters may squabble over who gets the prized place), and a stylish chair stand looks excellent on a deck or in a corner of the living room.
What to Think About
Standard types of hammock stands are long and low, like a boat frame, while chair stands are designed to be used with a hanging pod or woven hammock seat. They are generally built of powder-coated steel, which is frequently rust-resistant and may be kept outside, and hardwood, which can be naturally weather-resistant or varnished for further longevity. If you already own a hammock, be sure it will fit with the stand you select. Hammocks are classified into two types: those with spreader bars at either end, which offer a more supporting surface, and those with unstructured woven or loose-knit designs that adapt to your body. Some stands are compatible with both kinds. When searching for a hammock stand, there aren't many specific characteristics to consider, but you should think about the maximum weight restriction.
How We Decided
All of the hammock stands listed below have received four stars or above on average. Our assortment includes wood and metal supports in all main designs, as well as alternatives at various price points. We check reviews for each option to verify that our choices are well-built and sturdy. All require some assembly, but the time necessary varies depending on the type you select. Also, take in mind that not all of the stands mentioned below have the hammocks depicted in the photographs.
1.

Vivere Hammock Stand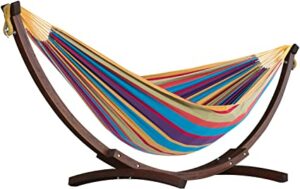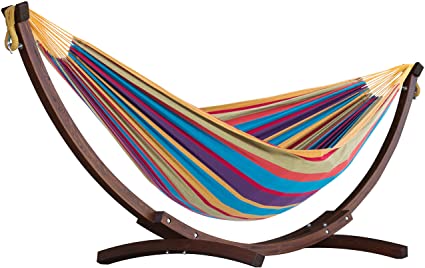 This unique hammock stands combo has received positive feedback from over 20,000 buyers, with an average rating of 4.8 stars. It's a great buy and comes in a variety of colors, including this vibrant purple, turquoise, and yellow-striped pattern. It is also available in a variety of materials, including cotton, polyester, and the long-lasting, fade-resistant Sunbrella. The 9-foot steel stand weighs around 35 pounds and includes adjustable hooks for hanging the hammock at various heights. Another advantage is that it folds up and can be stored in a handled carrying case.
2.

Songmics Hammock Chair Stand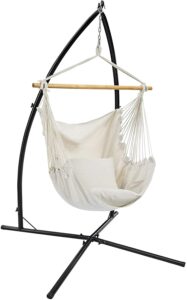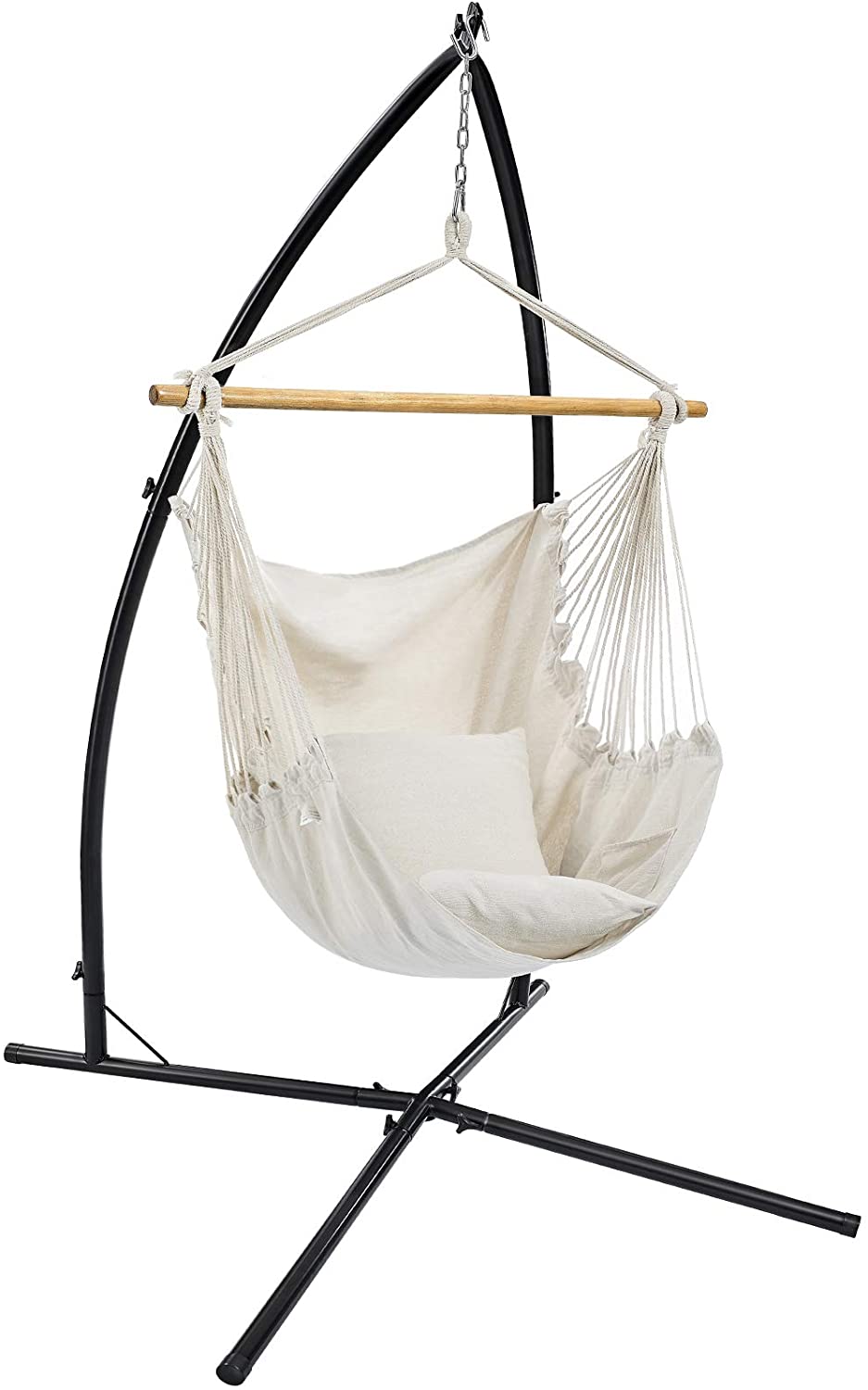 This portable hammock stands is an appealing, on-trend addition to any area, indoors or out, whether for your deck or to create a quiet reading nook. The black metal stand includes the gorgeous gray hammock, which has a side pocket to stow your book, iPad, or mobile phone, as well as the two throw cushions displayed. The maximum weight capacity of the stand is stated to be 264 pounds.
3.

Meza Atlas Wood Hammock Chair Stand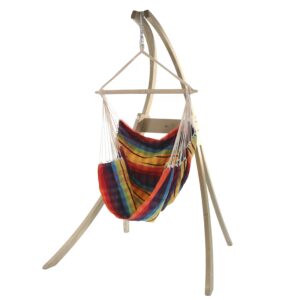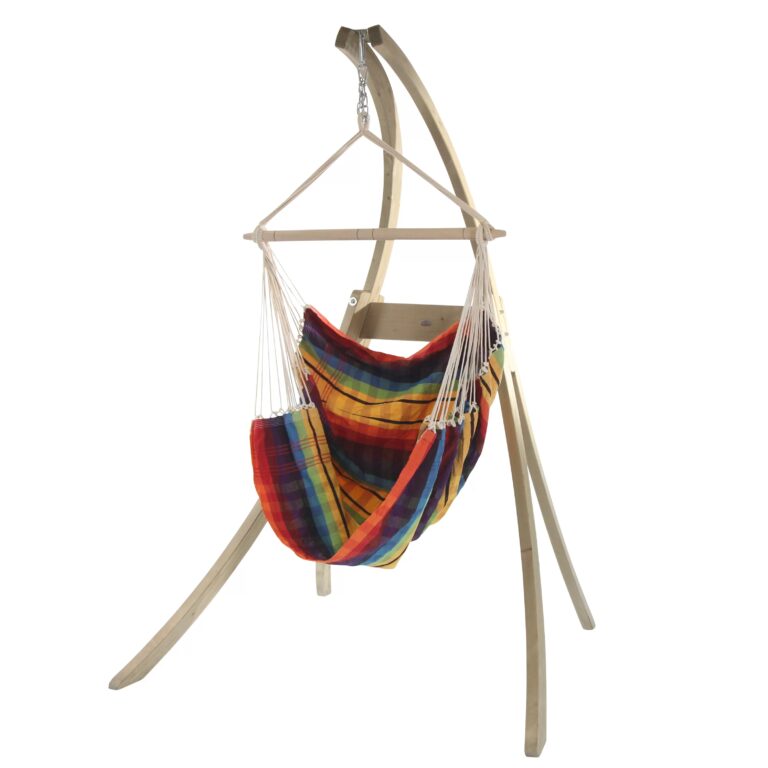 This rustic-style solid wood chair stand is made of light-colored spruce and has a curved top and base. The stand is over 8 feet tall and weighs little more than 40 pounds, and numerous buyers claim it's robust. The top has a steel chain and carabiner for connecting a hammock (not supplied), and the rest of the gear is galvanized. It has a weight capacity of 350 pounds, allowing it to seat two people.
4.

Chillounge Hammock Stand Set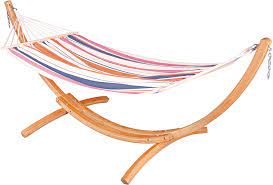 This classic wooden hammock stand, made of sustainably sourced solid wooden hammock stand with a honey-colored finish, will be the focal point of your outdoor space. The broad, elegant wooden arc has 20-inch steel chains at either end and comes with the cheerful striped hammock pictured, which is composed of fade- and weather-resistant polypropylene. The maximum weight capacity of the hammock is stated to be 265 pounds.
5.

Sunnydaze Steel Hammock Stand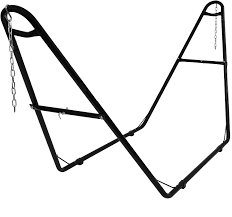 This popular metal portable hammock stands is constructed of rust-resistant powder-coated steel. It can fit hammocks ranging in length from 9.5 to 14 feet, and assembly is simple because all of the joints snap together and lock into position. There are also plastic feet on the bottom to protect your deck from damage. The stand weighs around 33 pounds and has two 18-inch chains linked to either end to connect your hammock and change its height as desired. The stand comes with all of the necessary hanging hardware, and it is also available in blue, bronze, and green, in addition to the black pictured. It's supposed to have a 550-pound weight limit.
6.

Pirny Hammock Chair Swing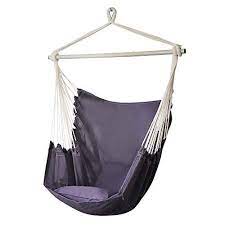 This space-saving hammock stand is a wonderful alternative to a porch swing because of its compact size. The black stand is constructed of rust-resistant, powder-coated iron tubing and contains the gray hammock pictured, which features a cushion at the base for extra-comfortable weekend sleep time. The swing is reported to have a maximum weight restriction of 500 pounds and is also available with an off-white hammock.
7.

Family Huggle Pod Hammock Chair Stand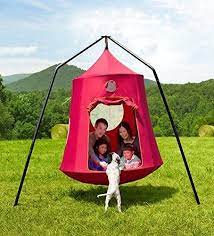 People are standing. It is intended to hold a large, open platform bed or a circular tent. It receives great reviews from reviewers, with an average rating of 4.8 stars, and numerous buyers comment on its durability. The steel frame is black powder-coated to prevent rust and comes with tools to attach a hammock. It also has a weight restriction of 600 pounds. The disadvantage of having a multi-person hammock stand is that it has a huge footprint – 8 feet in diameter.
8.

ENO Three-Person Hammock Stand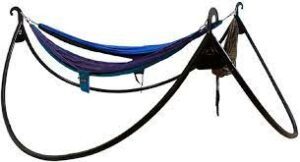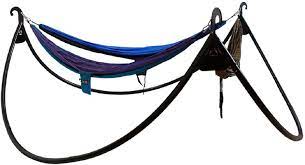 This eye-catching stand, with an exquisite form and eye-catching curving features, is designed to support three woven hammocks—or more, since it has a 1,200-pound weight limit. As a result, it's ideal for groups of friends or families that like to rest in individual cocoons rather than on a huge platform. The triple-hammock stand weights a heavy 100 pounds and is made of steel with a charcoal powder-coated finish to avoid corrosion. Customers praise it for its ease of use, and it has an excellent average rating of 4.9 stars. While it is on the pricey side, you get three or more hammock stands in one.
9.

Tranquillo Foldable Hammock Stand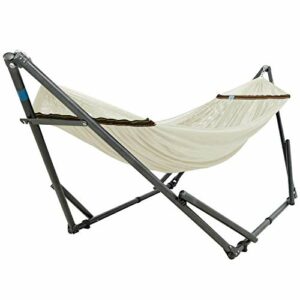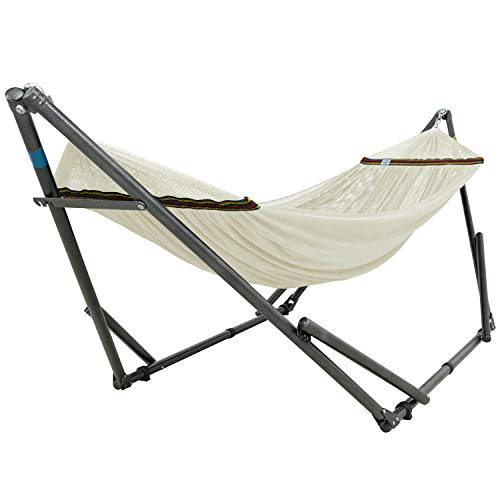 This folding hammock stand is your best choice for a portable hammock stand. It has a two-layer polyester mesh hammock with a breathable fabric that will keep your back cool on hot summer days. The stand is composed of powder-coated steel and is equipped with ball bearings, so it does not squeak when you roll over when lying down. There are also stitched-in spreaders to keep the hammock from sinking in, as well as rubber feet at the base to support it and protect the surface from scratching. It comes with a carrying bag and is available in eight different colors, including the eye-catching cobalt blue pictured. It has a weight restriction of 550 pounds.