Factory Reset is the solution to many iPhone problems. Since it leads to complete loss of data from your mobile device, it is necessary to take the backup of your iPhone before performing Factory Reset. The smartest thing to do is to back it up to iTunes or iCloud before you do anything. We will share 3 methods to help you recover iphone data after restore
Method 1: Recover iPhone data from iTunes Backup

If you had set your iPhone backup to iTunes, restore lost mobile data from iTunes backup. Make sure you are using the latest version of iTunes.

Steps to restore lost data from iTunes backup
Connect your iPhone to computer
Launch iTunes
Select Restore Backup in iTunes. Choose the latest backup
Click Restore
Method 2. Recover iPhone data from iCloud
If you have an iCloud backup of your iPhone, restore lost data from cloud backup. iCloud backups of the iPhone include almost all data and settings of the device.
Steps to restore lost photos from iCloud backup
Follow Settings > General > Reset> Erase all Contents and Settings
On the Apps & Data screen, tap Restore from iCloud Backup
Sign in to your iCloud account
Choose an applicable backup from the list and click Restore
After the process ends, the iPhone restarts and recovers complete data including the permanently deleted photos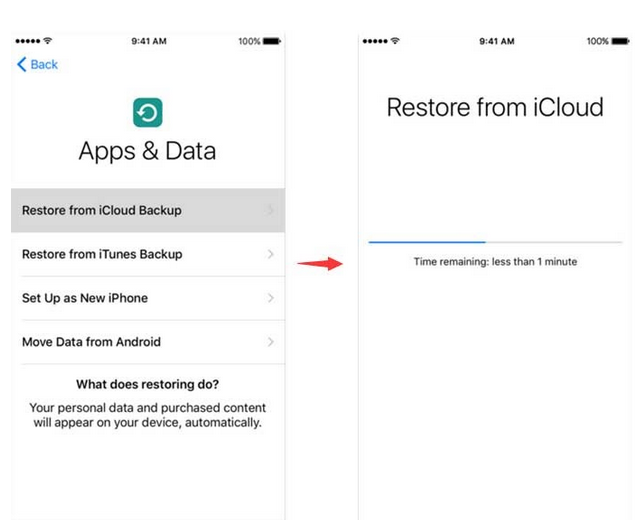 Method 3: Recover iPhone Lost Data Using Dr. Fone
The two ways above are the official restoring methods introduced to restore iPhone data after restoring to factory settings. However, you can use many free iPhone data recovery software to recover your lost data in no time.
Steps to restore lost data using Dr. Fone
Once I connected my iPad 4 to my Mac, Opened up dr.fone, and click the "Data Recovery" module. The program detected the iPad without any issues, as you can see in the screenshot below.
Click the dark blue "Start" button and a scan started. The process took about seven minutes to complete.
Select a few images that appear for the download and click the "Export to Mac" button to save them. Your data (images) are available to download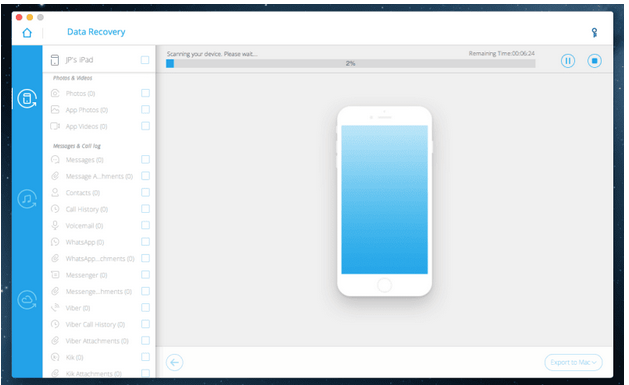 Other Features of Dr. Fone
Data Recovery is just one of the many features dr.fone offers. As you can see from the main interface of dr.fone for iOS (on macOS), 8 other small utilities that are part of the program. Interestingly, the bottom-right corner is blank. My hunch is the Wondershare team did that on purpose in case any new features will be added to the program.
Viber Backup & Restore – This feature allows you to backup your Viber texts, attachments, and call history. You can either restore your files to another Apple device or export chat files as HTML.
System Recovery – Soft bricked Apple device is unusable but still turns on. This feature restores iOS back to normal without deleting any of your important data. dr.fone says that this feature works for all iOS devices, which is great.
Full Data Eraser – The Full Data Eraser permanently deletes all the data you want off your iOS device. This makes the software brand new as if it wasn't used before. It also makes data recovery tools unable to recover your data.
Private Data Eraser –This feature is similar to the full data eraser but only deletes selected private data. It lets you keep certain apps and unneeded data intact.
Kik Backup & Restore – Back up messages and other data from the Kik app and restore it on the same or a different device. This is great for when you're changing to another device and want to
Data Backup & Restore – This feature lets you back up all your data from your iOS device in just one click. The data can either be exported to a computer or restored onto another iOS device
WhatsApp Transfer, Backup & Restore – The WhatsApp feature lets you transfer your data from one iOS device to another iOS or Android device. Similar to the other features
LINE Backup & Restore – Dr.fone also has the same features as LINE. You can save your messages, call history, and other data from your iOS device.
Final Words
In short, our expertise helps us to conclude that Dr. Fone is one of the best data recovery tools in the market. Therefore, Dr. Fone will help you recover all kinds of possible data from the iPhone.