Getting to know the process of making a website can be a daunting task — finding that perfect layout, considering color palettes, taking into account user experience. Especially if you lack the technical skills to do all of that, you need to hire a professional and that can turn out to be expensive. Not to mention there's still a question of preparing content as well once that is all done.
A Simple Yet Powerful Tool
There's a solution, however — introducing the Zyro website builder, an easy solution for your web building projects. While being relatively new in the business, Zyro already has made a name for itself for being an innovative and simple way to build a great looking website with relative ease.
It's a website building platform that focuses on offering its users a smooth and clean interface, packing easy-to-use tools for both customizing and designing your business or personal website.
No coding or design skills are needed, the builder will do all of the hard work for you. Zyro offers AI-based tools, from generating content to predicting the behavior of your site's visitors. This is very apparent from the very beginning you open up the platform – everything is presented in a clean and understandable fashion.
Bang for Your Buck
Interestingly enough, unlike some of the competitors out there, all of it comes into one neat package — simply create an account and all of the tools will be available for you. Best of all, you can use all of it for free with an additional option to upgrade hosting features.
Zyro promises that you can create your own website in under an hour and that statement does seem promising – using the drag-and-drop builder is simple and clear. You're provided with a number of pre-made templates fit for almost any type of project you might be working on.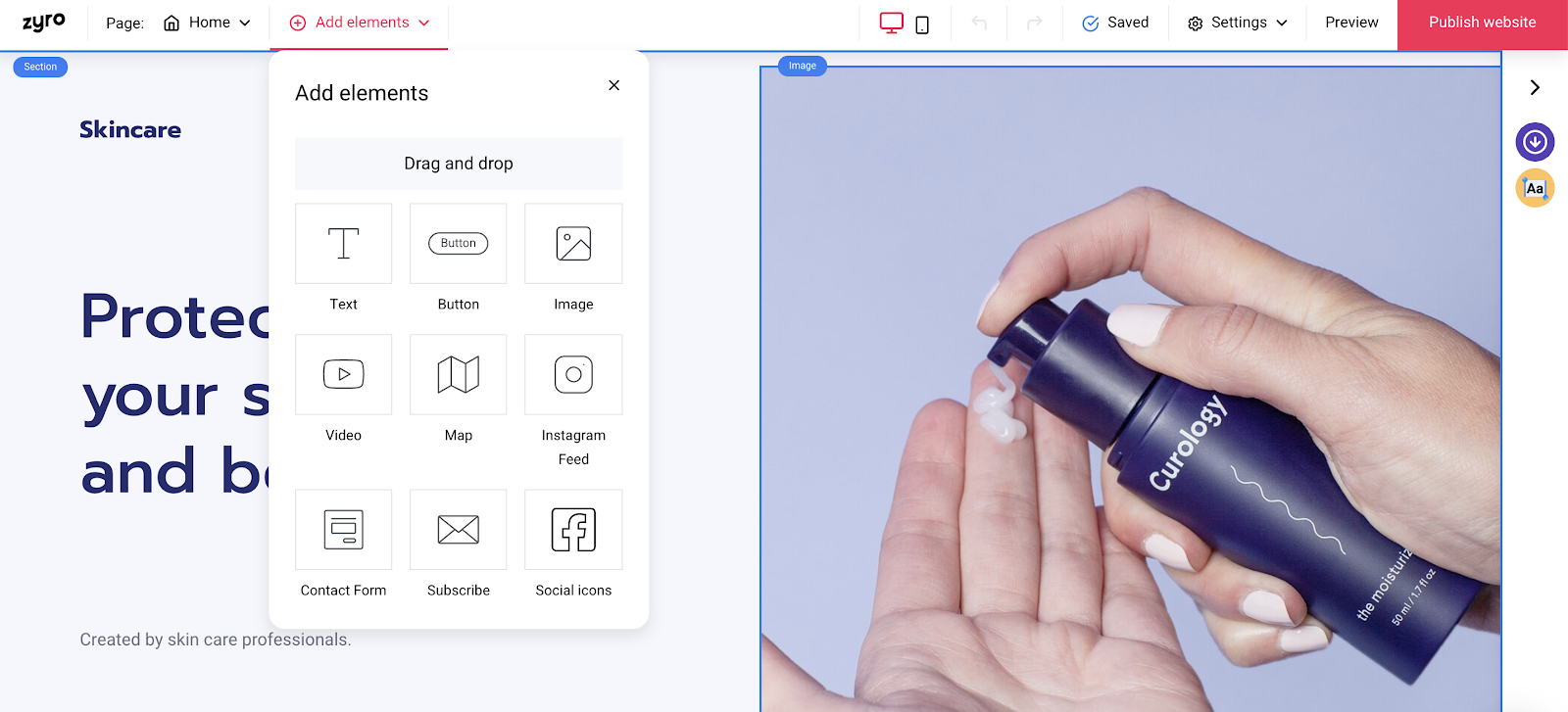 That is great to know since more time is spent on actually focusing on your own content or tasks, rather than worrying about the technicalities that come with web development. It's a motivating feeling to see a great-looking final product after only an hour or so of work.
Plentiful of Customization Options
Now, you'd be right to be a bit skeptical about website builders in general, especially in such a saturated market. While it certainly doesn't offer the complete freedom of designing your website, as you would starting from scratch by hiring a professional web designer, Zyro packs a punch thanks to the many features available.
You can start with a fresh blank template or pick one from a list of existing ones — either way, you can move and modify the elements however you see fit. Simply drag-and-drop your images and content sections, and they'll snap to the intuitive CSS grid effortlessly.  Change your layout as many times as you want until you get that pixel perfect look.
If you want to have your website even faster, simply choose a pre-made template, add your content and you're good to go. Want to build a personal blog or an online store — you'll have it ready in less than an hour.
Full Marketing Package
Just like we've mentioned before, Zyro offers more than just a website builder. You'll be presented with complete marketing and branding tools, such as a logo maker, where you can play around with tons of different designs and download a high-res image of your logo in a matter of minutes.
Oh, and they don't stop there. Just starting out and need to think of a name for your business? Why not look for inspiration by using a slogan or business name generator? It's reassuring to see that Zyro accommodates all types of consumers, whether you're going completely solo or already have a team planned and just need that additional push.
Ready and Set for eCommerce
There's a lot more behind this website builder than just creating a good looking site. In fact, when we're talking about online businesses, Zyro has got you covered there as well.
If your website-building goals are specifically eCommerce related, two dedicated plans are available – eCommerce and eCommerce+. Best of all, these do come at affordable prices, considering what you get. For information about pricing, check the pricing options section.
You get all the eCommerce functions you would want, including email notifications, discount coupons, complete order tracking, shipping and tax management, and a lot more. It's obvious that Zyro aims to be an all-in-one website building powerhouse.
AI-powered Solutions
Zyro delivers additional web development and content creation tools — the AI Writer and AI Heatmap, delivering on the promise that they want their platform to do all the hard work for you.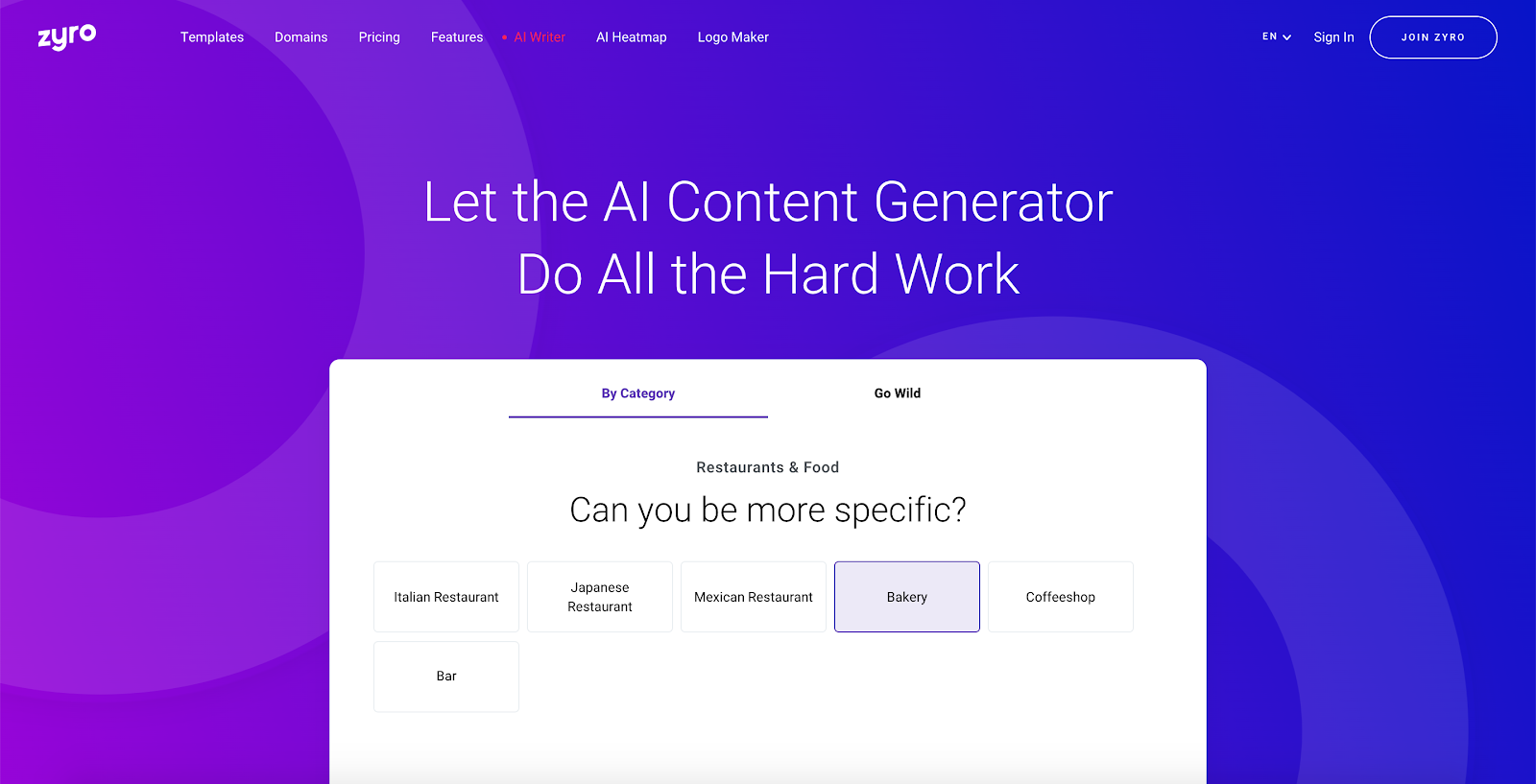 Using the AI Writer is simple, either select a category you want to generate content for or write a few sentences about your subject or topic. You'll receive a few different results, all produced by the AI. While it may not replace a human writer completely just yet, getting those quick and short copywriting pieces for your website is fast and easy.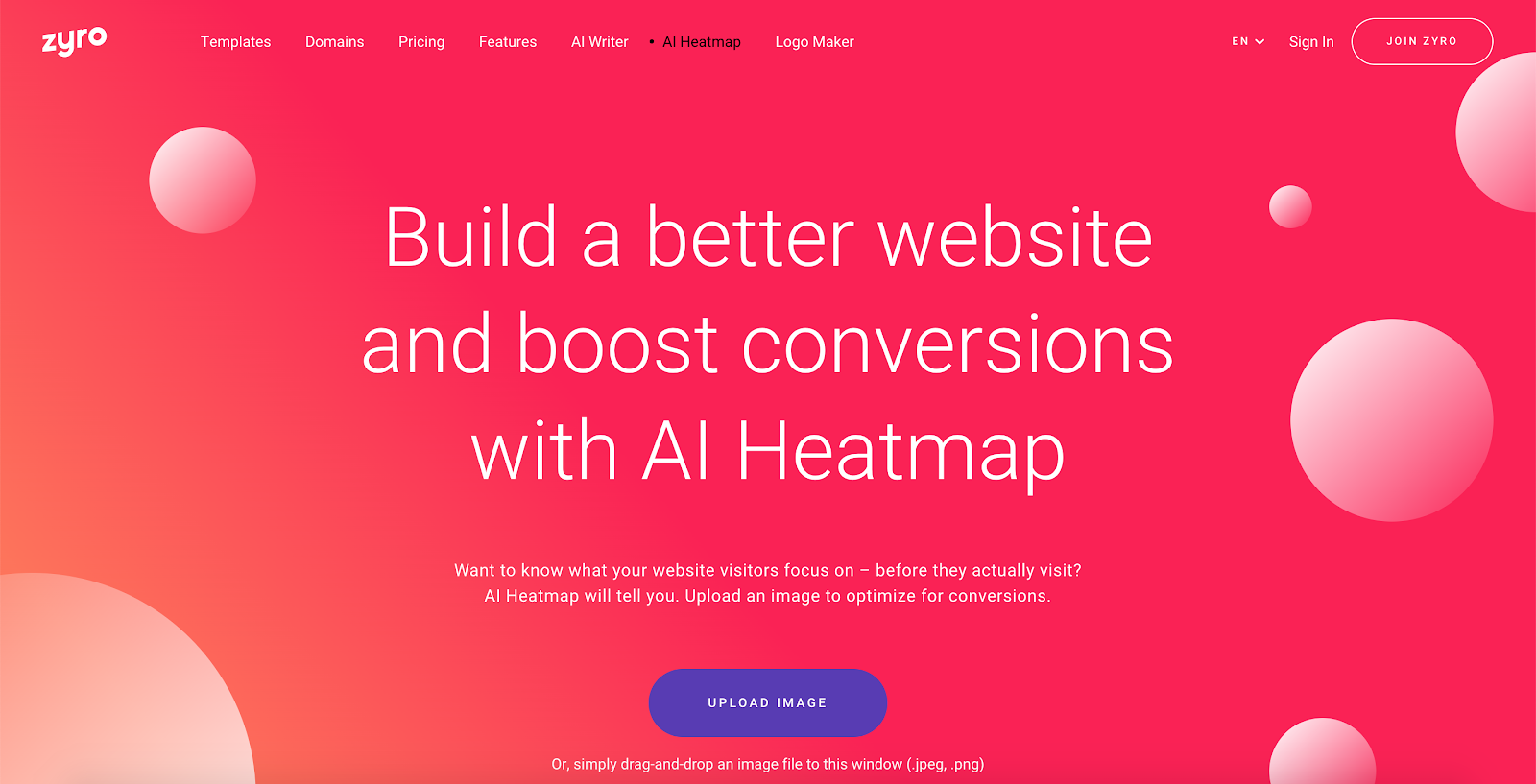 AI Heatmap, on the other hand, is meant for more technical analysis of your website and content in order to make better design decisions to improve your CTA placement and overall user experience.
Where Speed Matters
Simply building a website is not enough — it has to perform great as well. Zyro understands the importance of speed, hence why sites created using the builder net great test results. Optimized for both desktop and mobile devices, you don't have to worry too much about the process of web development from start to finish.
Website speed is very important for SEO, so it's great to see a website builder that doesn't only focus on making a good-looking website, but remembers that there's more factors which keep visitors from shying away from the front page. If you can create a website that's both attractive and is functioning properly, you'll have yourself a powerful marketing tool at your disposal.
Pricing Options for All
Zyro's core features are free-to-use and you're able to use them for as long as you want. In order to start building a website, you do have to make an account, but that doesn't take too much time in the first place.
You'll also receive a free SSL certificate and access to over one million stock photos from Unsplash. If you'll ever run into trouble, their 24/7 customer support team will be ready to answer any question you may have.
However, there are options to upgrade your account for more storage space and the ability to connect your own domain. There are two options available — the Basic plan and the Unleashed plan, which both unlock Google Analytics and Facebook pixel integration features among other goodies.
Summary
Here's a quick breakdown of what a Free Zyro account has to offer:
A simple-to-use and intuitive user interface, allowing to build a website in a few hours

SEO-friendly templates and design, ensuring faster website loading speed compared to other website builders

AI-driven marketing features, such as a

Logo Builder

,

Slogan Generator

and

Business Name Generator
AI Writer

and

AI Heatmap

tools for further content optimization
24/7 customer support and 99.9% uptime guarantee
Cons
As of time of writing, some features that other website building platforms offer are missing

You get Zyro ads on your free website, which can only be removed by purchasing a premium plan
Final Words
There's something for everyone here — intuitive and easy-to-use tools, options for someone who's just starting out or a webmaster who needs an upgrade from their previous platform. It might lack some tools seen with other competitors, but the team behind Zyro is constantly working on new improvements and feature releases.
Whether you're an already accomplished business owner or simply decided to finally start your own blog, the Zyro website builder is a fantastic way to start making your vision into a reality.